When Malaika Arora Corrected Kareena Kapoor Khan To Sit Like A 'Lady' During Her Pregnancy And Bebo Gave A 'Thundering' Reply
Kareena Kapoor Khan's bestie Malaika Arora revealed many candid deets of Bebo's pregnancy in the actress recently released book Kareena Kapoor Khan's Pregnancy Bible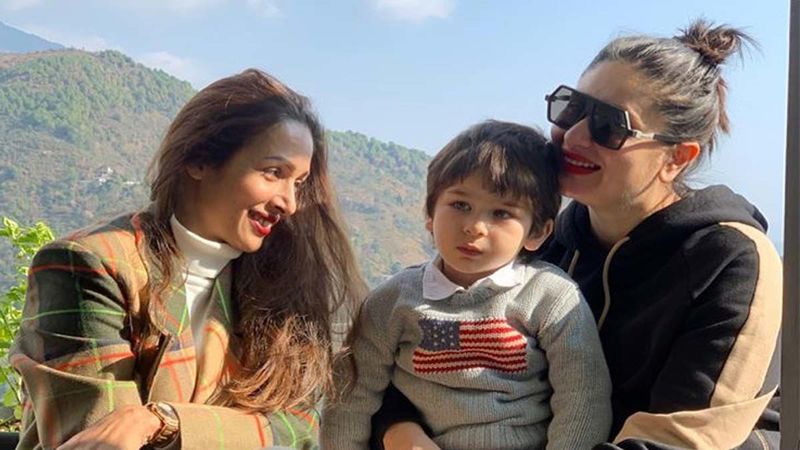 Second time mommy Kareena Kapoor Khan has added one more feather to her cap in 2021. Along with embracing motherhood with the arrival of her son, Jeh, she also turned an author with the launch of her book, Kareena Kapoor Khan's Pregnancy Bible. This book, which can help soon-to-be-mothers with some handy tips from the diva, also has special notes from her close ones. Bebo's bestie Malaika Arora shared in the column, how on some days the pregnant actress let go of her ladylike behaviour.
Malaika revealed along with Bebo, her close ones too gained weight. The Supermodel Of The Year judge revealed she along with Bebo cooked, catered to their taste bud to the core, and also spent plenty of quality time together. A special note from the actress said, "Gosh, she has really carried her pregnancies beautifully! The few of us who are really close to her put on weight with her during both her pregnancies. It was a pseudo-pregnancy for me too. We could cook, cater to her whims, eat together, and spend hours chilling."
With the Chaiyya Chaiyya actress revealing the 3 Idiots actress only came across tired during the last two months of her pregnancy. "The only time I actually saw her look tired was during the eight and ninth months of her pregnancy with Jeh. We have had such laughs! During both her pregnancies, I would continually have to remind her 'to sit like a lady'. And she would roll her eyes and say, 'I can't back my thunder thighs'."
Malaika also recalled the time when Kareena set for some serious maternity fashion statement. Do you remember her olive green gown when she was expecting Taimur Ali Khan, here's what Malaika has to share about it, "she always looked amazing in my books. I recall that one-shoulder olive gown with a high slit and gold gladiator heels she wore during Taimur's pregnancy. She had such flair. I even remember asking her why she was wearing heels! But she was strutting with the utmost confidence. And during Jeh's time: well, the number of kaftans she wore! Once he was born, I told her to make a bonfire and burn them!".
Image Source: Instagram/malaikaaroraofficial