World Bikini Day: Bruna Abdullah, Abigail Pande, Sara Khan, Sreejita De, Nargis Fakhri Show Some Bikini Love
Today as people across the globe celebrate World Bikini Day, we take a glance at social media to see what our favourite celebs are posting. Some of Bollywood and Telly World's hottest actresses took to social media to share their bikini pics from their recent vacations. Have a look...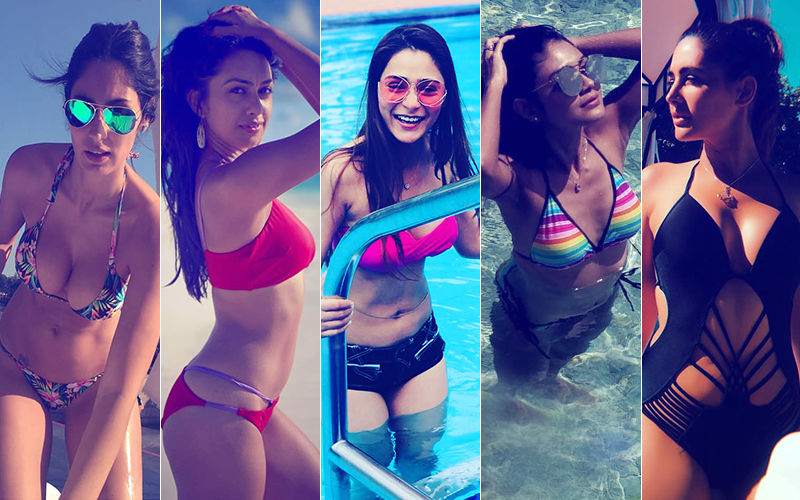 The vacation season is still on and loads of our favourite celebs are seen lounging by the sea or by the pool taking a dip in the cool waters. In short, their bikini pics are taking the Internet by storm.

So as people worldwide enjoy and celebrate World Bikini Day, we take a look at some of our favourite celebs from B-Town and Telly World, and see how they are enjoying this day.

First up is Bruna Abdullah. She has been sharing her bikini pics time and again and making her fans skip a breath.
Bruna captioned her bikini day pic as: "Summer Holidaaaaaaaaaaaay soon!!! @alfromscotland I can't wait!!!! . . . #summervacay #holiday #mountains #beach #surprise #whoknowsmebest #bae #cantwait (sic)."

Preity Zinta too took to social media to share a bikini (dress) pic, albeit with a funny twist. She captioned the pic as: "Happy 4th of July 🇺🇸 to everyone who celebrates it today. I love my new home away from home Husband got me a new American bikini & I thought it's appropriate to wear it today🤪 #Ting #🇺🇸 #Gene #🇺🇸independenceday #chill #la #sunshine #fireworks #suzie #fun #beach (sic)."
Nargis Fakhri, who is currently holidaying in Venice, shared a pic in a black monokini. She captioned the pic as: "Summer fun Summer sun. #fun #sun #live #life #italy #travel #food #love #photocredit @mattalonzo #babyboo #bae (sic)."
Amy Jackson too sharing a bikini pic and captioned it as: "Kickstarting the Mykonos love affair in my swimsuit! (sic)."
Television stars also showed some bikini love on Instagram.

First up was Abigail Pande. She shared a few pics to commemorate the fun day.
She captioned the pic as: "Flaunting some swimwear at one of the most beautiful trips ever! (sic)."
Another pic by Abigail was captioned as: "And my favourite spot at @cocoonmaldives !! The white sand and blue water shall be missed!! (sic)."
"Don't watch the clock. Do what it does. Keep going #cocoonmaldives #healthycheats (sic)," read another post by Abigail.
Sreejita De shared a pic, captioning it as: "She loves the serene brutality of the ocean, loves the electric power she felt with each breath of wet, briny air. #CocoonMaldives #EaseMyTrip #HealthyCheats (sic)."
From the same shoot, Sreejita also shared another pic with the caption, "I was always an unusual girl. My mother told me I had a chameleon soul, no moral compass pointing due north, no fixed personality; just an inner indecisiveness that was as wide and as wavering as the ocean. #CocoonMaldives #EaseMyTrip #HealthyCheats (sic)."
Sreejita captioned this pic as: "Keep your face to the sun and you will never see the shadows. #CocoonMaldives #EaseMyTrip #HealthyCheats (sic)."
"Let's go somewhere, where the stars kiss the ocean.. late night swimming. #Maldives #CocoonMaldives #EaseMyTrip #HealthyCheats (sic)," wrote Sreejita.

Sara Khan was in Goa having a fun time with her friends. She shared pics from the vacation and captioned them as: "Mood Ok time to get over this Goa trip Vacay done right #sarakhan #ssarakhan #sarahsolics #mood #happy #tripover (sic)."
Another pic with friends was shared by Sara. She captioned it as: "Dare if u don't care 🤷‍♀️ !!!!! Cos we know it all Happy Goa girls had a blast Get ready girls for the another one @injelkhann @immacoolgirll @yammkhan And here we end our trip #happyus #blessedus (sic)."
Happy World Bikini Day y'all!!!


Image Source:- Instagram/@ brunaabdullah/@realpz/@nargisfakhri/@iamamyjackson/@abigail_pande/@sreejita_de/@ssarakhan