Liger Film REVIEW: This Vijay Deverakonda And Ananya Pandey Torture Sets New Standards In Bad Filmmaking; HERE'S WHY!
Liger, directed and written by Puri Jagannadh, headlines Vijay Deverakonda and Ananya Pandey, however, it comes across as a lazily written film that moves from one song/stunt sequence to another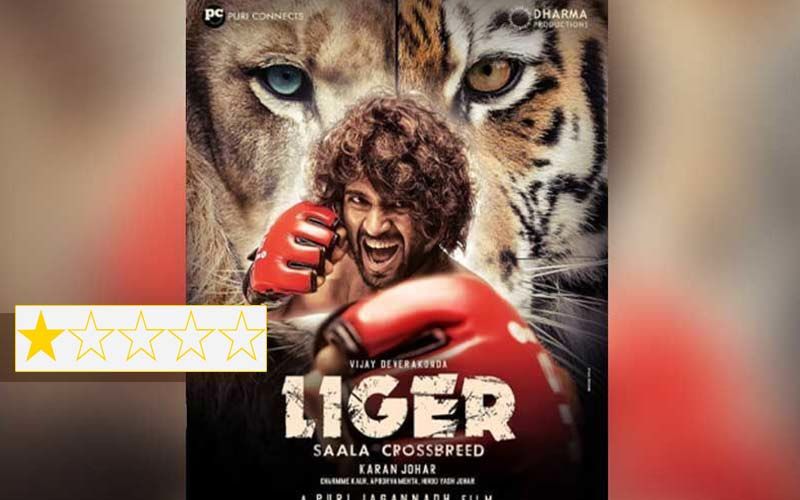 In an era when the audience is eagerly waiting to boycott an entire industry, films like Liger turn out to be the case studies of 'how not to make films like these anymore'.

Set in the backdrop of Mumbai, Liger starts off by displaying intense patriotism while Liger (Vijay Devrakonda) - whom his mother Balamani (Ramya Krishnan) describes as a crossbreed between a lion and tiger - narrates how he has landed in trouble for falling in love with Ananya Pandey's (Tanya) and spits a few misogynistic lines like 'Bagwan ne ladko ko inn khilono se khelne ke liye banaya Hain, lein main iise nafrat karta hu'.
But, the screen has a different tale to tell, and director Puri Jagannath has tried his best to show a helpless Ananya being kidnapped by goons while Liger performances a high-octane stunt to save her.
In the opening minutes, the film features the title character as a Slumdog from the streets of Mumbai who is aiming to win on an international podium. The mother-son duo who hail from Karimnagar move to Mumbai to see him as an MMA national champion; the mother and son make ends meet by managing a tea stall.
For him scale new heights, they seek the help of a coach (Ronit Roy), though they cannot afford the fee. Balamani is a feisty character who does not bow down; she reveals an emotional story that cuts the ice with the coach.
Puri gives Liger a handicap — a stutter. He can land several punches in the time he strings together a sentence. The film gets predictable here on!
The scenes keep cutting abruptly and it's a sheer chaos. While the maker has tired his best to keep the audience hooked onto the storyline, Liger treats you with the typical south USP - action, action and only action.
Written and directed by Puri Jagannadh himself, he has successfully managed to irk the audience with Ananya and Vijay's disastrous chemistry. The film's premise and its characters might appear to be new and crisp, but Jagannadh will give you nightmares with his filmmaking. A scene even showed Ananya roamancing Vijay while his mother cooks in the kitchen.
Tanya tries to seduce liger and it's pure cringe! The background score gives the scene a 'sensually sanskari' vibe.
Ananya Pandey's character as Tanya is such that she entirely cannot be blamed for the failure of Liger. Let us overlook the bad acting for a while, but its worth noting that it is the direction and lazy writing which is to be blamed here.
Produced by Dharma, its worrisome that such scripts are even approved by CBFC. Liger and its team appears to have picked an 80s or 90s script lying on some dusty desk.
Packed with lousy writing, the film if full of technical errors. The screenwriter, again Puri Jagannadh himself, seems too desperate to add masala in the film but, unfortunately looking at the outcome of Liger he needs to get back to the basics.
As Liger continues to overcome his break-up with Tanya, he scales new heights on MMA front. Vijay pulls off an extremely average performance and it is definitely not the best of his life decisions. But honestly, Vijay looks impressive in the ring!
Honestly, it would have been a good film if the makers would have specifically focused on MMA, and the outcome would have been good. But, even that doesn't seem to be the case. In an attempt to give the fans everything, its hard to understand what is the film exactly all about. If the makers would have even portrayed the lead characters love story, it would have worked like a charm.
Unfortunately, the film is about nothing substantial.
In conclusion, watching the extras is the real treat here! If observed properly, they are the ones who make your time worthwhile. Apart from its action sequences, South is promiently known for its dialogues also, and for some reason the dialogues like 'tu uske Mercedes benz pe apna cycle chadha dena' just get on your nerves.
Ratings: * (1/5)
Image Source: Instagram