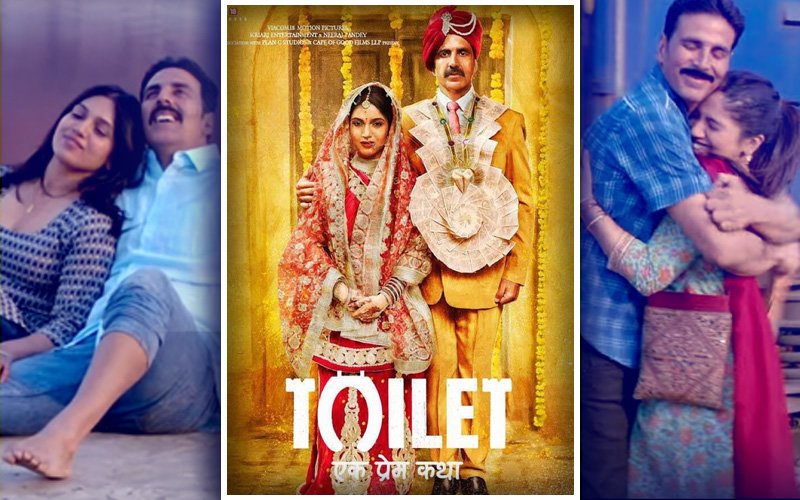 Hear hear. "If you change nothing," sayeth a wise oldish man,"nothing will change." Waah, waah. Alas, this homily tantamouts to casting pearls of wisdom before the incalculable number of stubborn tradition-keepers who still reside in some bygone century. Aakhir yeh hai India. Phir bhi progress mein der hai andher nahin.
Which is to say progress can be delayed, but not denied. Taaliyan, clappety-clap-clap. So in keeping with the much-vaunted Swachh Bharat Abhiyan, here's Toilet: Ek Prem Katha (why this way too obvious stinky-pooh title, please?) directed-cum-edited by Shree Narayan Singh. For the first-half of its 161 minutes, the outcome's done with a bit of zing, ting-a -ling-a-ling, and dollops of dance-sing-'n'-bling. Digdarshak Singh, by the way, had earlier helmed the fast-forgotten roam-com Yeh Jo Mohabbat Hai – will spare you the details – besides editing a batch of films, including Special 26 and Baby toplining
Akshay Kumar
.
And the screenplay's by the duo Siddharth Singh-Garima Wahal, who collaborated on Goliyon ki Raasleela: Ram-Leela. This is just by way of giving you some information, so you know the minds and heart behind this enterprise with an avowed social, and eventually propagandist message. Right.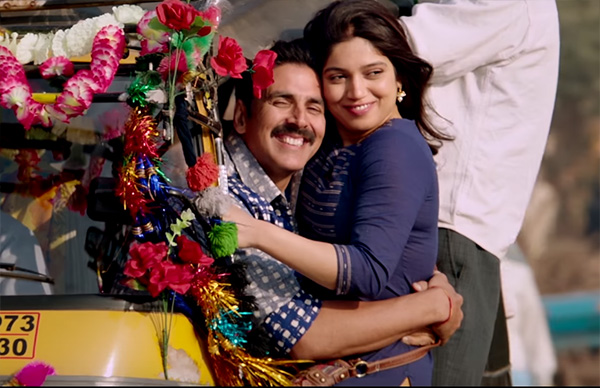 Akshay Kumar And Bhumi Pednakar Enjoy A Ride In Toilet Ek Prem Katha
At this point, do excuse me for a pause: the project was accused of plagiarism by a documentary filmmaker whose National Award-winning short film Manini opened with a suhaag raat scene, wherein the dulhan is livid with rage on learning that her groom's otherwise cosy home is bereft of a toilet. I won't get into the passing similarities between the documentary and the feature film or the lack of them. Not my job or expertise.
Instead allow me to crouch back in my multiplexwalla seat, erase doubts and glow with this flow about providing basic amenities to the smalltown Mandgaon which is apparently quite close to Mathura (er, is MP Hema Malini tuned in?). Without an iota of a doubt here's a valid subject, the need of the hour, which calls for urgent inquiry and redressal.
To cut to the chase, over to the amiable goodfella Keshav (Akshay Kumar), whose singleton status, at the age of 36 in the film that is, bears comparsion to a "volcano about to erupt." Scary. It seems this bicycle salesman is a mangalik with a faultline in his kundali. To ward off calamities he has been 'married' off to a buffalo. Yeh lo! Next: he goes ananas-'n'-bananas over Jaya (
Bhumi Pednekar
), who's been educated in farm culture from Japan no less. Jap Jap harvest khile and all that.
Follows that untranslatable ritual called chhed chhad, plus a saucy encounter by a railway train's loo and yaaay, love. Hence caution is thrown to the wind, Keshav weds Jaya. So far, so fun,it's all quite lively and engaging, thanks to the authentic locations, rollicking repartee and Akshay Kumar affirming that he's so much more cool when he's sorta real than a rascala rowdy.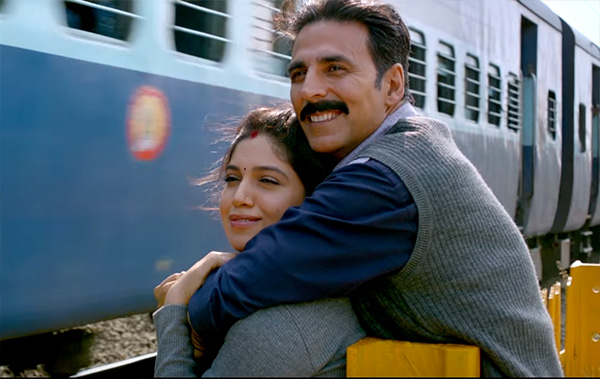 Akshay Kumar And Bhumi Pednakar In A Romantic Pose

Although the tempo's leisurely, you're still sufficiently engrossed. Tan tara tara, intermission. And you wish you had stayed put at the snack counter. Suffering from that classic dilemma of so many of our movies which can't quite sustain the drama in the second-half, the plot becomes stridently preachy and painful. Eeesh.
It's a war between fundamental needs (toilet, toilet, toilet) versus sanskriti (outmoded conventions). Sanksriti, you're informed, entails the status quo which is mega-chaunvisitic at its very roots. Meaning males can relieve themselves within their homes but the womenfolk, emblemised by the Lota Party, have to set out at 4.15 a.m. to defecate in open-air, amidst trees and shrubbery which could be infested with scorpions and snakes. Only hissssss, no hers here.
In the event, you can guess the rest of the she-he-conflict. Bride Jaya rebels, the recalcitrant Lota Party members fall in line with her. The sanitation department's officers and a kindly chief minister, seated in a chamber with Gandhiji's portrait, all sit up and take notice. Aaah, there's hope yet.
On the stubborn no change-front, count the bewhiskered Panchayat elders, the hero's impossibly orthodox bapu (Sudhir Pandey exuding glower power) and a dadiji (good ole Shubha Khote looking lost). Yeowww, dear dadi even takes a tumble, fractures her bones but is still sought to be rushed to the sauchalya in that snakey shrubbery. Crazy kiya re, really.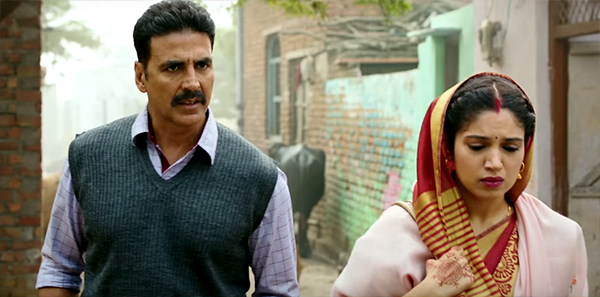 Akshay Kumar And Bhumi Pednekar In Toilet: Ek Prem Katha

Oh, by the way praiseworthy lines of dialogue also go out for demonetisation of currency notes and needless to reiterate, the Swachh Bharat Mission. By now, you're not quite sure whether you're watching a 'movie-movie' or a full-fleged endorsement for the powers-that-be. Such has cinema become, my dear friends.
More worries: wink-wink-nudge-nudge remarks are darted at Sunny Leone and Mallika Sherawat. And believe it or not, rather mean jokes are cracked at the expense of Hrithik Roshan. Did the worthy members of the censor board, as they are wont to nowadays, demand no-objection certificates from Ms Leone, Ms Sherawat, and Mr Roshan? Just asking.
Oodles of music, including a splashy Holi song, serve as speedbreakers to the dramaturgy. The cinematography uses drone shots excessively. Ho-hum.
Of the supporting ensemble, the usually sparky Divyanshu Singh is wasted in the role of a sidey brother, who either keeps nodding or grinning, or both.
As the militant dulhan, Bhumi Pednekar is confidence personified, and that's it. Akshay Kumar who has his moments of rage -- whoa, he even cries out loud after a lathu fight -- and romantic interludes, is quite likeable.
Sorry but the rest of this Toilet: Etc Etc is not.
To see or not to see? Till the interval, maybe, why not? After the interval, no.
Image Source: youtube/Viacom18Movies & instagram/akshaykumar