Golden Globes Awards 2021: Jennifer Aniston, Mark Ruffalo, Amy Schumer And Others Criticise HFPA; Extend Support To 'Time's Up Globes'
The mega Golden Globes Awards 2021 event took place virtually, recently. Before that, Hollywood celebrities like Jennifer Aniston, Mark Ruffalo, Amy Schumer and others extended their support to 'Time's Up Globes'. They took to social media to call out the Hollywood Foreign Press Association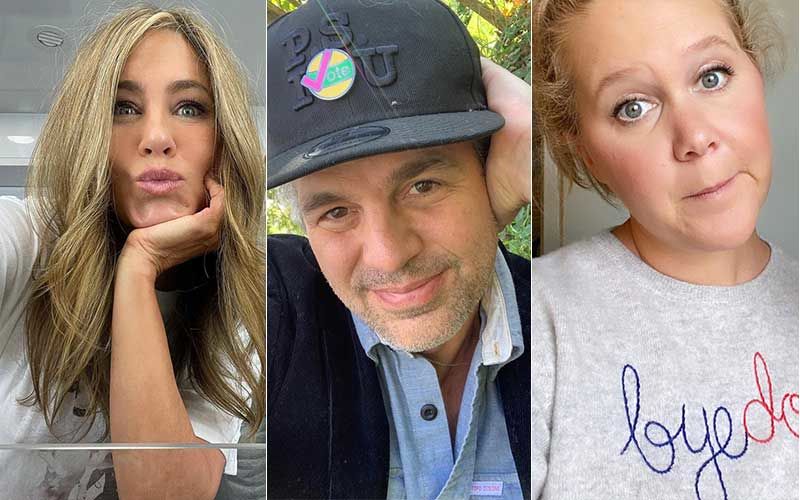 The Golden Globes Awards 2021 took place recently and the winners for the different categories were announced during the virtual event. Before the mega Golden Globes Awards 2021 event, Hollywood celebrities like Jennifer Aniston, Mark Ruffalo, Amy Schumer and others extended their support to 'Time's Up Globes'. The stars took to social media to call out the Hollywood Foreign Press Association. They criticised that there is not even a single black member out of the 87 in the HFPA ranks and spoke about their lack of diversity.
Time's Up took to their official Twitter handle and shared an image on Friday. The image read, "Hollywood Foreign Press Association. Not a single Black member out of 87." This particular message was shared, with the caption, "A cosmetic fix isn't enough. #TIMESUPGlobes #TIMESUP." Taking to her Instagram stories, Jennifer Aniston dropped a post, extending her support to 'Time's Up Globes'. She shared a similar picture on her IG stories and wrote, "A cosmetic fix isn't enough. #TIMESUPGlobes #TIMESUP" Actors Mark Ruffalo, Kerry Washington, Jurnee Smollett, Amy Schumer, Sean Hayes, Simon Pegg, DeVon Franklin, America Ferrera, Mark Duplass, Courtney Kemp, Tom Verica, Busy Phillips, Dakota Johnson, Patton Oswalt, Laura Dern and Alyssa Milano also shared the picture on their respective social media accounts. The celebrities wrote the same message supporting 'Time's Up Globes'.
Take a look at the post made by 'Time's Up Globes' below:
After the severe backlash they faced on social media, the Hollywood Free Press Association released an official statement, informing that they will work on implementing changes. The HFPA mentioned that are "fully committed to ensuring our membership is reflective of the communities around the world who love film, TV and the artists inspiring and educating them." The statement further read, "We understand that we need to bring in Black members, as well as members from other underrepresented backgrounds, and we will immediately work to implement an action plan to achieve these goals as soon as possible." While many celebrities expressed their thoughts and opinions, several Hollywood TV celebrities also shared their views. Grey's Anatomy actress Ellen Pompeo dropped an open letter to HFPA and White Hollywood.
Image source: Instagram/Jennifer Aniston, Mark Ruffalo, Amy Schumer