Happy Halloween 2019: Kylie Jenner In Her Sultry Mermaid Costume And Demi Lovato Ace Their Halloween Look
With everyone celebrating the festival of Halloween 2019 worldwide, Hollywood stars Kylie Jenner, Demi Lovato, Vanessa Hudgens, Nicki Minaj, Austin Bulter and Paris Hilton rock their Halloween look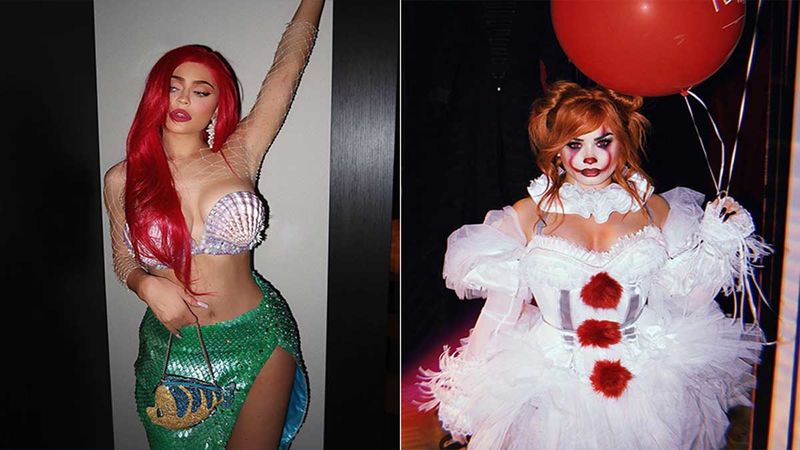 With everyone celebrating
Halloween 2019
worldwide, many celebrities have managed to ace their game this season. As Halloween is celebrated on October 31 every year, the festival originated from the ancient and medieval Celtic festival of Samhain. During the festival, the kids around the world dress up in vivid and weird costumes and head to houses in the neighbourhood to collect treats and candy as a part of the celebration. As Halloween is one of the most anticipated festivals, Hollywood celebrities Kylie Jenner, Demi Lovato, Vanessa Hudgens, Nicki Minaj, Austin Bulter and Paris Hilton rock their Halloween look.
Halloween
is a festival celebrated by the Christians worldwide and is widely known as 'All Hallows Eve' or 'All Saints Eve' and is a three-day observance of All Hallow Tide dedicated to remembering all the saints, dead and faithfully departed. As Hollywood celebrities are celebrating Halloween, stars Kylie Jenner, Demi Lovato, Vanessa Hudgens, Nicki Minaj, Austin Bulter and Paris Hilton rock in their Halloween look. Make-up mogul Kylie Jenner took to her Instagram to share her Halloween look with her fans. While the mommy recently shared a beautiful picture of her daughter Stormi all dolled up, Kylie also turned Playboy girl with her friend for Halloween. But once again Kylie is winning hearts with her second Halloween costume as 'The Grown-up Disney Mermaid', Ariel. The world's successful entrepreneur shared her picture as Ariel from 'Little Mermaid' and looks jaw-dropping. Also Read:
Halloween 2019: Bipasha Basu, Kriti Sanon, Taapsee Pannu Talk About Spooky On-Set Experiences
Apart from Kylie Jenner, Nicki Minaj also looked her best with her husband Kenneth Petty in her Halloween costume. While Nicki Minaj turned HarleyQUEEN this Halloween, her hubby Kenneth turned Joker.
Vanessa Hudgens and Justin Bulter were also snapped in their Halloween costumes. Vanessa and Austin were dressed as Sally and Jack from Nightmare Before Christmas and aced their look.
Demi Lovato also nailed her Halloween look. The Hollywood singer looked great in a white and red theme. While the singer looks scary in pigtails, she has nailed her Halloween make-up.
Paris Hilton was also spotted with Demi Lovato and the girls looked great in their Halloween costumes. The video shared by the celebrity revealed the fun the girls had.
Image source: Instagram/ Kylie Jenner, Demi Lovato