Happy Birthday Mandira Bedi: THIS Simple Diet Is What Keeps Multi Tasker Diva Super Svelte And Fit!
Mandira bedi is turning 48 today, and on her birthday we've revealed what she eats in a day to maintain her skinny frame.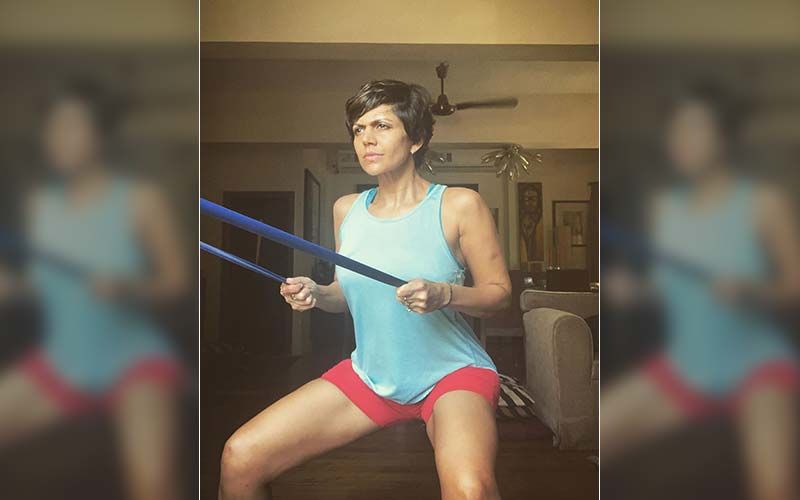 It's Mandira Bedi's birthday today. Believe us the stunning diva is turning 48 now, and the diva is clearly a multitasker. Mandira started her career as an actor and swiftly bagged another profession- A cricket commentator, which is highly a male-dominated in India. After that she also added the tag of a fashion designer to her list. She is really a super women, and we love her for what she is, a supermom and a fitness enthusiast. We mean, look at her, she is turning 48 today, and age is certainly defying her.
She got the tag of multi tasker along with managing her home and raising a young son with her husband. And even with so many jobs at hand, the actress manages to look so perfect, and all credit goes to her keen interest in fitness.
Aming her all the hats, she loves to wear the one that reads 'fitness enthusiast,' and she really is. And even her post pregnancy, she managed to loose close about 22 kilos.
She just followed these two exercises to achieve her desired body. These regimes can do wonder when matched up with healthy clean and simple diet.
Recently in an interview, she revealed what she eats in a day to maintain her skinny frame.
What Mandira Bedi eats in a day to remain healthy and fit!
When she wakes up in the morning, first thing she does is drinking Apple cidar vinegar in a hot water. She says, her skin has improved a lot because of it. Which is followed by a black coffee with a tea spoon of coconut oil in it.
Post workout is followed by a cold coffee. Sometimes she also loves to have eggs or toast but that to not very often.
As far as her meal is concerned, she says for some people eating after every two hour works for their body, she only eats when she is hungry.
A simple lunch and dinner
Mandira's hunger times are morning and at lunch hours where she eat daal, sabzi and roti. Then in the evening she likes to have little snacks. She winds up with her dinner by 7.30. For which she eats daal, sabzi and roti. "There is no rocket science in my food eating habits," she points.
Quirky tweaks in Mandira's food
Mandira said that she has added a few things to her diet that help her remain active through the day. The only tweaks that she added are olive oil or ghee. She says she not a rice eater, instead she prefers wheat, barley and oats.
Self- Motivation is necessary
Being a self motivator, she avoids working out with a trainer. Post pregnancy she shed 22 kilos, and at that time her motivation was that she was having so msny lovely pairs of jeans and beautiful dresses, she just wanted her wardobe back and that was her only motivation.
How can one get those Mandira Bedi abs?
While doing abs you also need to concentrate on your cardio, that is what keeps the weight off.
She says, "It's never too late to get into fitness. It's never too late to start exercising. So if you're having a big amount of weight to lose, You have go to look at small weights. Set small goals for yourself then move to next step.
According to multi tasker Mandira Bedi, Loosing weight and having a svelte figure is all about balance and with these handy tips one can definately achieve the skinny body like Bedi.
Image Source: instagram /mandirabedi