Holi 2023 Best Hindi Songs: From Jai Jai Shiv Shankar To Balam Pichkari, Groove To These Iconic Tracks To Celebrate The Festival of Colours!
From traditional Holi songs to the latest chartbusters, Bollywood has always given some of the most iconic tracks to groove on this festival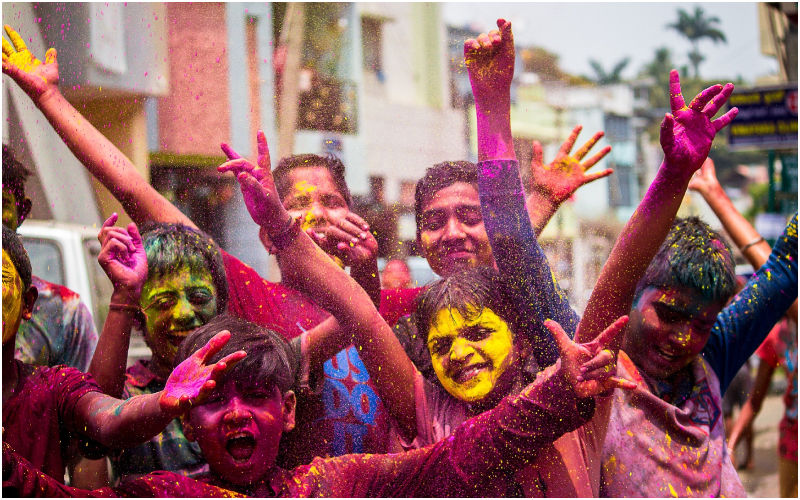 Holi is a festival of colours and it is popularly known for its vibrant and joyous celebrations in India. While the much-awaited festivals are just around the corner, many are gearing up to grove to their favourite and chartbusters songs. And there's no better way to celebrate Holi than Bollywood music.

1. Rang Barse
It was Amitabh Bachchan and Rekha's chemistry that made the song Rang Barse one of the most iconic tracks. And Holi would definitely feel incomplete without this song.
2. Balam Pichkari
Well, who doesn't like Yeh Jawaani Hai Deewani? Just like Kabira, this Ranbir Kapoor and Deepika Padukone starrer is also known for its song - Balam Pichkari and it will instantly leave you grooving to the peppy track.
3. Holi Ke Din
Starring Amitabh Bachchan and Dharmendra this song is from the Bollywood classic film Sholay and the film also features a popular Holi sequence in the song Holi Ke Din.
4. Do Me A Favour Let's Play Holi
The popular Holi song Do Me A Favour Let's Play Holi features Akshay Kumar and Priyanka Chopra and it belongs to the hit 2006 Bollywood film Waqt: The Race Against Time.
5. Ang Se Ang Lagana
Bollywood is just incomplete without Shah Rukh Khan and the song Ang Se Ang Lagana is from the 1993 film Darr which is also among the top 10 most-played songs on Holi.
6. Aaj Na Chhodenge
Nothing beats Rajesh Khanna's liveliness and enthusiasm to give his fans some of the most iconic songs, and how can we miss out on Aaj Na Chhodenge which also features Asha Parekh from the film Kati Patang.
7. Chhan Ke Mohalla
The Bollywood track from 2010 film Action Replayy starring Aishwarya Rai Bachchan and Akshay Kumar in the lead has become a must-have on the Holi playlist because of its lively and upbeat rhythm that makes it perfect for dancing.
8. Aare Ja Re Hat Natkhat
The song from Navrang features Sandhya with the epic direction of V Shantaram and the song. Originally, the film is noted for its dance sequence with its lead actress grooving to music by C. Ramchandra.
9. Jai Jai Shiv Shankar
The song features Rajesh Khanna and Sharmila Tagore and their impeccable chemistry is what makes the song so iconic.
10. Go Pagal
Sung by Raftaar, Nindy Kaur, the song from Go Pagal Jolly LLB 2 and the film features Akshay Kumar and Huma Qureshi.
Image Source: Pixbay