Aai Kuthe Kaay Karte, September 09th, 2021, Written Updates Of Full Episode: Anagha Surprises Arundhati With An Appointment Letter Of Her Job At The Ashram
Aai Kuthe Kaay Karte, September 09th, 2021, Written Updates Of Full Episode: Anagha Surprises Arundhati With An Appointment Letter Of Her Job At The Ashram.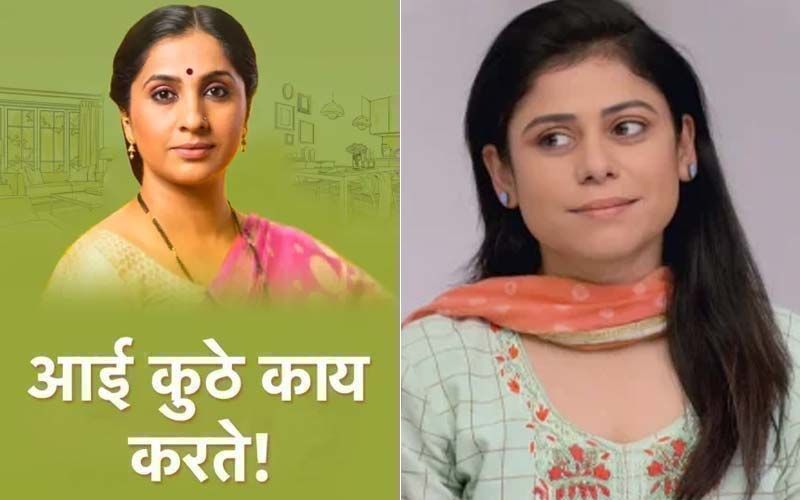 The Deshmukh family prepares for the Krishna Janmashtami Pooja. The Pooja gets done successfully with a slide change, as Sanjana sits with Aniruddha this time for the Pooja. After the Pooja, Sanjana has an argument with the family, but Kedar and Arundhati handle the situation. Then the program before dinner gets started and Arundhati initiates it with her soothing voice.
Now, in today's Aai Kuthe Kaay Karte episode, Isha, Gauri, and Nikhil perform an amazing dance after Arundhati's song. After that Arundhati and Vishakha get ready to serve the dinner. As they are getting the dinner ready, Abhishek stands up and stares at the door as if he's waiting for someone. Kedar asks Abhi where Avinash is gone and Abhi keeps giving him weird replies. Seeing that he's lost in his own mind, Yash asks Abhi to come to his senses. Abhi then goes to his room, but Isha stops him asking what's going on. At the same time, Anagha enters the house. As she enters, everyone starts calling her name and Abhi thinks that everyone is teasing him, until he himself turns and sees Anagha. It gets clear that Abhi was waiting for, Anagha as the expressions on his face says it clearly. Anagha prays at Lord Krishna and everyone greets her. Seeing that she's come this late, Gauri asks her to stay at her place for the night.
As Arundhati gets back to getting the dinner ready, Anagha surprises Arundhati with the appointment letter of her job. Everyone bursts out of happiness, but Kanchan gets confused. Then Anagha and Arundhati explain the job. As the work is at a charitable trust, Sanjana asks Arundhati about the salary. Arundhati tells her that the amount is low, but the work is of her liking. Everyone congratulates Arundhati along with Aniruddha. Yash also adds that Arundhati is getting her first break into the music industry. Kedar then teases Arundhati and Kanchan asks Arundhati where the job is? As Arundhati says Borivali, Kanchan gets happy and starts asking Arundhati to stay at Samruddhi bungalow. Aniruddha also insists Arundhati on staying, as she tries to deny Kanchan's request. Appa further, makes Arundhati realize that she also has a right to this house and she can stay there without any hesitation. Further, after dinner, Anagha gives Kanchan a foot massage. She also gives Kanchan some health tips, encouraging her to do Yoga. Arundhati then appears in front of them and they start talking about Arundhati's job. Appa gives Arundhati some tips on the job and Kanchan seems to be a bit too cautious about Arundhati. Appa asks her not to hold her back and let her explore the world, as Kanchan tries to warn Arundhati regarding the bad people.
After a while, Sanjana comes congratulating Arundhati and spoils everyone's mood. As she says something mean to Arundhati, Kanchan warns her. Then Sanjana asks Anagha how she is. She also tells her that she's happy that Anagha is helping Arundhati even after what happened with her. Anagha tries to ignore the topic, but Sanjana keeps bringing back the past saying that what Abhi did was wrong. Anagha tells her that what he did was wrong, but rather than being angry at him, she wants to focus on the positive things. Anagha also tells her that she's here for Arundhati. As Sanjana tells her that she's making up reasons, Arundhati asks Sanjana not to spoil a good thing by linking it with unnecessary things. Anagha makes Sanjana realize what it means to be forgiving. Sanjana still sticks to her statement, saying that it is not easy to forget the biggest insult that we faced in our life. Arundhati confronts her by asking Sanjana why did she forgive Aniruddha even though he ran away from her just before their marriage. As Sanjana tells her that she forgave him because she loves him, Anagha tells her that just like her she also loves someone and that is Arundhati. Due to the respect that she has for Arundhati, Anagha was able to get over the bad things that happened to her. Anagha also says that she might become friends with Abhi in the future if it happens naturally and criticizes Sanjan saying that she wouldn't get it. Sanjana stands speechless and Abhi comes downstairs. He asks Anagha if he should give her a lift home. As Anagha says that she's staying at Gauri's place, Kanchan plays a trick and makes Anagha agree on coming home in the morning, as well.



Image source: Hotstar