NEVER HAD SEX With The Complainant: Ankit Tiwari Finally Speaks Out
Ankit Tiwari finally talks against the woman who has been going around the town claiming how he cheated her into a forced sexual relationship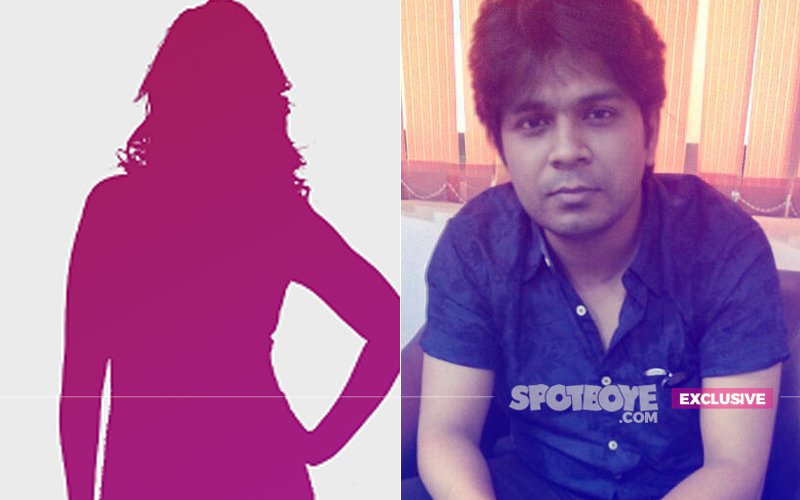 The last few days have not been easy for Ankit Tiwari.
The lady (name withheld) who had earlier accused him of rape has come out in the media with a vengeance, with details of how Ankit lured her into a forced sexual relationship
. So far, Ankit was more or less silent- but not any more. In an EXCLUSIVE chat with SpotboyE.com yesterday, the singer-cum-music composer gave his side of the story in presence of his brother Ankur and senior lawyer Rizwan Merchant.
Excerpts from the interview:
I spoke to the lady in question. She started off by saying that you got her number from someone and started chasing her after that...Ankit:
I did meet her at a Durga puja but I never chased her.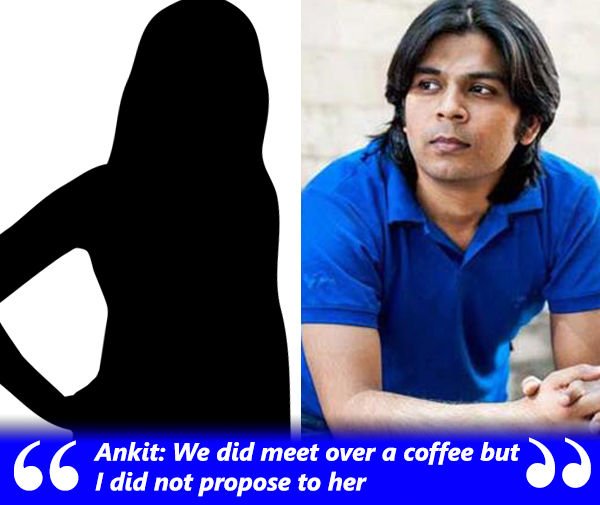 Image Source: clipartster & punjabitribune

You proposed to her in a coffee shop...
Ankit:
We did meet over a coffee but I did not propose to her.
She said you took a video of her while having forced sex with her after a party...
Ankit:
I was at the party she has referred to, but her charges are all false.
Merchant:
Why did she not produce any such evidence in Court?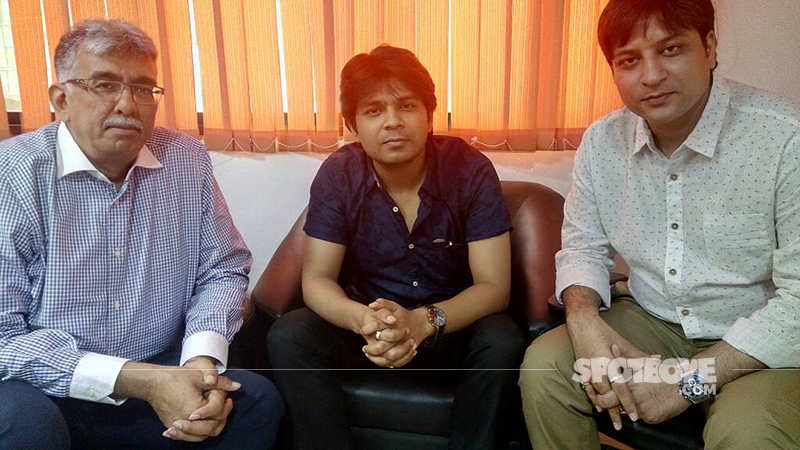 Image Source: SpotboyE Team


Did she not?Merchant:
No, she didn't. And let me tell you the biggest irony. Her first complaint in the police station said: Ankit and I are in a healthy, consensual relationship, I have come to complain about a certain misunderstanding. Later she accused Ankit for rape and filed a FIR, but when she came to the witness box she never said anything much and produced no proof.
We have not admitted to the consensual relationship simply because they were not in one such.

She says that the video was stored in the phone she had gifted you, but now that phone has disappeared...
Ankit: Is this trial by the media? The trial was completed at Sessions Court. Go to the High Court if you want but why talk rubbish in the media
Merchant: If I knew that she will come out with a new story like this after Ankit the Sessions Court verdict which went in favour of my client, I would have grilled her in the Court and exposed all her lies.

Why didn't you grill her?
Merchant: Ankit and Ankur came up to me saying, "If she's saying that it's a misunderstanding, don't pursue the matter. Just let it go."
The misunderstanding must have been conveyed to the police, Ankit is a celebrity and the cops in question must have highlighted and twisted the case to earn a few feathers in their cap.
I could have embarrassed this lady with my set of questions and trust me, I wouldn't have taken time. I had two versions from her- one which she had given to the cops and the other which she was giving in the Court. Ankit and Ankur's request stopped me from doing so.
Did the Court ask her to elaborate on the misunderstanding?Merchant:
The Court asked her, but she could not give a reply. When she had gone to the cops, she had only said that Ankit had promised to marry her but gone back on his word. She is slandering.
She says there was pressure from Ankit's side to drop the case?Merchant:
She had the facility of a lawyer. We are cancelling their bail and taking them into custody, the Court would have ordered. She was specifically asked about various things which hint at forced sex, but she denied all.
Even about the the video, sex keeping her daughter and sister outside the room, promised marriage?Merchant:
She did not say a word about all that in the Court.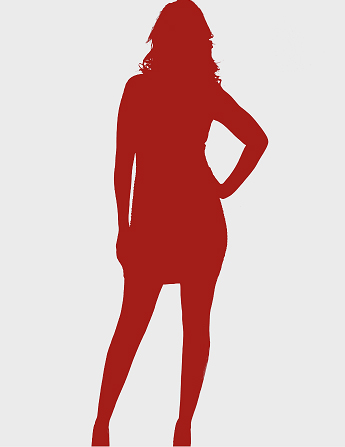 Image Source: creativecowforums

What was your relationship with her?
Ankit:
Normal friendship. Nobody knew me when I first met her. Sun raha hai tu from Aashiqui 2 hadn't released. Don't people in their early days in career meet many people for work and networking? My meeting with her were only of those types.
Has this scandal affected your work, concentration, etc?Ankit:
Mujhe last few days mein farak pada hai. The lady's interviews after my acquittal have even affected my parents for sure. I read her interviews which she gave recently including the one that appeared on SpotboyE.com and I was very miffed. Why should I be explaining after the Court has acquitted me? Shouldn't the judgment be respected?
Ankur:
I must add here that I am thankful to my parents for standing by Ankit. I still remember the day my father was standing outside the police station when Ankur and I came out for the first time (Ankit's song Teri Galliyan was released the same day) and he ran up to me and said: Don't hide your face.
Were you'll hiding your face?Ankit:
Well, ek side pe haath rakhte hain na as a natural reaction. But my father didn't like it. He said: Keep that hand on your face only if your guilty.
Why was Ankur arrested along with you?Ankit:
She had alleged that Ankur put a knife on her neck and threatened her.
Ankur:
She said I threatened her 'Mere bhai se door raho'. First complaint mein mera nahin tha.
Merchant:
Such an offence is a non-cognizable offence, yet the cops filed a cognizable offence against Ankur. I had too many points to thrash out the case, and I repeat, these two brothers stopped me.
She also said that she flew down to Kanpur with her family to convince your parents but was humiliated there...
Ankit:
No comments.
She said that she was humiliated by your mom at your house in Kanpur when she tried to convince your parents...Merchant:
Again, she never said that in the Court. And by going to Kanpur, does it imply that she indeed landed up at Ankit's house?
Did you speak to her and demand to know why she had turned against you when she lodged her first complaint?Ankur:
We didn't know anything about the first complaint until the FIR was lodged just hours before the Teri Galliyan number. I think everything was planned.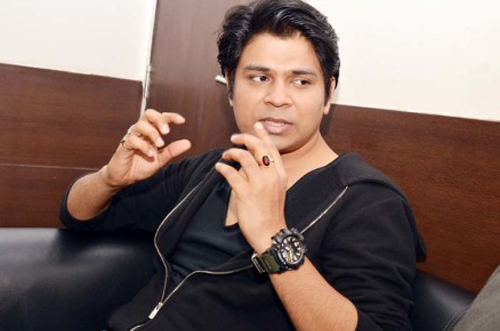 Image Source: amarujala


Why would anybody want to tarnish you?
Ankit:
I don't know but it all happened after the Aaashiqui number which became a rage. Some people told me that if I wasn't known till then, it wouldn't have happened.
She says you were immensely drunk when you first had sex with her...Ankit:
I don't drink. I never smoke. I don't eat non-veg.
She says you lie that you are a teetotaller...Ankit:
Why would I hide it if I drink? That too in today's times?
Merchant:
Is every drunk man a rapist?
Did you love her at any stage?Ankit:
Not at all. I was struggling those days aur meri lalach sirf yeh thi that I just might get some work as she was acquainted with certain events. And most of them, I met her in presence of someone or the other. Kahan pyaar? Galiyan chhod kar main pyar karun? Chalta kya? I never had any relationship with her, leave aside sexual.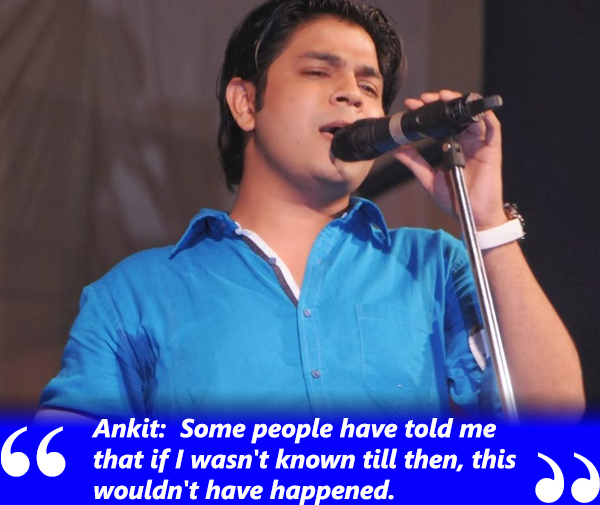 If you were not attracted to her, maybe she was attracted to you?
Ankit:
(Laughs) Woh mujhe nahin malum.
Merchant:
Aise to bahut log attract hote hain, iska yeh matlab thode hi hai ki sabhi un logonko kandhe pe bitha de.
Thumbnail Image Source: creativecowforums & SpotboyE Team