Anupamaa SPOILER ALERT 6th July 2023: Maya's Death Leaves Choti Anu Traumatised; Barkha Makes Anupamaa Feel Guilty About Going To America
In the upcoming episodes of Anupamaa, Barkha will get to know that Maya lost her life to save Anu and use it to her advantage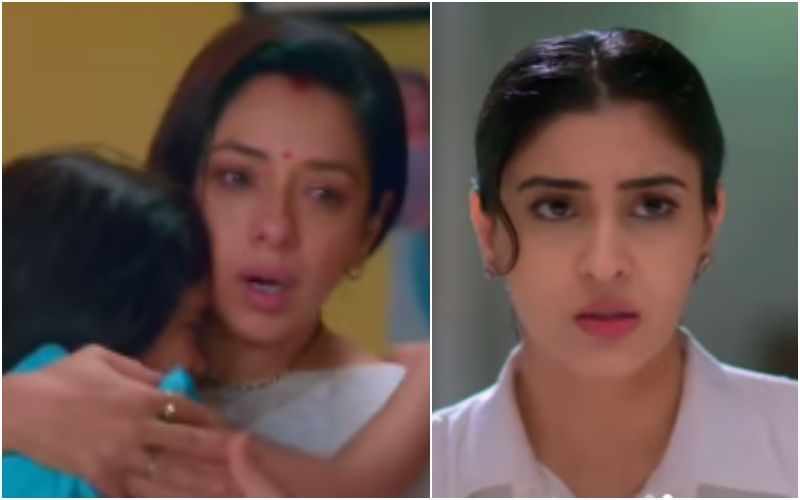 One of the most-watched shows on Star Plus, Anupamaa enjoys a huge fan base. Starring Rupali Ganguly, Gaurav Khanna and Chhavi Pandey, produced by Rajan Shahi, the show has kept the audiences hooked with its high-voltage drama and unexpected twists. While the makers of the serial often come under the scanner for ruining the character development of the leads, the show always tops the weekly BARC ratings. In the previous episode it was seen that Maya loses her life while trying to save Anu from a speeding truck.
In the upcoming episode, the news of Maya's tragic death leaves everyone shell shocked. While Choti Anu is traumatised to know that her real mother is dead and won't be coming back, Anu will blame herself for Maya's death. While she is sharing her concerns and sadness with Anuj, Barkha will overhear everything and plan to destroy their lives by poisoning Choti Anu's mind against her adoptive mother.
ALSO READ: Anupamaa SPOILER ALERT 5th July 2023: Samar Lashes Out At Dimpy After She Badmouths The Shah Family
Apart from that Barkha will also taunt Anu for deciding to leave for America when her daughter needs emotional support. Anu will have to go through a lot of scrutiny for leaving her family behind to pursue her dreams. As Anupamaa will be busy taking care of her family and helping them recuperate from their loss, there is a possibility that she might delay her trip to America. This decision of Anu doesn't go down well with Malti Devi who swears to show her dark side to her most-trusted student if she betrays her.
ALSO READ: Anupamaa SPOILER ALERT 4th July 2023: Choti Anu Lashes Out At Maya; Tells Her Only Anu Can Be Her Real Mother
With the three year leap just around the corner, fans have been eagerly waiting to know how the makers plan on taking Anu and Anuj's love story ahead. Will Anupamaa go and settle in the US alone or will Anuj and Choti Anu follow her and become her pillar of support again are some of the burning questions the audience is eagerly waiting for.
Image Source: Instagram