AUDIO LEAK! Rakhi Sawant EXPOSES Hubby Adil Khan's New Girlfriend Tanu, Says 'Shame On You Mera Husband Chura Ke Kitne Din Rakhogi'
An audio conversation of Rakhi Sawant with her husband Adil Khan's girlfriend Tanu has leaked on social media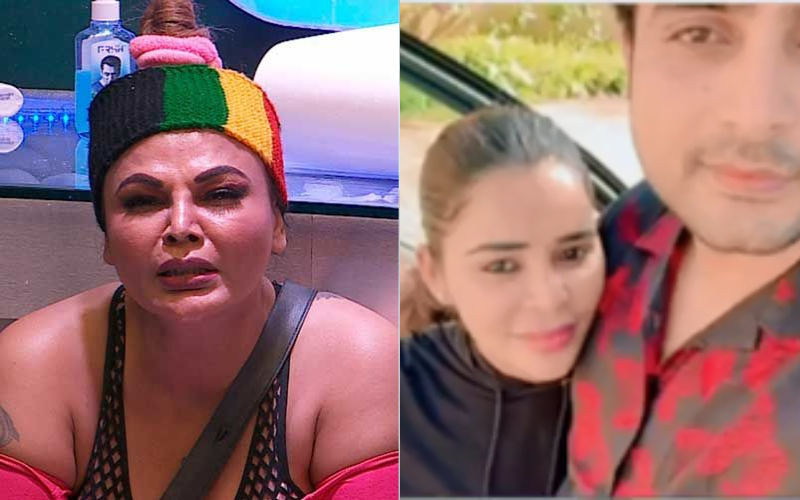 Controversial queen Rakhi Sawant is facing trouble in her marriage with Adil Khan Durrani. The actress has been very vocal about her ordeal in the media and accused Adil of cheating on her. Now, Rakhi has exposed the identity and name of Khan's new girlfriend Tanu, and accused her of snatching away her husband. An audio clip of Rakhi and Tanu has surfaced online wherein the actress told Tanu that she is warning her against Adil as he has already spoiled her life.
In the viral clip, Rakhi could be heard saying, "Shame on that girl. She stole someone's husband. It's my luck. I can't do anything. Shame on you. Her name is Tanu. Shame on you Tanu. Mera husband chura ke kitne din rakhogi? How many days do you have with him in this lifetime? You stole a husband from the wife. Shame on you. I have given him many chances. But Adil has gone to that girl leaving me. I want to tell her, 'Tanu, jo biwi ka nahi hua, wo tera bhi nahi hoga. Challenge.' He is with me for one year. You snatched him away from me. I have videos and photos of you abusing me Tanu. Now I have the media's support."
ALSO READ: SHOCKING! Rakhi Sawant Accuses Hubby Adil Khan Of Extra-Marital Affairs, Says 'Ek Aurat Dusri Aurat Ka Ghar Tod Rahi Hai'
She added, "He made me apologise in front of the media. He told me that he will come back to me if I apologise in front of everyone. He pulled me down in front of the nation, I was very hurt. But he is not back. He posted things but he has not come to me. He is living with her." The Ex Bigg Boss contestant also mentioned that Adil tricked her into apologizing in front of the media. "He asked me to apologize in front of the media. He said that if I want him back, I have to apologize. But he didn't come and he made me look like a fool in front of media and people. I was deeply hurt," Sawant revealed.
For the unversed, Rakhi Sawant and Adil reportedly got married last year in an intimate ceremony months after dating. The actress had earlier revealed that she kept her marriage secret because of Adil's extramarital affair as he denied accepting her because of that girl.