SHOCKING! Rakhi Sawant Accuses Hubby Adil Khan Of Extra-Marital Affairs, Says 'Ek Aurat Dusri Aurat Ka Ghar Tod Rahi Hai'
Rakhi Sawant has accused her husband Adil Khan of having an extra-marital affair!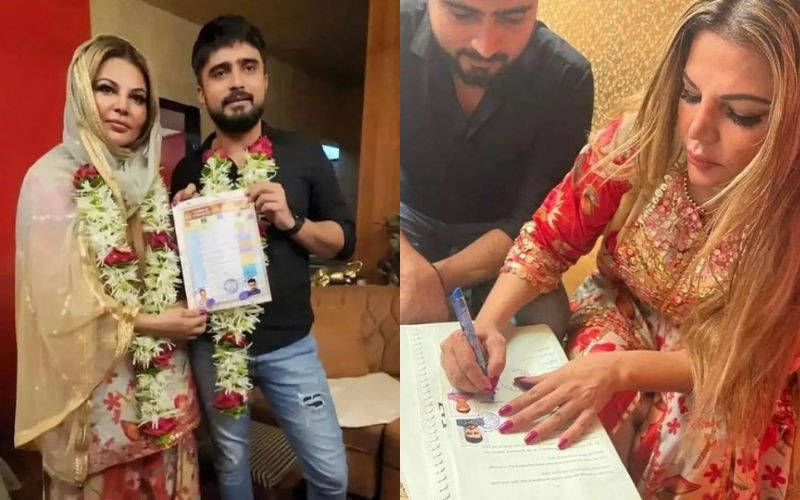 Controversy queen Rakhi Sawant has levelled some serious allegations against her husband Adil Khan Durrani. In her recent outing, the actress made shocking claims accusing Adil of having an extra-marital affair. She told the media that Adil is involved with some other girl and she will soon expose her in the public. Sawant also alleged that Adil made her remain silent about their marriage for eight months because of his affair and denied accepting her because of that girl.
Speaking to paparazzi, the ex-Bigg Boss contestant was seen crying and requesting paps to not give Adil much hype. She said, "You (Adil) had said that in Islam all the issues should be discussed behind closed doors. I have done that but you are not understanding me. Tumhari ladki mujhe dhamkiyan de rahi hai. I have a record of it. Kehte ho na media mein kyun aati ho, baat ghar pe hi rakho. Ghar pe reh ke na mujhe fridge me nahi jana hai. I will fight for my rights as a married woman. Adil supports that girl and so she tells me confidently that he will leave me and marry her. That's why he asked me to hide marriage. I gave him 10 chances."
ALSO READ: Rakhi Sawant CONFIRMS Her MARRIAGE With Adil Durrani; Hints At Trouble Saying, 'Main Bahut Pareshan Hoon Logon Ke Saamne Meri Shaadi Aana Zaroori Hai'
She added that Adil promised her to remain loyal while keeping a hand on the holy book, Quran but he didn't keep his promise. She explained, "People say Rakhi ka naatak hai but yeh mera dard hai. I am changing my gym. I don't want him to come to the media and get publicity. He comes here to give interviews to the media. Jhoton ka putla hai woh. Quran pe kasam khaaya that he will block the girl but he didn't do that. And now that girl is blackmaling him."
For the unversed, Rakhi and Adil secretly tied the knot on 2nd July 2022 in a low-key ceremony.