Benafsha Soonawalla's First Music Attempt Wins Beau Priyank Sharma's Heart; Actor Says, "I'm So Damn Proud Of You"
Benafsha Soonawalla has a pleasant surprise for her fans. The actress sang a song for the first time and shared the video on social media. Actor-boyfriend Priyank Sharma is totally smitten by her voice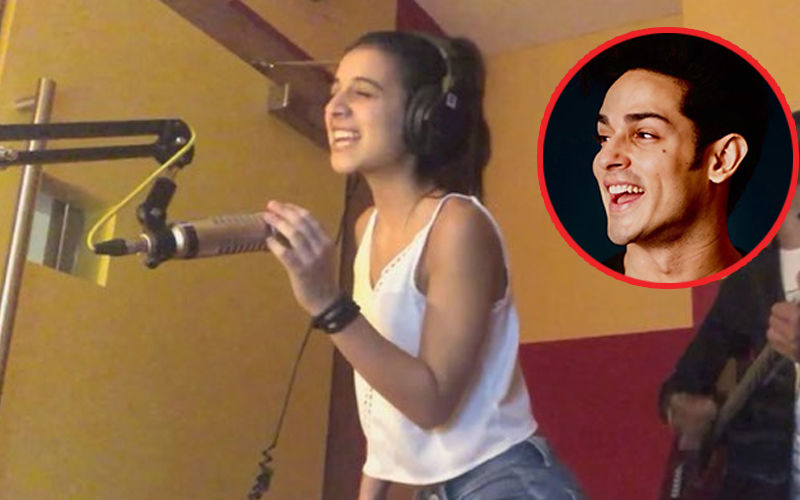 Bigg Boss 11 contestant Benafsha Soonawalla has released a music video wherein she can be seen singing the song Kaisi Paheli Zindagani from the film, Parineeta. It's her first attempt at crooning a song and the actress couldn't contain her excitement. She shared the video on social media.
Benafsha wrote, "SURPRISE SURPRISE!! My first attempt at making music for y'all in the way I could, as promised. Y'all motivated me in those polls to go for it so here we go!
There are very very very few people that know this side of me, but because y'all have been so supportive and loving even through my downs, I love you all so much and think y'all deserve to know this side of me too. Please hear till the end and please forgive flaws if found 🥺 and let me know any future song suggestions if y'all like?😝💜 (god this is the first time in YEARS that I'm nervous)
Special thanks and mention to @yazdidamania_26, you have been so kind, patient and understanding, my friend since so many years and one of the most talented people I know, we tried pulling this off without any technical, special effects etc and it obviously wouldn't have been possible without you. 💜 Enjoy my husky little voice and Yazdi's guitar skills. Here's our little Sweet and simple jam on 'kaisi paheli zindagani' from the movie 'Parineeta' for all you beautiful people."
In no time, her beau, Priyank Sharma reposted the video and expressed his excitement by writing, "Alright , 95 percent of you people don't even know HOW I AM FEELING ABOUT THIS RIGHT NOW ! No , you guys don't know it . I AM SO DAMN PROUD OF YOU TODAY benny . FINALLY ! Finally , you started this @benafshasoonawalla . I had no clue that you will release it. I can tell you guys one thing this is not even her best yet . SHE IS HOLDING IT IN RIGHT NOW . I have no clue why , but yes she is . COS I HAVE HEARD IT AND I AM WAITING FOR THE ANOTHER ONE BEN ! THE BEST OF YOU ! #artist"
So much love! Well recently, the duo made it to headlines for not a very good reason. Priyank Sharma and Vikas Gupta had a huge fight in a 5-Star hotel. Their fight escalated to such an extent that apparently, Priyank threw a water bottle at Vikas in a fit of rage as the latter tried escaping from the gym.
SpotboyE.com was the first to report about this fight
. Also, when all this was happening, Benafsha was round the corner.
Our sources revealed later on, that instead of trying to pacify the duo,
she hysterically sided with her boyfriend
and was heard telling people loudly and animatedly, "Priyank doesn't hit unless he's provoked". Next,
we even contacted Ben's mother
, but she chose to reply with a "No Comments".
Meanwhile, on the work front,
Benafsha will be making her Netflix debut with Indian original movie titled Chopsticks
that is directed by Sachin Yardi. Priyank, on the other side was seen in
ALTBalaji's Puncch Beat
.
Image Source:- Instagram/benafshasoonawalla/priyanksharmaaa