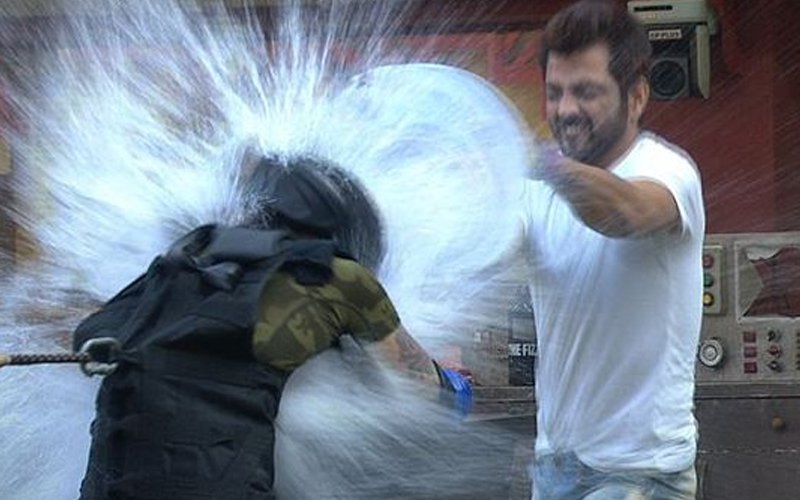 After
performing phenomenally well in yesterday's task
, the housemates wake up dancing to the tunes of Sultan. Both teams are all set to fight it out in today's task as well. Early in the morning, Manu Punjabi and Manveer Gurjar are seen celebrating Manveer's performance (Manveer stayed on for over 4 hrs 30 mins glued to the red circle).
Manu appreciates Manveer's effort during the task.


Adding to this, Manu says that he regrets the fact that he was not able to survive for a long time in the task and how the entire load of accomplishing the task fell on Manveer's shoulders. They further discuss Lopamudra Raut's attitude in yesterday's task and deem it unhealthy. They conclude that she lost out on staying for long in the game owing to her impulsiveness.

As the day progresses, a tussle breaks out between Lopa and Rohan Mehra when they analyse their performance in yesterday's task. Lopa says that she felt Rohan was overdoing things, subjecting Manveer to a lot of pain. Rohan rebukes saying that he was just doing the task, and Manveer didn't complain about it either. He advices her to stay out of it.

Rohan also adds that her actions (read her over protectiveness) did not go down well with other housemates and hence, she attracted heavy criticism. Failing to understand what Rohan was saying, Lopa tells him that she isn't interested in any justification he has to give. Irked with Lopa, Rohan leaves the conversation midway and walks out.

In the garden area, VJ Bani is seen in a conversation with Manveer discussing what transpired during the task the previous day. She tells him that she is cool if he or Manu irritate her during the task. She also requests him to keep Lopa as far away from her as possible. Lopa, on the other hand, starts strategizing with Manu and decides to prepare a fake snake to scare Team Rohan. Manu also says that they will need to displace Mona Lisa, Bani, and Rohan by putting lots of oil and eggs on them and soon the plan is executed.

Bigg Boss commences the second leg of the task. Just like Team Manu (Manu-Lopa-Manveer), Team Rohan (Bani-Rohan-Mona) too is tied to a bungee cord, while they need to sustain the pull and keep their hands on the red circle. As the task begins, Manu and Rohan get into an argument as Rohan claims that there is no mention that the contestants cannot touch the cord. Manu, on the other hand, tells him that they performed the task yesterday and are well-versed with the rules.