Bigg Boss 11: Arshi Khan Calls Hina Khan LOW CLASS
Fights inside Bigg Boss 11 house are getting dirtier by the day. The two most talked about ladies of the house - Hina Khan and Arshi Khan - are once again fueling a new controversy. Arshi has called Hina 'Low Class'...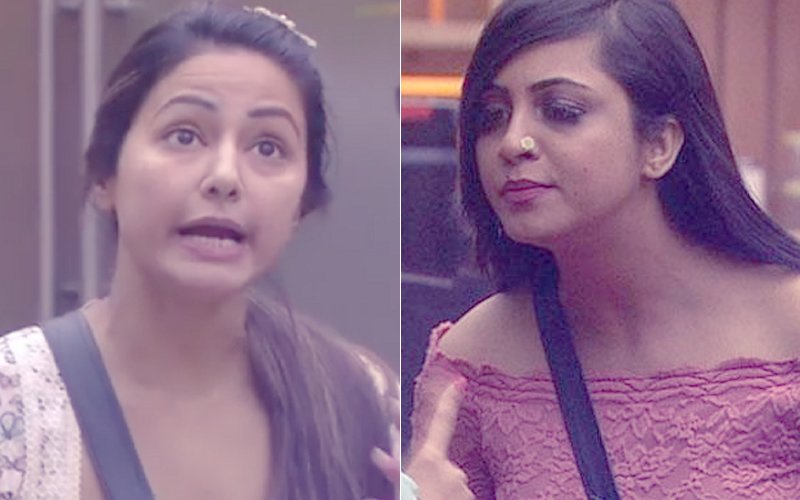 Bigg Boss 11 is going murkier by the day. Two of the most talked about contestants inside the
Bigg Boss 11 house, Arshi Khan
and Hina Khan, still cannot see eye to eye. This has given rise to camps being formed inside the house as to who sides with which hottie. Amidst all these fights and controversies, a new video has surfaced where Arshi is seen badmouthing Hina. Check it out:
While talking to Shilpa Shinde, Arshi said, "Low level hai. Bahut low class ladki hai Hina."
Such companionship through hard times , fun times , family times and alone times no wonder you were so attached this beloved soft toy of your, it no less than a family member for u in that house, full of memories. And u still gave it up ! Hats off @eyehinakhan ! #TeamHinaKhan pic.twitter.com/rV89ZoZYR2

— HINA KHAN (@eyehinakhan) November 14, 2017
Well, that's a big thing to say about Hina. If you don't remember,
Hina was referred to as one of the most sober bahus
on national TV. After coming to Bigg Boss this season, that image has slowly been shattered. With Hina's numerous fights with Arshi, Shilpa, Vikas Gupta and many others, her true colours are coming out in the open.
Coming back to today's video, Hina is surely not someone who will take such an insult lying down - that too when it's coming from Arshi. Let's wait and watch what Hina has to reply to Arshi in tonight's episode.

Image Source: twitter/biggboss11_/colors