Divya Agarwal's WhatsApp Chat With Benafsha Soonawalla: Latter Calls Priyank Sharma A 'D**k'
Divya Agarwal hits back at Priyank Sharma; releases a personal chat between herself and his current girlfriend, Benafsha Soonawalla. The contents are indeed shocking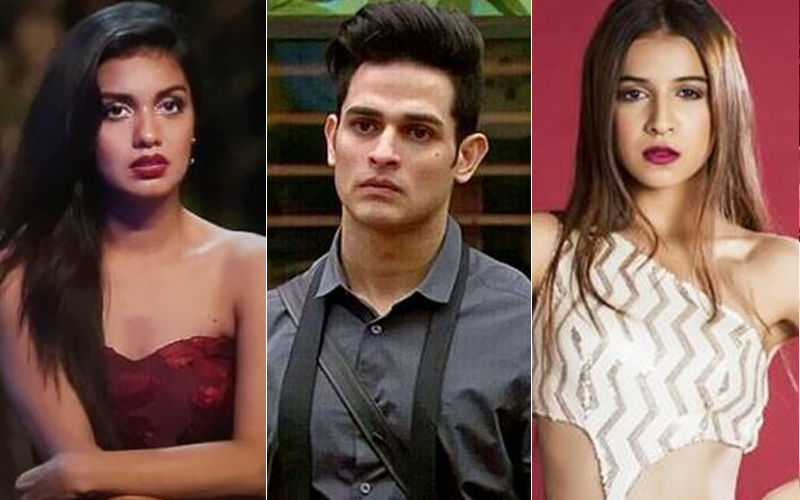 Since the past week or so there has been lots of back-and-forth happening between Priyank Sharma, Divya Agarwal, Benafsha Soonawalla and Varun Sood. First, Varun spoke about how he broke up with Benafsha saying he used to stand outside her house crying. Then, Priyank wrote a long-note on social media, claiming that Divya is past for him and that she should stop using his name for publicity; his hurtful note left her in tears. She even accused Priyank of having ruined her life. Soon, he followed it up with another letter in a subtle tone and now she has reverted through her Instagram page.

She has shared screenshots of a Whatsapp conversation between herself and Benafsha. In a long post, Divya said that Priyank was lying every time he said something about their relationship. In one of the messages, Benafsha is seen calling Priyank a 'di*k'. Here's what Divya wrote:
"There are a lot of other chats pictures and things that can be put here to prove that you are a human being who is mean and selfish . Who cheats and plays with multiple girls and boys emotionally and use them for your needs and move on and than talk rubbish and try to slut shame them . Than on public try to show how good a human being you are . Only adding 3 screenshots on chats between @benafshasoonawalla and divya cause this was necessary to tell that Divya is not using your dirty name after breaking up with u post a year . You have been trying to get back to her , when your current gf ben caught u , messaging that don't think I am trying to get back while speaking about divya and other girls and boys you have been with and have dated, in the most vulgar way to ben and others , Trying to slut shame all of them in front of other people and about the guys you have been with portray then as they are obsessed about you and than try to become the victim in a situation where you are the one torturing emotionaly post doing wrong and getting what you needed from people financially or physically or socially . If Ben's parents are reading this get your daughter out of this guy's life . She cries abuses complains and is still stuck with him . You can contact mother and get the rest of the messages which for better reasons cannot be uploaded here . @priyanksharmaaa This is not the last post . Everytime you will put out a lie , you will get a truth . The whole family is standing beside Divya and not just for her but others who can't stand . You are a bad human being, you hAve done wrong to a 17 year old fan, the girl who you claimed to love for 12 years , Divya and the list is long but it needs to end . People need to know you look like good human being your heart is black . And your Best Friend from 7 years say Karma @kritikaakapoor96 .The authenticity of the chats can be checked by any legal body . #notlastpost @karanjohar @lostboyjourney @ektaravikapoor @rannvijaysingha @princenarula @kkundrra @varunsood12 @kritikaakapoor96 @mtvindia"

Will Priyank retaliate again? Or will Benafsha speak up in favour of her current boyfriend Priyank? Well, only time will tell. Stay hooked onto SpotboyE.com as we continue to follow this story.