Ekta Kapoor Speaks AGAINST Kapil Sharma, Agrees To Karan Patel's Dig
This morning Karan Patel posted a message on his social media accounts where he made a nasty comment on Kapil Sharma. And now, TV queen Ekta Kapoor has also seconded his message...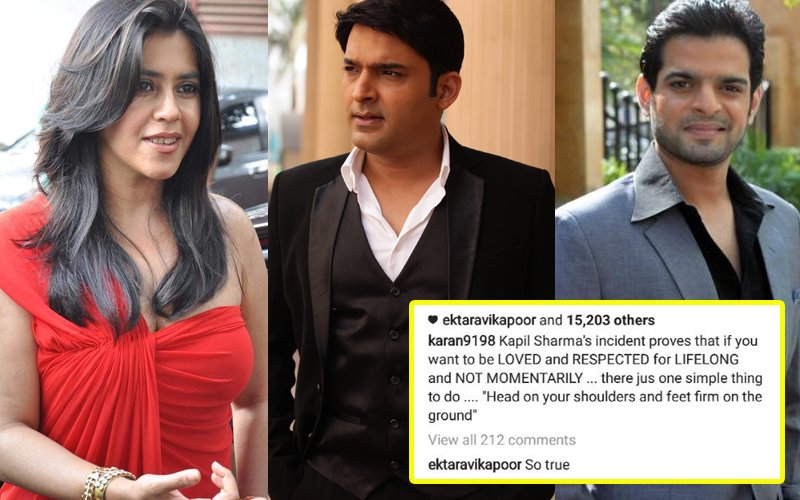 Wind is strongly blowing against Kapil Sharma and things are getting out of control now.

Till now it was just his fans, media reports and outsiders talking about the right or wrong he did with Sunil Grover and his team mates on the flight. BUT now the Television industry has also started reacting to the brawl. Believe it or not but they are taking SIDES, and UNFORTUNATELY for Kapil, it's not him they are choosing.

This morning we told you about Karan Patel tweeting against Kapil Sharma where he posted a message taking a dig at the comedian. He wrote, "Kapil Sharma's incident proves that if you want to be LOVED and RESPECTED for LIFELONG and NOT MOMENTARILY ... there just one simple thing to do ....Head on your shoulders and feet firm on the ground"



And now, on the same post, Ekta Kapoor has left a comment saying, "So true", which obviously means that Ekta agrees to everything Karan wrote in that message.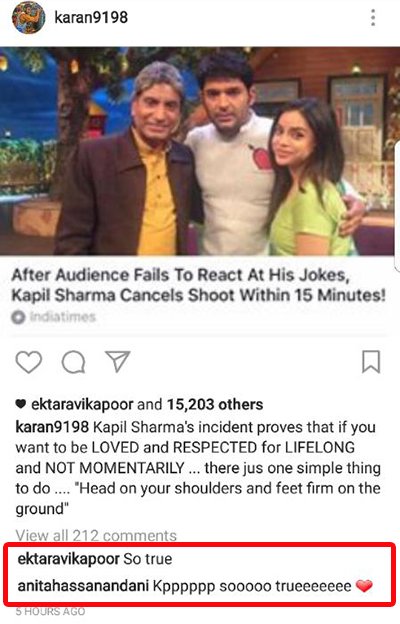 Image Source: instagram/karan9198

Ekta Kapoor is a very big name in the television world; we all know that she has a major contribution in making the television industry what it is today. So, when someone so influential and important from the industry speaks against you, it definitely is not good news.
Also, Ekta Kapoor never gives out an opinion on matters easily. She is someone who doesn't express views publicly on any controversy. But this time even she couldn't help but post her views on the issue.
Not just Ekta, if you see below her name,
Anita Hassanandani
has also posted a message where she has written, "KPPPPP sooooo trueee..."
Clear enough from the messages, that industry too is supporting Sunil Grover in the entire controversy. A few days back, when
Sunil Grover appeared on Indian Idol 9 grand finale to perform
, the judges of the show- Sonu Nigam, Farah Khan and Anu Malik greatly applauded his performance, indicating that they support Sunil in this tough time. The finale was a huge hit with everyone cheering for Sunil.

Hope Mr. Sharma is taking note of these developments!


Thumbnail Image Source: punjabigram, beritatoday & thestorypedia