Nirmal Soni Is The New Dr Hathi In Taarak Mehta Ka Ooltah Chashmah
Almost two months since Dr Hathi (Kavi Kumar Azad) of Taarak Mehta Ka Ooltah Chashmah passed away, makers have finally chosen the man that matches his persona. Buzz is, it's Nirmal Soni- who was the original Dr Hathi before Kavi Kumar Azad replaced him. Now, SpotboyE.com even has the deets how the makers will bring him on-board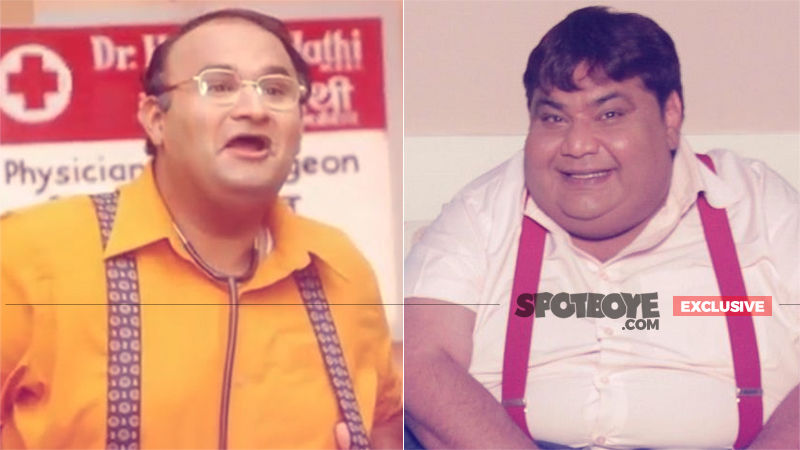 On August 26, we had told you that despite auditioning several actors, producer Asit Modi has not been able to replace Dr Hathi (Kavi Kumar Azad) of Taarak Mehta Ka Ooltah Chashmah who died of cardiac arrest on July 9. What had been ailing the makers since then is the fact that they hadn't come across an actor who can generate laughs as spontaneously as Kavi could. FYI, there had been rumours agog that the original Dr Hathi Nirmal Soni had also been offered the role- however he had denied that outright EXCLUSIVELY to SpotboyE.com. Now, SpotboyE.com has it is going to be none other than Nirmal.

The truth of the matter is that Nirmal was offered the show- but only last week. Well, Nirmal had not left on a good note. So, one thought that it was unlikely that he will get the final nod. However, it is clearly a case of: All's well that ends well.

Without beating around the bush, let us tell you that how Nirmal will be introduced back in the show. Mind you, it's gonna happen with lots of fanfare on mostly September 13. Khabar yeh bhi aa rahi hai that Nirmal shot for his first comeback episode in Film City on Sunday. So yeah, this is how it will roll out: This Ganesh Chaturthi, Gokuldham is waiting for Dr Hathi (beginning from 7th September) Gokuldham Society is very active in the mornings. Jethalal is performing his morning rituals while the Gokuldhaam ladies are returning from a morning jog. They have a small chat with Jethalal. Meanwhile, Komal returns home after a long time. She informs everybody that Dr. Haathi is busy helping flood affected people and has opened a medical camp over there and will be back during Ganpati festival. Tapu Sena along with entire Gokuldhaamites get busy in preparations for Ganpati festival. All are confused as to who will do the first Aarti. Later it is mutually decided that Hathi's family will do the first aarti. On other hand Lord Ganesha appears in Bhide's dream that night and says 'Mein Nahi Aaunga'. Bhide is tensed and worries that his dream may come true. Lots of drama and fun, we guess.

We also hear, Asit Modi tried some new faces for the part but they did not to meet his expectations. Two newbies, in fact, were a part of the 'Final 3' list that Asit Modi had drawn. The centrifugation threw the aspiring debutants out of the race.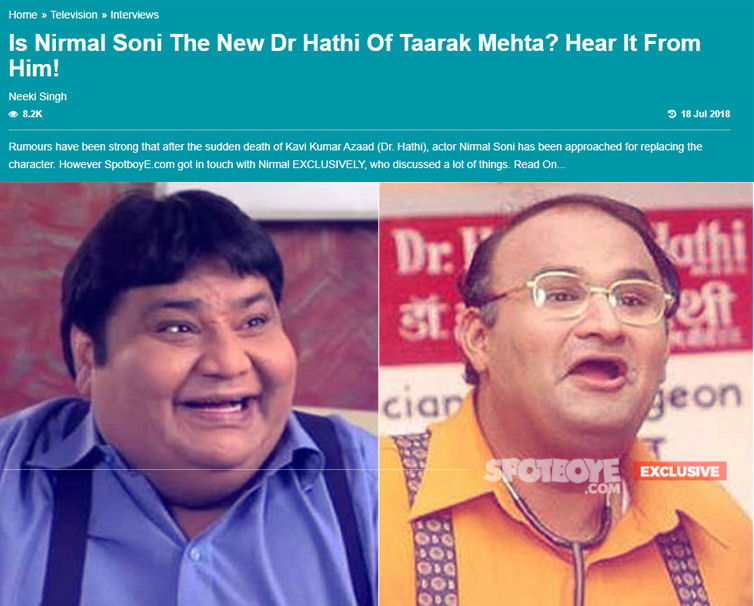 Talking about the tough task of getting someone on board, a source added, "Kavi was extremely funny. You saw him and you started laughing- not because of his weight but because of his facial expressions. He was all the time so good at his job, the character had almost got into him even in his daily life. We definitely want someone as Dr Hathi in the episodes ahead, but we surely could not cast anybody for just the heck of it. Kavi raised the standards so high that the next Dr Hathi has to be at least extraordinary if not as good as him. Nirmal is the best bet for now."