45 Days After Dr Hathi's Death, Team Taarak Mehta Ka Ooltah Chashmah Still Can't Find His Replacement. Here's Why
Team Taarak Mehta Ka Ooltah Chashmah might have never expected that it will be such a tall order to find Kavi Kumar Azad's replacement, when he passed away. It has become, to say the least, a herculean task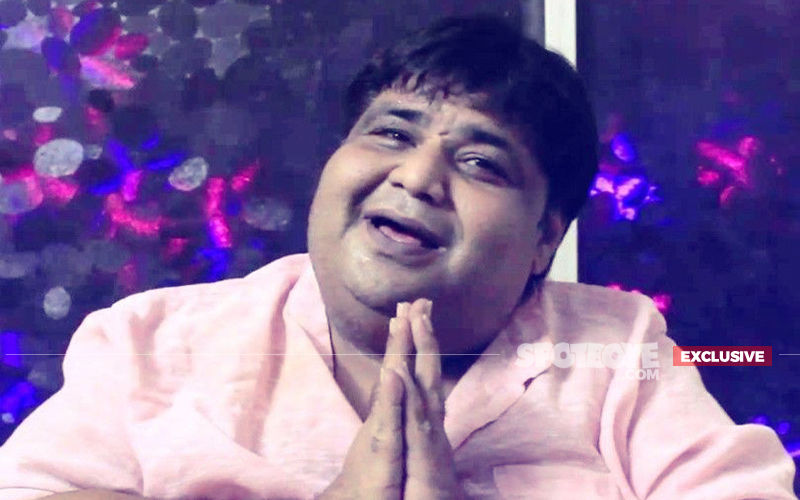 It has been exactly a month-and-half that Kavi Kumar Azad who last played Dr Hathi in Taarak Mehta Ka Ooltah left the world of living, but the show has still not found an actor who can get into his shoes. SpotboyE.com has it that the auditions regarding the same had begun soon after Kavi passed away and till date, candidates are fleeting in and out of Team Asit Modi's (producer) office. While the gloom that descended the team when they lost Kavi still prevails, each and every character involved in the day-to-day proceedings has been hoping that the vacancy is physically filled.

What exactly ails the selection, or rather has proved to be the roadblock, is that the Creatives have not been able to come across a man who can generate laughter as spontaneously as Kavi did. A source close to the show Taarak Mehta Ka Ooltah Chashmah says, "Kavi was extremely funny. You saw him and you started laughing- not because of his weight but because of his facial expressions. He was all the time so good at his job, the character had almost got into him even in his daily life. It has just not been possible to get someone even remotely close as him till now. We definitely want someone as Dr Hathi in the episodes ahead, but we surely cannot cast anybody for just the heck of it. Kavi raised the standards so high that the next Dr Hathi will have to be at least extraordinary if not as good as him." That's quite a compliment!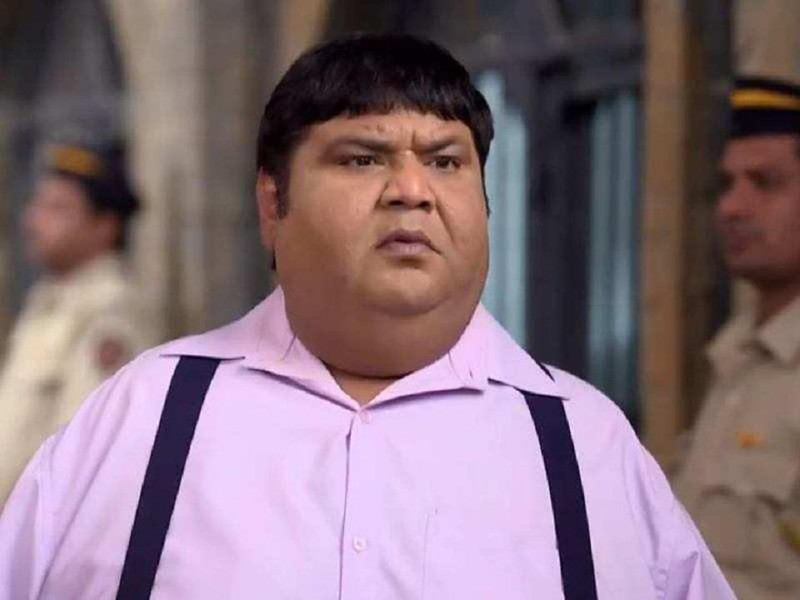 Kavi Kumar Azad

But why not recall the first Dr Hathi, Nirmal Soni? "The inside story is that Nirmal had not left on a good note. So, it is a bit unlikely that he will get the final nod," the source reveals. SpotboyE.com had brought you an EXCLUSIVE interview with Nirmal, sometime ago. For those who've come in late, we provide it to you below: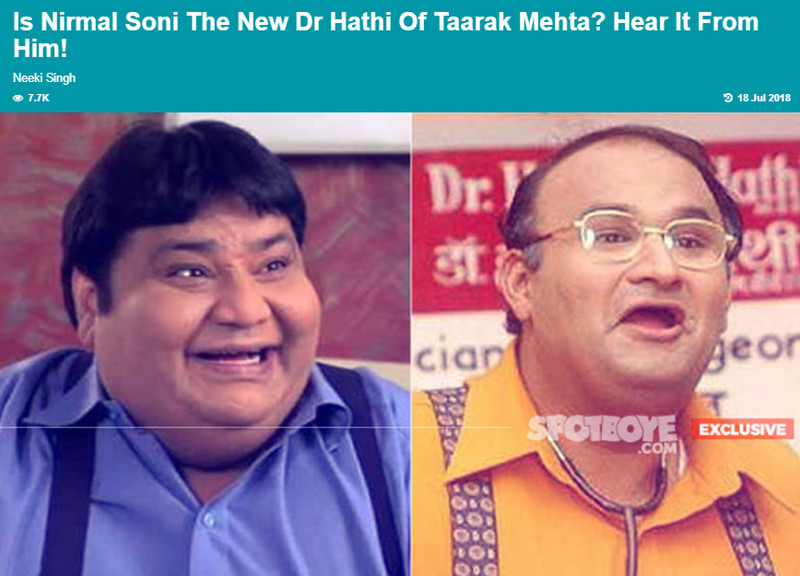 It may also be recalled that Asit Modi had EXCLUSIVELY told SpotboyE.com that Dr Hathi will be replaced. "We will have to replace Dr Hathi, if you want to know. It's the actor who has passed away, not the character."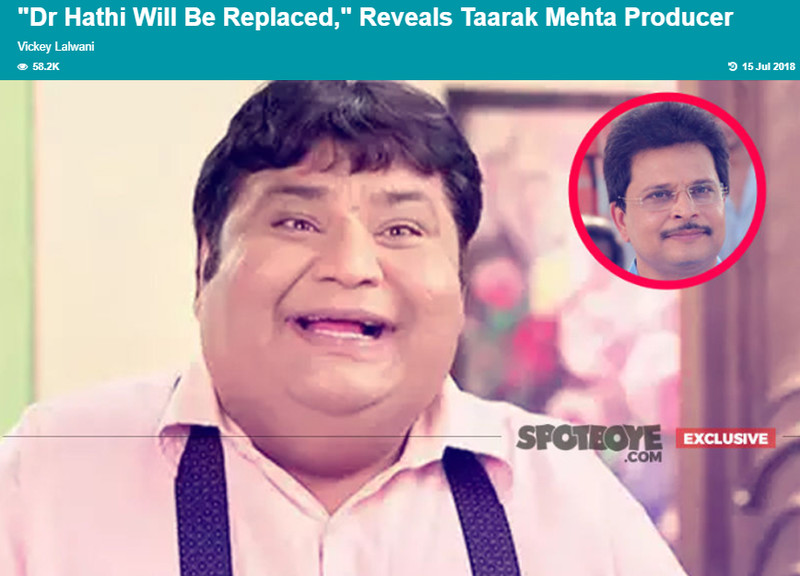 But the million-dollar question is: Is there a weighty Dr Hathi round the corner- a bit weighty in kilos and a lot weighty in acting chops?

SpotboyE.com STRICTLY PROHIBITS anybody from nursing the thought that he should pile on fat to become Dr Hathi. It maybe recalled that Dr Muffi Lakdawala had clearly told us in an EXCLUSIVE interview after Kavi's demise that weight could have been one of the reasons why the actor had a massive cardiac arrest. Kavi had even undergone a bariatric surgery under Dr Lakdawala (reached out to him when he was 265 kg), but yet insisted to retain a few kilos (refusing to undergo another round of surgery to reduce lesser than 140 kg) because he felt that he wouldn't get work in the industry if he does not look plump.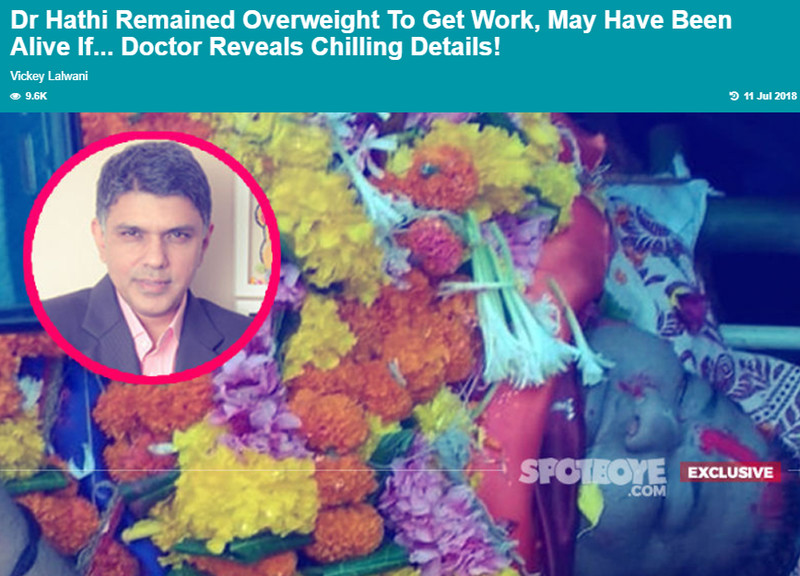 Tickling the bone was perhaps never so difficult. Replacement of any other nature in Indian television has been relatively easy, once the producer and broadcaster (SAB TV in this case) in question have made up their minds to go ahead with it. Let's see how much more time the search operation continues. Asit Modi & Co are not ready to compromise yet.

Kavi Kumar Azaad left us on July 9. The cremation took place the following day and was attended by the Taarak family including Shailesh Lodha, Neha Mehta, Mandar Chandwadkar and Jennifer Mistry among others.


Image Source: facebook/tmkoc