Amruta Khanvilkar Would Have Loved To Do Bigg Boss, But Husband Himanshu 'Strongly Opposes' The Show- EXCLUSIVE
Actress Amruta Khanvilkar who is seen on the reality show Khatron Ke Khiladi 10, talks about the challenges she faced attempting daredevil stunts. Also, spoke about Bigg Boss and why she cannot be a part of the show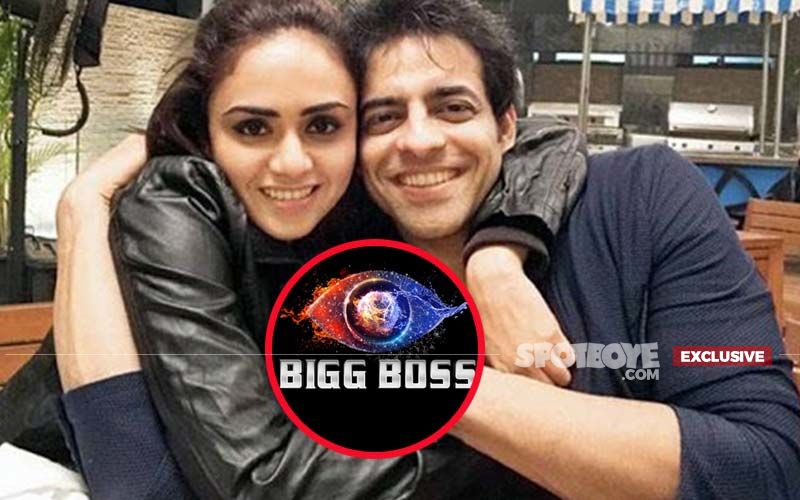 Actress Amruta Khanvilkar who is a popular name in the Marathi film industry has also done impressive roles in Hindi films. The actress is currently seen on the reality show, Khatron Ke Khiladi 10.


In an exclusive conversation with SpotboyE.com, Amruta speaks about her journey on the show, the challenges she faced, her phobias, and yes, why she wouldn't give her nod to a show like Bigg Boss.


Here are the excerpts:


Khatron Ke Khiladi 10 is finally on air. How was your experience?
I think any actor who's offered a show like Khatron Ke Khiladi, should definitely do it because it's once-in-a-lifetime experience. You can't experience this sort of thrill and adrenaline rush even by paying money. The action that you see in films is choreographed to a large extent. But, in Khatron Ke Khiladi, every stunt is like a shock. As contestants, we were asked about our fears. As this was my first stint in a daredevil show, I was unaware of my inner phobias. It's only through the show that I discovered my fear of fire.
Any particular stunt that made you feel you won't be able to pull it off?
Of course, and I didn't do that stunt. So, we had to lie on a bed and there were burners placed on top. Those burners had wax on them and the wax would melt and fall on our body. I started crying and pleaded to go home. I couldn't do it. Just the sight of it scared me.

Did you make any real friends on the show?
I think this year all the contestants were very thick as friends. In fact, some people told us that kuch bhi jhagda nahi kiya tum logon ne. And it was just that. Also, the thing is that you're not there as an actor or as a performer. Your human instincts are put to test and your physical fitness too. And when it's that sheer instinct, everybody comes together as friends and as human beings. Me and Karishma Tanna became close friends. I would say it was amazing to see what the girls did this time.
With celebrities being a part of the show, did anybody throw starry tantrums?
No, not at all! Like I mentioned before, we all became good friends, so nothing of that sort happened on the sets.
What kind of response did you receive for your role in the recently released movie, Malang?
Well, Malang is doing absolutely well. It feels good to be associated with a Mohit Suri film that has an ensemble cast. The movie has been received very well and my character of Theresa was appreciated. To be a part of that film and to see it attain success is really something else.


You have done some amazing work in the Marathi film industry, we hear another project is in the pipeline...
Yes of course, there are a lot of Marathi films lined up. Last year was busy thanks to my film shoots and also the shooting of this show Khatron Ke Khiladi. Next, there's a film called Pondicherry. We have shot the film on a smart phone. We are thrilled because the whole unit used to comprise of some 10-12 people. So I' really looking forward for the release of the film.
Is it a proper feature film?
Yes, it is a feature film shot on a smart phone.
You have been a part of several reality serials. Any particular show on your wishlist?
There is Jhalak Dikhhla Jaa and if I get the opportunity to work in Khatron Ke Khiladi again, I would go for it.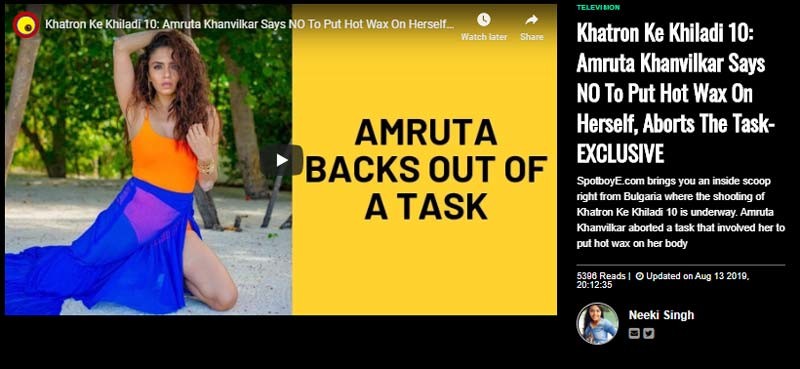 And what about Bigg Boss?
No, my husband doesn't allow me to do that show.
Why is that so?
See, Himanshu is a very different person. He is sorted. He doesn't like arguments at home itself so on TV is a big no-no. This year's season has been absolutely fantastic. So I used to watch the show in his absence and immediately switch the channel when he used to arrive.
Who is more temperamental between you and Himanshu?
Himanshu is the most silent person that you can ever meet. I'm the aggressive one. Mujhe boriyat se gussa ata hai, I need drama in my life. So between the two of us, I'm more aggressive, active and energetic.


Any special message for your fans and followers?
I just want to say that Khatron Ke Khiladi has been a great ride for me. I want you guys to watch this show because you will get to see the real Amruta.



Image Source: Dailyhunt