Have SEX IN Your Married Life, Yuvraj's Sis-in-law Akanksha Told By Her Husband's Friend!
Bigg Boss 10 ousted contestant Akanksha Sharma reveals more dirty details about her ruined marriage with Yuvraj Singh's brother. The cricketer tied the knot with girlfriend Hazel yesterday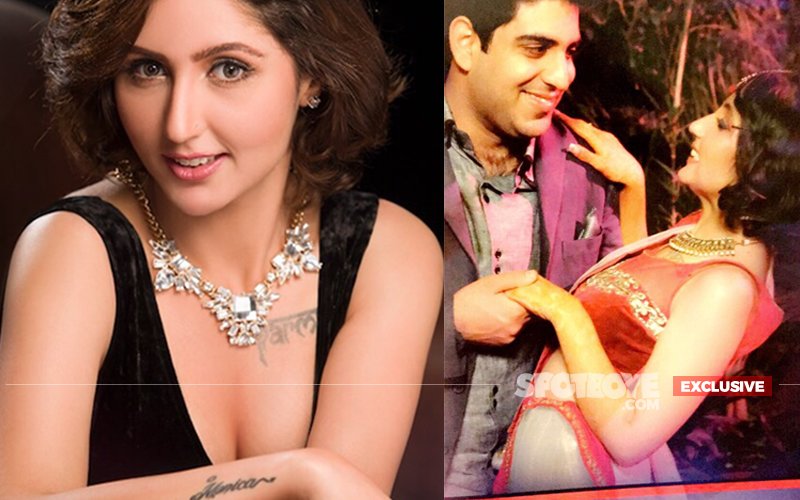 While Akanksha Sharma went public in our EXCLUSIVE interview
Why Yuvraj Singh's Sis-In-Law Akanksha Sharma Could Not Have Sex In Her Marriage, Nov 2
, the lady is in mood to give up her fight with the cricketer's family. In yet another EXCLUSIVE interview with SpotboyE.com, the Bigg Boss 10 contestant comes up with another set of startling revelations which will shock you more than before:

Your in-laws (Shabnam & Yograj) are not ready to talk about your impending divorce with their son Zoravar...

What will they talk? I don't think they have anything to say. I have proof to whatever I told you earlier (
Why Yuvraj Singh's Sis-in-law Akanksha Sharma Could Not Have Sex In Her Marriage, Nov 2
). Anyway, I am glad that I have come out of that house where I couldn't attend a party with my husband unless and until I was accompanied by my mother-in-law.
I know they are not liking it if and when I have spoken out against them, but I have freedom of speech don't I?


Tell us more. Did you never feel love for your husband?

How could I fall in love with a man who could not tell me even once that he understood what I undergoing due to his mother's constant irrational interference? There are many MILs who interfere in their son and daughter-in-law's lives, but doesn't the son stand up for his wife even once?

But we have a picture of you and Zoravar dancing quite romantically (see below)...

We had to fake it. The photographer insisted that we strike a romantic pose. The pic in question is from my mehendi party.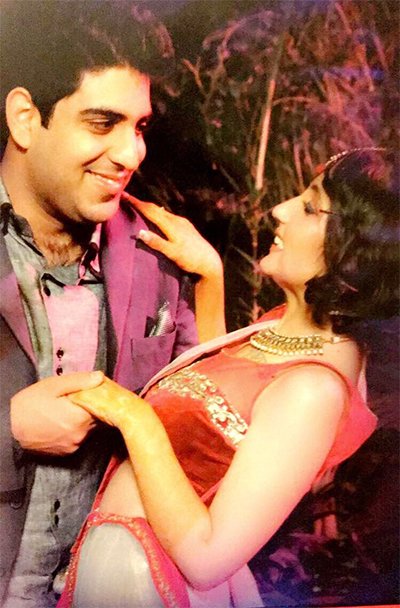 So, there is no missing Zoravar? You stayed with him for 4 months...

Not at all, there was no connection between Zoravar and I. The day I ran out of his house is the happiest day of my life till date.

Do your parents tell you sometimes now that you should do a rethink?

They have come to terms with my return. Even they have suffered humiliation. I was told ek jodi mein shaadi hui hai. Meri zindagi se khel rahe the woh log.

Kaise?

First they said that a certain Babaji wants that the marriage should take place
in 7 days
. Then they said that the same Babaji wants that the marriage should end.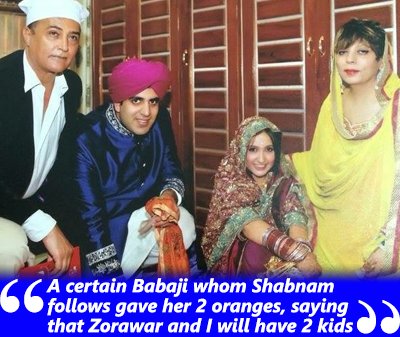 Who is this Babaji?

They follow a certain Babaji/Guruji blindly.
That Babaji couldn't foresee the separation?
He did, but only after I had run away from the house.

What?

That Babaji gave Shabnam (Zoravar & Yuvraj's mom) two oranges. He said 'yeh lo, Akanksha ko doh bachche honge'.
Did Shabnam give them to you to eat it?

No, she kept them with herself.
This is too funny...

It is. This family lives in a world which existed about 50 years ago. Shabnam should start living in 2016.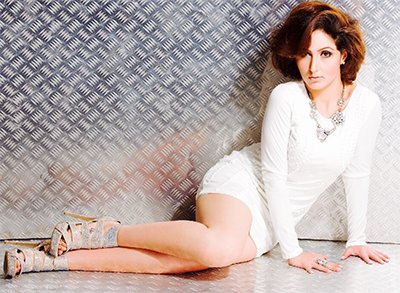 What if Shabnam stays with Yuvraj and Hazel (they got married yesterday in Chandigarh)?

I pray they stay alone and have no meddling from Shabnam. Hazel is lucky that she got married Yuvi, who is a wonderful person. Unlike my husband, he won't take any interference from his mother.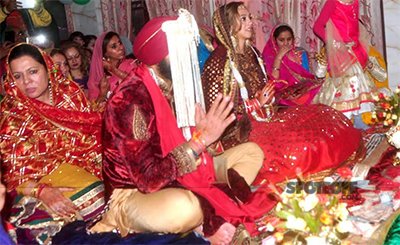 Image Source: APH Images
Yuvraj has a mind of his own, you mean...

Yes, he never stays in Delhi for more than 3 days.
Any other funny incident besides those 'two oranges'?

Quite a few, actually.
Tell us...

These guys have a marble factory. Vivek (Zoravar's friend and business partner) started counselling me that I should get physical with my husband. I told him: 'Are you mad that you are teaching me that I should have sex with my husband? You don't even know me!' I just lost it. Imagine my plight (pauses).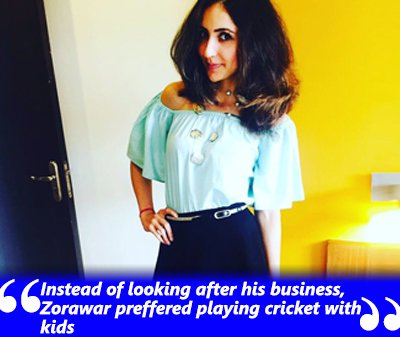 Go on...

One day, I was told that Zoravar did not continue education beyond 8th Standard because he had a troubled past. Even my parents used to fight (Shabnam & Yograj are not a couple anymore). Who goes on to become an illiterate in such a situation at home? Bizzare, I tell u!
What were Zoravar's personal aspirations and hobbies?

He had done an acting course at Anupam Kher's institute. He wanted to be an actor.
Did he have it in him to become a good actor?

They produced a film where he is playing with kids. Yuvraj's family only produced it. You need to work hard to achieve anything in life.You have to be fit. You can't expect things to happen on a silver platter. He started going to the gym and then come and hog. Woh bhi chup chupke. Imagine!
The family told him to take care of the marble factory. I went there and was horrified to see that everything was in shambles. Whenever I questioned Vivek, Zoravar would only be sitting quietly in a nearby couch. Whenever I insisted that he should take interest in his factory, he used to run out and play cricket with the kids in the neighbourhood.
The children he used to play with earlier, have grown up. He now plays with a new set of kids.

It's getting funnier. Did he ever call you back when you ran away?

There was nothing between us. I haven't got a single call from him.
We were not even friends, leave aside forming a relationship. Anyway, what's the point? He surely can't drag me, right? I told my parents that if they force me to go back, I shall go and stay somewhere else.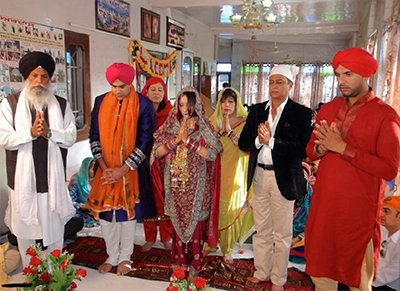 Have you become averse to men?

I haven't become anti-marriage. But I first want to do something for a career.
Are you going to demand an alimony?

No, I don't want any alimony.
Tell us about the day you ran away from Shabnam and Zoravar's house...

Shabnam came to know from the maid that I had packed my bags. She called up my parents, they came over and started banging on my door. I refused to give them an ear. They went back and sent my brother, Abhimanyu. It was only he who understood mere saath kya ho raha hai. Aur haan, let me tell you one more incident.
Sure...

Shabnam made us travel in Economy class, she travelled by Business Class. We were going to Vaishno Devi. Even when we reached there, I had to share a room with two other ladies who had accompanied us.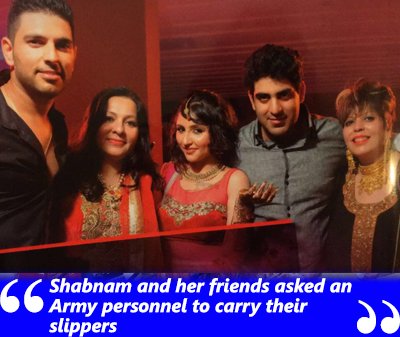 Zoravar didn't come along?

No. Zoravar se jyaada, meri shaadi Shabnam se hui thi. And can you guess what happened there?
No, what happened?

My father is from Army background. So, we had an Army personnel who was accompanying us as a guide. The 3 ladies took off their slippers and asked him to carry them. The Army is fighting on the border for our safety, but here someone wanted them to carry their slippers!
Are you watching the Bigg Boss 10 after exit?

Nitibha is a friend and I am voting for her. Manveer and Lokesh are nice. Let's see.
Who's the smartest inside there?

Gaurav Chopra. Bani, I think, is a bit confused; she is trying too hard to break away from the image she had in Roadies.
Your sign-off line?

God alone knows kya bigada tha maine Zoravar ka ya uske family ka that they treated me in such a filthy manner.