KBC 13's 1st Crorepati Himani Bundela Is In Awe Of Amitabh Bachchan's Humble Nature; Says, 'Sir Made Me Feel Very Comfortable'-EXCLUSIVE
KBC 13's 1st crorepati Himani Bundela got candid with SpotBoyE and shared her experience of playing the game with megastar Amitabh Bachchan, winning Rs 1 crore and more.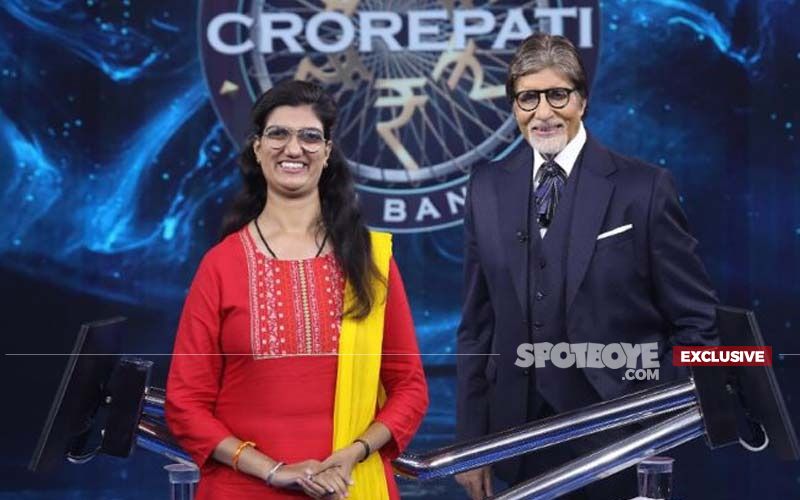 Himani Bundela, a visually impaired school teacher from Agra, has become the first crorepati of Amitabh Bachchan hosted quiz show 'Kaun Banega Crorepati 13.' The 25-year-old visually impaired teacher has won Rs 1 crore. Himani Bundela will be answering the jackpot question for Rs 7 crore on Tuesday, August 31. Needless to say, she has not let her physical condition dampen her spirits and has made everyone super proud, including the show's host Amitabh Bachchan.
In an exclusive chat with SpotboyE.com, Himani Bundela opened up about her experience of playing the game with Big B and more. She shared, "I was not at all nervous. Amitabh Bachchan's ji made me very comfortable. I felt so confident sitting in front of him. He is very polite and his behaviour is beyond awesome. In fact, my confidence boosted up after hearing his voice. His energy level is amazing. He is a very humble person."
Himani went on to add, "Itni zyaada positivity (he is a positive person). What should I say? He made me feel confident. He made me feel very comfortable, he held my hand and took me to the hot seat and even offered me a glass of water. This was so special; I mean this was a big surprise for me. I can never forget those happy times."
When further asked about how she plans to spend the prize money, Himani Bundela revealed that she wishes to open a coaching centre for differently-abled persons, irrespective of the amount she wins on the show. "I wish to start a coaching centre for competitive purposes. There will be no different classes. We will teach all differently abled in one class, vo bhi UPSC level ka," she stated.
Himani also mentioned that her father lost his job due to the COVID-19 pandemic. And with whatever amount she wins on the show, she has also planned to invest in a small business for her parents' financial security.

"Not only Agra, but the whole Bundelkhand is welcoming me. This is actually so great and I just can't believe it just happened," she signed off.
Image Source: sony tv PR