Kratika Sengar On Joining Choti Sarrdaarni As The New Lead: 'I Am Grateful The Audience Understands That I Am Not Snatching Somebody's Character'- EXCLUSIVE
Kratika Sengar speaks to SpotboyE.com about joining Team Choti Sarrdaarni as it's new lead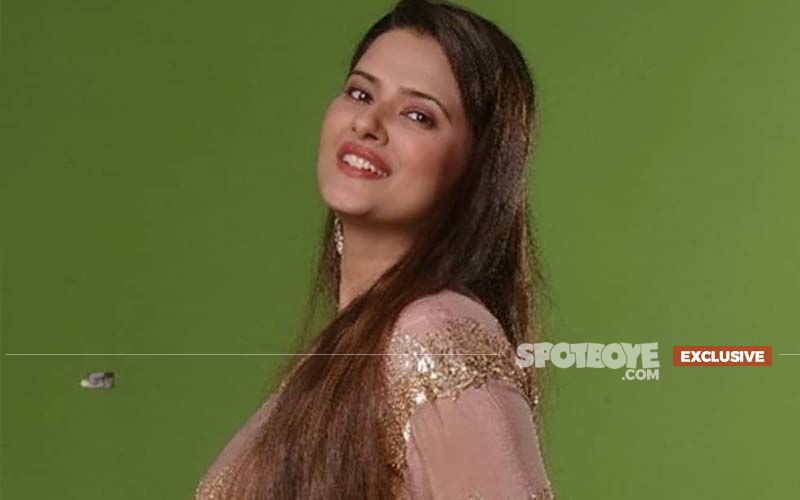 Kratika Sengar entered the ongoing show Choti Sarrdaarni as the main lead after Nimrit Kaur, the main lead actress had to take a break due to health reasons.
Although Kratika is playing a new character and will have a cameo. After her sucsessful show Kasam Tere Pyaar Ki which got over in 2018, Kratika has made a comeback and actress is extremely happy with the kind of love and acceptance she is been receiving from the audiences and more. Read on;
What difference did you find on the sets after making a comeback after a gap?
I did not find any difference. In fact, for me TV sets are my second home and work is my second life. That's why I am very happy and absolutely excited for joining this new cast and show, of course. The only change that I see on the set now is people around me are wearing masks. A lot more sanitisation happening because of the ongoing thing. Rest everything is the same.
Had you followed Choti Sarrdaarni as a viewer before joining the show?
On and off yes! Because I knew the people behind the show, I mean the director and the producers. Also, my mother-in-law and a few other family members follow this show. So, they knew exactly what the show was about. And when I told them that I have got a call from the makers to join the show with a new character, they got really excited and started insisting me 'please karlo'. Without even knowing the track and what I will play they wanted me to join the show as they said it is a brilliant show.
Did you have any apprehensions joining an ongoing show midway?
It's too soon to say that but as far as I have shot all these days and the kind of feedback I have got, everything is very positive. Until now I feel that me doing this show is a good decision. Honestly, before joining the show I was very apprehensive because the fact is I have always played the lead in the shows and have been part of it since the beginning. But the producer and channel people really convinced me and what they promised to deliver is happening. So, I have no complaints. I am very happy to be a part of it and everyone around me is very positive. Since day one we gelled up really well.
You are amongst the actresses who has done a historical drama, mythological show and also a daily soap.. What has been Kratika's best fit?
As an actor I am open to anything. When sometimes I see a few shows, I also feel that I could have done this negative role. There are times when I see people cracking jokes and playing a humorous line, I feel I should also talk like this. So, an actor will never be satisfied with what he or she does. Personally I want to do everything and keep exploring. I don't want to set any boundary around me.
You said that you would have not taken up the show if you had to replace the character. What is the reason behind?
This show is a brand and it was not like Nimrit Ahluwalia who was playing the character of Meher was not doing well. She was doing fantastically well. And this shows that whatever the serial is, it is because of the cast and since day one they are working really hard. Agar aisa kuch hota ki lead is not being accepted by the audience, so, I would have still thought of stepping into her shoes and replacing her but this girl Nimrit has done a fantastic job and she is a brilliant actor. But the only reason of her taking the break from the show was her health and in that case I could have never replaced anybody.
Though you have not stepped into Nimrit's shoes but you are the main lead now. Did that thought make you nervous of having comparisons with her while saying yes to the show?
Definitely, all these thoughts crossed my mind. Nowadays, people have social media to give their reaction. Kitni trolling hoti hai aajkal wahan. Ki kisko le aaye? Kyun le aaye? We want our old actor. But thankfully nothing of that sort happened with me. And I am grateful to my fans and audiences for it. They understood that I am not snatching somebody's character, its an all new character which they have introduced.
Your and Sharad Malhotra's chemistry in Kasam Tere Pyaar Ki is still fresh in fans mind and they keep demanding for a sequel. Do you feel repeating the pair will get you the same love?
I think audience ke saath jo chal jata hai agar vo ek baar chala hai to dusri baar aur bhi accha chale. Ya ho sakta hai vo dobara bilkul bhi na chale. It also depends on the writing. See as an actor, we have to get comfortable with each other. People who are not comfortable with each other even they perform it so well that aapko screen par dekhkar pata hi nahi chalta that they are having some kind of rift. But you can't ignore the audience demand at the same time. Like I still remember when my character died in Kasam and Shivani Tomar made the entry. She was the actual heroine of the show. I just had a three month cameo part which I had to play in Kasam but people loved Sharad and my chemistry so much that I was called back. Audience had a lot of power and we can't ignore them at any point. I also feel that the makers should consider their demand.
After playing the lead heroine back to back, does it create any pressure on the actors to do something bigger than that?
Absolutely! After all that's how you make your career graph. It is you who make your graph. So you just can't go and do things which is coming your way. I also agree that luck matters a lot but at the same time your experience and instict plays an important role too to pick up any project. I will not take the shows name but I did a show which I was not confident doing and that show became super hit. So, there my instinct didn't work but my producers instinct worked. But that doesn't mean you will not think and decide.
The term 'Celebrity' is coming easily with the kind of content creators and influencers we have on social media these days. Do you feel it is justified to the experienced actors like you?
The time has changed and it is a new phase. And we should be actually very proud of it. Earlier there were just two GEC channels and 4-5 shows running on that. Now, we have so many GEC channels, OTT platforms and other mediums. This is helping a lot many people to have their livelihood. So, I am really happy with the changes that have happened. I don't see it otherwise that now I have a cut throat competition. What will happen to me? It is a good thing that so many people are getting that kind of exposure. Today when I go to Film city, every 50 meter there is a new set. There was a time when nobody used to shoot at Film city. As an actor, I always have a mindset that a producer should never face a loss because of me.
Go on...
On the content creators and influencers getting celebrity tag, I am really proud of them. As far as they are creating good content and they are not exploiting our young people and our audiences, I am very happy.




Image Source: Instagram/itsmekratika