Donald Trump Awarded 'Taekwondo Ninth Dan Black Belt' By South Korean president of taekwondo-SEE PHOTOS
Donald Trump was awarded the Taekwondo Ninth Dan Black Belt by Kukkiwon at his residence in Mar-a-lago in Palm Beach, Florida.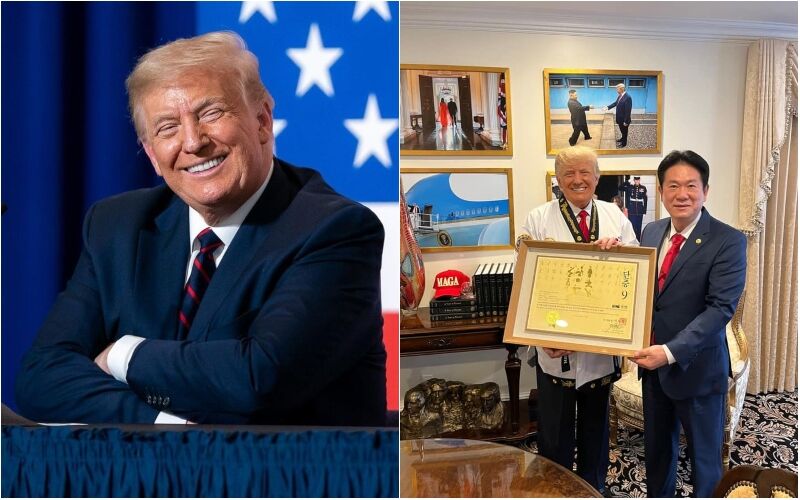 Former US President Donald Trump has been awarded an honorary 9th Dan Black belt by Kukkiwon, the headquarters of the World Taekwondo Academy, reported Daily Mail on Monday.

Kukkiwon is also known as the World Taekwondo Headquarters, and home of the World Taekwondo Academy.
The president of Kukkiwon, Lee Dong-seop visited Trump at his residence in Mar-a-lago in Palm Beach, Florida this weekend to give him taekwondo and the coveted black belt - the highest level attainable by professional martial artists.
Reports suggest that the South Korean resident in the United States appears to have organized a meeting. "I came to know that Donald Trump is quite interested in Taekwondo," Lee was quoted as saying by the Daily Mail.
Responding to the gesture, Trump stated, "It is my honour to receive Honorary Dan Certificate and I think Taekwondo is a magnificent martial art for self-defence. I wish to see Kukkiwon Taekwondo Team's demonstration," as posted by the official Facebook account of Kukkiwon.
The former president of the United States reportedly vowed that he would be looking forward to wearing the taekwondo clothing in Congress, should he make a return to the White House in the future.
The award puts Trump on par with Russian President Vladimir Putin, who received a black belt and was made a grandmaster of taekwondo during his visit to South Korea in 2013. Even without practising taekwondo, Putin was able to obtain the coveted rank.
Meanwhile, Trump on November 9, confirmed that he has not spoken to incumbent President Joe Biden for a long time but is open to doing so if it "could help" the country, reported Fox News.
Image Source: Instagram/realdonaldtrump , Facebook/WorldTaekwondoHeadquarters