FIFA World Cup 2022: Ex-Miss Croatia Ivana Knoll Promises To Go NAKED If Luka Modric's Side Wins The Tournament: 'If That Happens, The Flag Falls'-SEE PICS
Ivana Knoll does not seem to be bothered by the slew of new laws being decreed in Qatar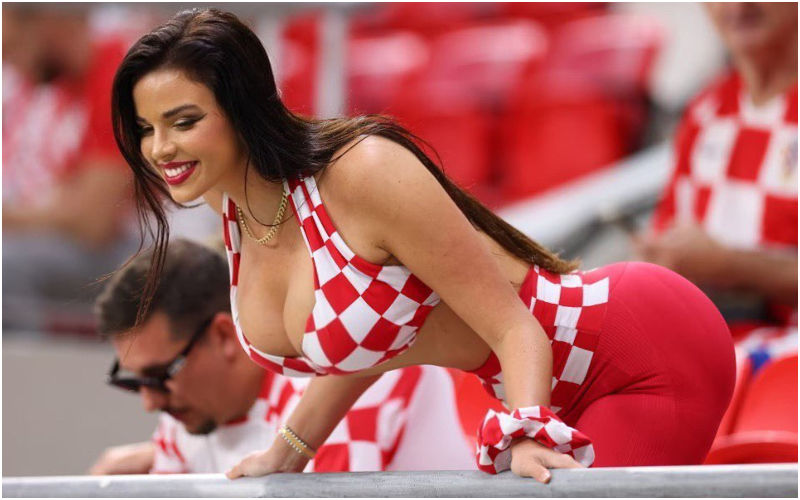 The Croatian National football team has finally made it to the semifinals of FIFA World Cup 2022, and there's no stopping the Luka Modrić lead team. Now, their biggest fan who is also dubbed as the World Cup's 'Hottest Cheerleader' Ivana Knoll has promised to go naked if her nation can win their first World Cup title on December 18.

While Luka Modric's side reached the semifinal for the second time in a row, having played the final in World Cup 2018, they are all set to face off against Lionel Messi's Argentina in the semis. Ultimately, Croatia is just two wins away from lifting the FIFA World Cup 2022 and their dreams to win the cup might even come true owing to the staunch support from their fans.
But, nothing can be compared to what former Miss Croatia Ivana Knoll has to offer, provided the Croatian National Football Team win the tournament. Knoll seems to be hogging all the limelight due to her sexy outfits in Qatar and she has also made a huge promise to Croatian fans.
When quizzed about the prospect of Croatia winning the World Cup this year, Ivana claimed that she would go naked if her nation wins the coveted trophy. "If that happens, the flag falls…" Knoll was quoted as saying, hinting at her outfits.
For those unversed, the social media influencer has caused a lot of frenzy owing to her fashion statements, and she is often seen wearing pieces which apparently include chequers patterns which are similar to the Croatian National Flag.
From the looks of it, Luka Modric's men will certainly go all the way to win the tournament. During their last appearance against Brazil, Croatia won via penalty shootout on Saturday but were almost on the verge of elimination.
Image Source: Instagram