Katy Perry Reveals REAL Reason She Suffered Mid-concert Eye 'Glitch' At Las Vegas; Says 'This One's On Me'-WATCH
Katy Perry, during her recent Las Vegas concert, reportedly struggled to keep her right eye open and she had an explanation for the same.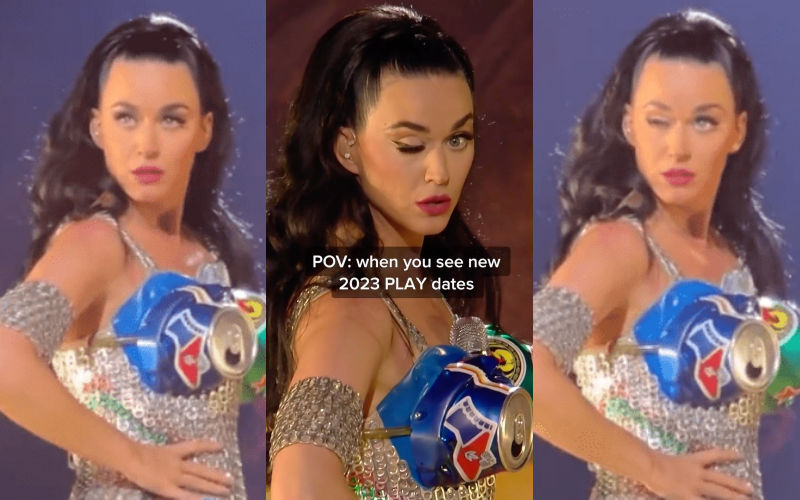 Pop sensation Katy Perry left the fans in a frenzy with her recent performance at her Las Vegas 'Play' concert. However, the 38-year-old singer suffered a mid-concert eye 'glitch' that led the fans to believe that Perry might actually be a robot.

During her performance, Perry reportedly struggled to keep her right eye open. Well, she had an explanation for the same.
Elaborating on the incident that occurred at the concert, Katy Perry took to her Instagram handle she said the eerie eye glitch she experienced during her performance was only a stunt.
"Welcoming all my #flatearthers #spaceisfakers #birdsarentrealers #skyisntbluers to come see my broken doll eye party trick IRL in Vegas next year!" she captioned the photo. She jokingly added, "Heck I pour beer out of my t*ts (that's a party trick too… I don't actually lactate hops silly goose!)"
Perry used the viral video to announce the extension of her Las Vegas residency to 14 more concerts.
"The show's set list is a fun (roller coaster) through memory lane going all the way back to 2008, a time when we weren't all frozen by the paranoia of our own echo chambers! This show is a nonstop party about finding unconditional love and strangely (for me) not political at all," she included in her caption.
Katy Perry also expressed her eagerness to perform once again in 2023 and said, "Hope to sing along with you in 2023!"
"And we'll drink, this one's on me, cause we're all #chainedtothealgorithm #therealproblemlolhaha," she concluded.
She also added a link to her Instagram stories providing information on her concert dates and timings with information about tickets on sale.
Meanwhile, Perry recently celebrated her 38th birthday on Tuesday, October 25, with her partner, Orlando Bloom. She even shared a picture of her hands which included her own hand, with her husband and son.
Image Source: Instagram