Shraddha Walkar Predicted Her DEATH? New EXPLOSIVE Details Surface As Her Letter From 2020 Claims 'He'll Kill Me, Cut Me Into Pieces'
Shraddha Walkar was allegedly strangled by her boyfriend Aaftab Poonawala who sawed her body into pieces, and dumped them into the jungles of Delhi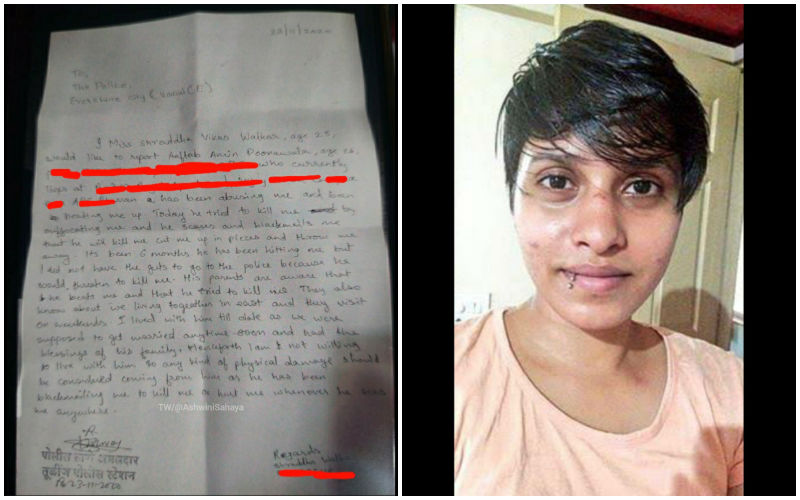 Nasty new details into Shraddha Walkar's murder case have surfaced and the police officials are trying their best to answer the questions that have puzzled the nation.

For the unversed, Shraddha Walkar was allegedly strangled by her boyfriend Aaftab Poonawala who sawed her body into pieces and dumped them into the jungles of Delhi. Although, a new report suggests that she feared the gruesome outcome of her relationship in 2020 and had even filed a police complaint at Tilunj in their hometown Vasai in Maharashtra, investigators today said.
The written complaint from the victim suggested that Aftab beat her up at a flat they shared and said that his family knew about his violent behaviour, sources in the Delhi police said.
The officials also said that Shraddha later gave another written statement that "we no longer have any quarrel" after his parents spoke to them, and asked for no action to be taken, as reported by NDTV.
Currently, Aftab's parents are being questioned about his actions as is one of her co-workers, Karan, whom she'd told about the assault.
The complaint dated November 23, 2020 details what she told Karan over WhatsApp around the same time when she had also shared a photo of her bruised face with him. She had also been admitted to a hospital a week later with "internal injuries".
Big Breaking News: Shraddha had said 2 years ago (23 Nov 20) in a complaint to the Mumbai police, "Aftab will chop me into pieces, if action is not taken"

Shraddha had told Aftab's behavior to his family as well, but they did nothing. They used to visit them on weekends
+ pic.twitter.com/2zwyzM5iQg

— Ashwini Shrivastava (@AshwiniSahaya) November 23, 2022
The letter read: "Today he tried to kill me by suffocating me and he scares me and blackmails me that he will kill me, cut me up in pieces and throw me away. It's been six months he has been hitting me but I did not have the guts to go to the police because he would threaten to kill me."
Meanwhile, the internet is curious as to what conspired behind closed doors and many have also questioned Shraddha's intent to stay in a relationship with her alleged killer. Notably, previous reports suggested that Aftab had committed the gruesome murder as the victim repeatedly questioned his intentions of marrying her.
The couple met over a dating app and got into a relationship around 2019, but apparently did not break up, even though the 2020 complaint says he'd been assaulting and "blackmailing" her "for six months" with threats of murder, reported NDTV.
Reportedly, both the call centre employees were moved to Delhi in May this year. Shraddha wasn't in touch with her parents as they did not approve of the inter-faith (Hindu-Muslim) relationship.
Image Source: Twitter/AshwiniSahaya