VIRAL! Rihanna's Son Wins Internet He Interrupts Mommy's Workout Routine; Fans Say 'I Wish I Was That Baby RN'
Rihanna and her partner A$AP Rocky welcomed their son last May and are currently expecting their second child together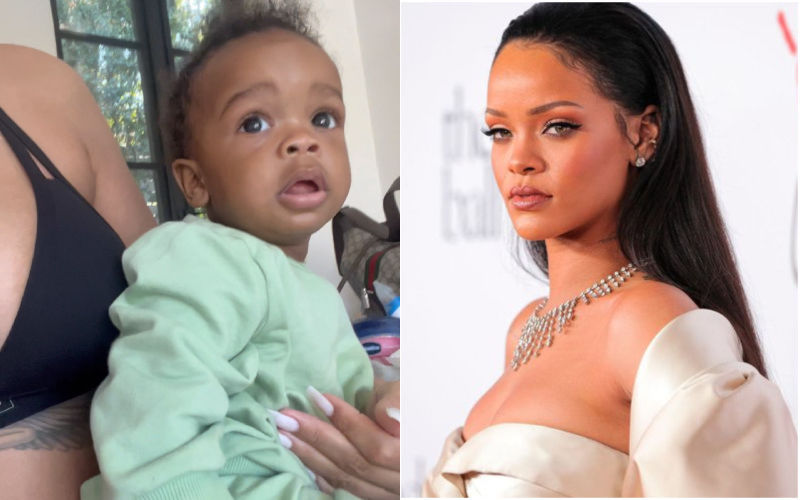 Rihanna can effortlessly make her fans undergo a roller-coaster of emotions, and now, the fans went from wow to aww in merely a single post. In a recent post, the singer revealed the cutest interruption she had during her exercise routine.

While she managed to keep her face off-screen, the soon-to-be mommy of two was seen sporting a black sports bra from her brand Savage X Fenty as she caresses her baby boy with one hand. RiRi's baby boy watches a program in the distance with a big smile, while his mother pleads, "Please".
The video has been flooded with fans reactions and while mommy RiRi's fans were admiring the baby, a section of netizens were too focused on RiRi's busty assets. A user even commented, "I wish I was that baby rn".
Another user wrote, "Y'all probably weren't even looking at the baby". A Third user wrote, "What colour was the kid??😂😂😂".
The musician and her partner A$AP Rocky welcomed their son last May and are currently expecting their second child together.
While the singer and actor has been making minimal work commitments as a PEOPLE magazine report revealed that in February, "The main focus right now is on her family. She loves spending time with her son. She loves being a mom so this is where her mind is at the moment." The insider added, "She is the happiest she has ever been."
The insider said, "Rihanna has so many things she is grateful for. She is ecstatic about how her show went," adding, "She felt great about performing again."

Image Source: Instagram