Virat Kohli FLIRTS With Tamannaah Bhatia In THIS Old Viral Video; Netizens Tag Anushka Sharma, Say, 'Dekho Mam Kya Chal Raha Hai'
An old video of Virat Kohli flirting with then rumoured girlfriend Tamannaah Bhatia surfaces online and netizens tag Anushka Sharma!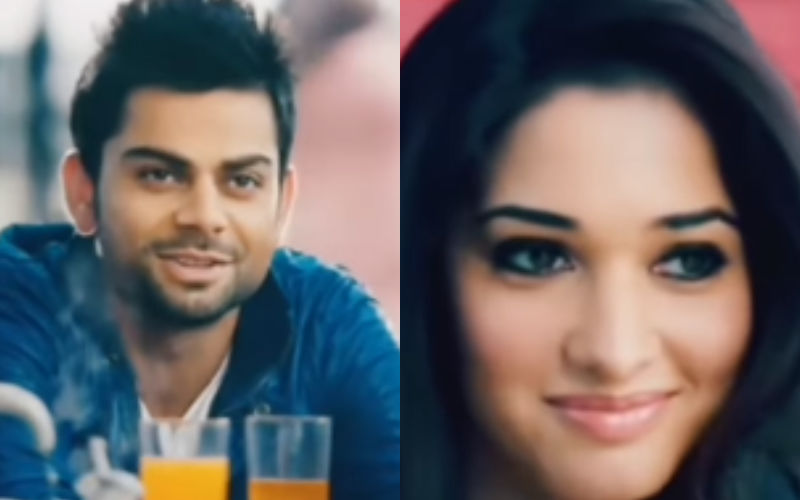 Actor Tamannaah Bhatia is hogging all the limelight ever since she confirmed her relationship with Vijay Varma. In a recent interview, she stated that she cares deeply about the actor and even called him her 'happy place.' Amidst this, a video of Tamannaah's old advertisement with Virat Kohli has gone viral where the cricketer was seen flirting with the actress. Interestingly, fans are having a field day as they tagged Anushka Sharma.
Virat and Tamannaah once featured together in a commercial. There were even rumours of them dating, however, nothing was confirmed in this regard. Days after the Baahubali star made her relationship with Vijay office, this old clip featuring her and Kohli surfaced online. Reacting to it many social media users tagged Anushka and cracked hilarious jokes. One commented, "Bhai anushka bhabhi tak nhi jane chahiye." Another said, "@anushkasharma dekho mam kya chal raha hai." Of the comment can be read, "@anushkasharma dekh lo ma'am aapke pati parmeshwar." "Acting of virat in This 2 min ad 100x better than arjun,varun,aditya roy , whole careers," reads another comment.
ALSO READ: Tamannaah Bhatia CONFIRMS Her Relationship With Vijay Varma; Actress Says 'He's A Person Who I Care About Deeply And He's My Happy Place'
Reportedly, Virat and Tamannaah were rumoured to be in relationship in 2012. The two were said to fell in love with each other during a shoot for a cellphone company. Reports suggested that everything was going well between them before Virat developed a liking for Brazilian actress, Izabelle Leite. Tamannaah once talked about working with Kohli and said he is better than the most of the actors she has worked with. Filmfare magazine quoted her as saying, "I think we spoke four words during the ad film, that's it. After that, I've never met or spoken to Virat. But, I must say he was better than most of the actors we work with. And it was quite intimidating."
Virat is now happily married to Bollywood actress Anushka Sharma and they are parents to a little girl Vamika.