WOW! Mukesh Ambani Served Guests A Sweet Dish Topped With Rs 500 Notes At The Grand NMACC Gala-DETAILS BELOW
Mukesh Ambani and Nita Ambani served guests with royal deserts from around the world and a video of the same has been taking the internet by a storm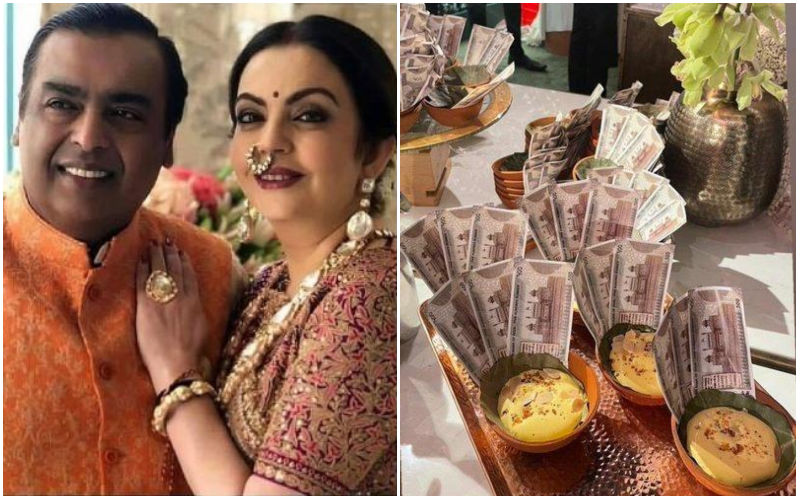 Mukesh Ambani and Nita Ambani yet again put India on the world map with the grand launch of the Nita Mukesh Ambani Culture Centre (NMACC) in April 2023. The mega three-day fashion event which was held in Mumbai grabbed the headlines on the global front and it even saw the attendance of International celebrities.

Now, a new video from the grand NMACC bash has been making the round on the internet which was shared by a paparazzi, and it featured a lavish spread of desserts in a room. It had a tower of macrons to lip-smacking bite-sized tarts, Pastries and whatnot.
All these royal desserts in a pink-themed room looked super yummy, and it definitely left everyone drooling.
In April, netizens stumbled upon a picture from the gala night at the NMACC, which saw the Ambanis serving a sweet dish topped with Rs 500 notes. And it sure looked tempting!
But, we are sorry to disappoint you! Those were fake notes on the sweet dish, inspired by Daulat ki Chaat, a much-loved recipe in North India.
Nevertheless, it was the idea behind the sweet dish that stunned the internet. Not to mention, only Ambanis can truly prove that no matter where you are in India, we believe in 'Atithi Devo Bhava'.
Maheep Kapoor shared a picture of the food that was served to them in the silver thalis and a variety of bowls in it topped with rotis, dal, palak paneer, papad laddoo and other delicacies. A glass of wine accompanied the food.