WWE Star John Cena Thanks BTS ARMY; Reveals His Books Exist Because BTS Army Was 'Brave Enough' To Support His Vulnerable Moment
John Cena credits BTS ARMY for being 'brave enough' to support his vulnerable moment and reveals how they inspired him to write his motivational books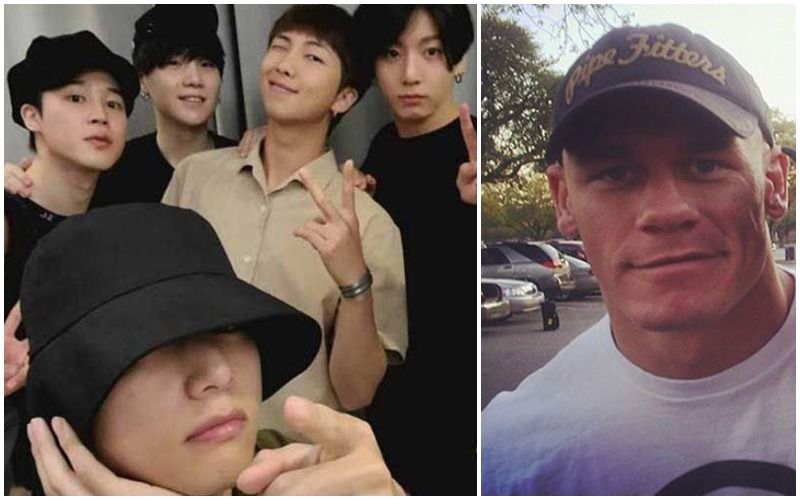 Popular South Korean boy band BTS has an enormous following all over the world, and their fan following includes celebrities as well. The K-pop band is undoubtedly among the most popular celebrities in the world due to their stardom. One such fan is former wrestler turned Hollywood star, John Cena. John Cena has always been vocal about his love for BTS, and the BTS ARMY. He recently shared the news that he's set to launch new books on self-love and he credits the boy band for helping him to accept his vulnerability and write this new book.
John Cena appeared virtually on the Ellen DeGeneres Show, and recalled that about 4 years ago, he was going through a tough time in his life, and he decided to have a vulnerable moment, and put out thought-provoking entries on Twitter. He said that during that period, a lot of them were about self-love as she didn't consider himself enough back then. "Amazingly enough, talk about wonderful timing and just being ready for an opportunity, a very popular group, BTS, had just released an album called Love Yourself," he said.
John Cena further added that he put out these messages about self-love, and while he thought it wasn't a great idea, it caught fire because of the BTS Army. "I was essentially sending a similar message as the band. These books exist because the BTS army was brave enough to support my vulnerable moment. And now it's become a part of my daily routine," he said.
Image Source: Instagram/johncenaofficial, Twitter/BTS