Chutzpah Review: The Series Weaves A Web Of Distortion And Deceit
The series tries to be non-judgmental about the perverse follies of the internet generations but ends up looking indifferent rather than impartial.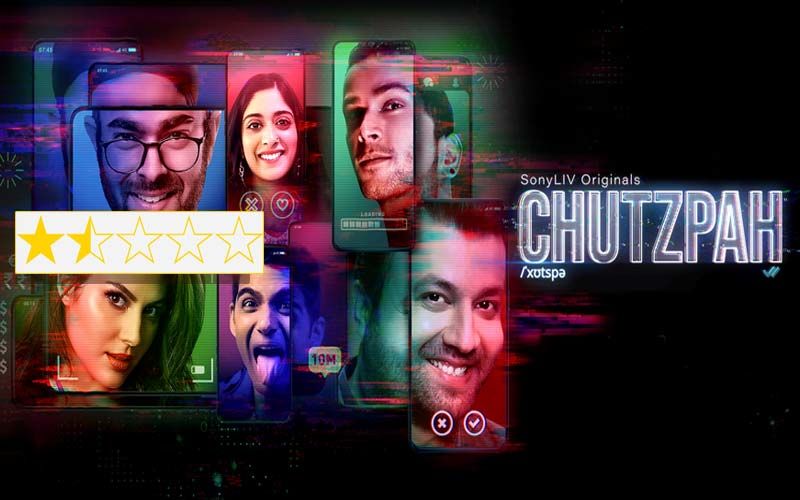 After wading through the slush of pseudo-porn and other web-induced perversities I still don't know why this sickeningly self-flagellating series is called Chutzpah. Were they thinking of Chutiyapa? There is more of the latter on display than the former in the presentation. The series sets out to mock youngsters who sit on their phones and computers all day searching for sexual fun. Instead, it ends up mocking its ambitions. It comes to us all wrapped up in sheaths of shallow commentary on the pitfalls of social media with characters more hollow than the webs of deceit that they so obsessively construct on the internet. The timing of this exhaustingly unexciting erotic excursion is impeccable. Just a few days earlier a showbiz personality was arrested for peddling porn on a dating app.
That seems ap(p)t. But timing is not everything, especially since no one here is actually having any sex on or off-camera. In a way that's a blessing. The very idea of Varun Sharma or Manjot Singh making out on camera is intimidating. This is a semi-vegetarian take on male social mediatises and their amorous antics that border on the juvenile. Not know how online hook-ups work, I will take Manjot's version of it to be the gasping truth. Manjot is indeed a good actor. Though typecast in timid roles, as Rishi in this series he nonetheless shoots his blank bullets at his web fantasy code-named Wild Butterfly (Elnaaz Norouzi) with a fair flair for humour with an underlining veneer of sadness.
Varun Sharma, on the other hand, drums up his habitual drama of drollery. He is a Boston based NRI in a long-distance relationship with his girlfriend back in India Shikha (Tania Maniktala, also seen in Feels Like Ishq this week). Like the series, the Varun-Shikha relationship doesn't seem to be going anywhere. Attempts to spruce up the comatose relationship with humour involving a monstrously misconceived app fall flat.
The series leaves us with a flat taste in the mouth. The kind you feel when Mummyji makes like three days in a row and insists you enjoy it since she spent so much time cooking it. I am sure the Chutzpah team worked hard. But they seem clueless about what they hope to achieve. The relationships in the plot are listless, aimless and worse of all, pointless. There is some semblance of life in a young influencer Deepali Mahajan trying to bring together her unreal life on social media with the reality of the world that she inhabits. But this plot point comes too late and too cursorily.
The main characters such as Kevin (Gautam Mehra who behaves like a Spiderman on speed) and Prateek (Kshitij Chauhan) whose aggressively cultivated image of the womanizer comes crashing down, crowd and complicate the narration unnecessarily. In the end, I really didn't care what happens to these people. Not because they live in a virtual world but because they live uninteresting repetitive lives. As we recently got to know, there can be no porn without sexual intercourse. Chutzpah is net-porn. The characters are busy screwing themselves and their pathetic lives.
The series tries to be non-judgmental about the perverse follies of the internet generations but ends up looking indifferent rather than impartial. This is a series about sex-obsessed youngsters with no sex, no charm, no wit and no purpose of existence.
Directed by Simarpreet Singh, Chutzpah gets 1 and a half stars!
Image Source: Instagram/thefilmyguy6, youtube/sonyliv