Ghum Hai Kisikey Pyaar Meiin: Netizens SLAM Virat Aka Neil Bhatt For Hating Sai And Torturing Her; Fan Says, 'Pathetic Content, Makers Are Sick'
Netizens brutally troll Neil Bhatt's character Virat and the makers of 'Ghum Hai Kisikey Pyaar Meiin'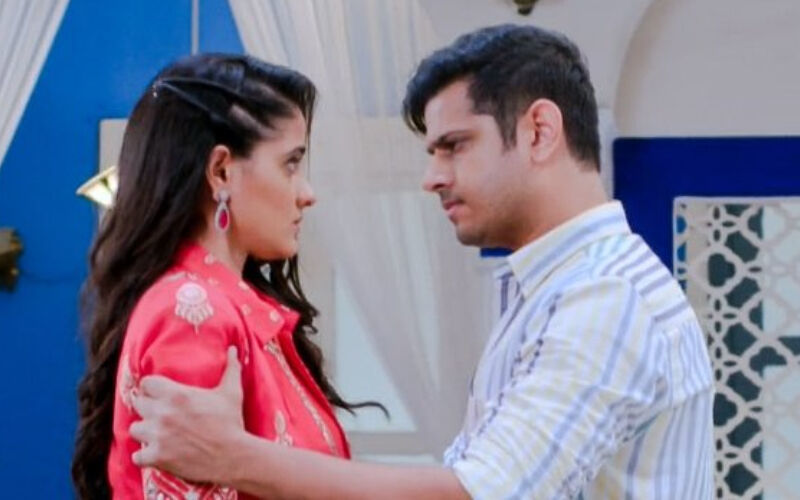 Ayesha Singh, Neil Bhatt, and Aishwarya Sharma starrer daily soap 'Ghum Hai Kisikey Pyaar Meiin' lately has witnessed many shocking twists and turns. Recently, the show took a leap with Virat (played by Neil) and Sai (Ayesha) getting separated. The makers also introduced a new track of Sai giving birth to a daughter after she met with an accident post she broke up with Virat. Now in the upcoming episode, Ayesha and Virat will have a high-voltage confrontation scene which would bring in another major twist.
However, fans and netizens are angry at Virat for his hatred towards Sai. SaiRat fans are sad and upset to see Virat torturing Sai by making her feel jealous and with his rude behaviour. #GhumHaiKisikeyPyaarMeiin is trending on Twitter with netizens lashing out at Neil over his behaviour and at the makers. One user tweeted, "I m judging every actor agreeing for ths pathetic content! @neilbhatt4 ask creatives for better ways to bring u n ur wife together on screen then ths ww of crimes. @Ayesha Make sure Sai has not forgotten what P n V did during surrogacy. #GhumHaiKisikeyPyaarMeiin." Another wrote, "Virat is beyond DISGUSTING! No redemption is enough for this crook! #ghumhaikisikeypyaarmeiin." ALSO READ:
Ghum Hai Kisikey Pyaar Meiin: Netizens TROLL Shruti For Falling In Love With Virat Almost Overnight; Fans Start Hilarious Meme Fest On Twitter-Read Tweets
Check out more tweets here:
It's funny how hypocritical V 🐀 is he saw Sai with Jagtab twice and jumped to his own conclusions yet he hated Sai for months for not believing him blindly in Shruti's track. #GhumHaiKisikeyPyaarMeiin

— abisoye ojulari (@Abisoye101f) October 12, 2022
#AyeshaSingh sai entering CN was not needed at all, just to torture sai n make ppl watch cringe they did it and instead of uplifting V char to show father daughter bond, dey r degrading Savi char n ruining savi-sai bond to show it.#GhumHaiKisikeyPyaarMeiin

— S P Nagashree (@SPNagashree1) October 12, 2022
Whats ash gonna do when/if her beloved son says he wants Sai back?!
Now shes so angry & hateful its alil over the top! the amount of disgust she has for Sai
Vs rage is because hes jealous what the hell is this girgits problem?! Y that much hate?#GhumHaiKisikeyPyaarMeiin

— Mon (@mikonmons) October 12, 2022
The writer of this show is sick now they are also making Savi lie for that stupid man. He never stopped Kaku from yelling at Savi in fact that was Pakhi if am not mistaken. Will they ever show him as the wrong party 🙄#GhumHaiKisikeyPyaarMeiin

— abisoye ojulari (@Abisoye101f) October 12, 2022
Virat is miffed about Jagtap who is a criminal but he is celebrating anniversary with his criminal wife.He should think how he forgave a criminal &gave her wife status.He doesn't even confirm whether Sai really allowed Jagtap into her space.#GhumHaiKisikeyPyaarMeiin

— Lakshmi,Team SaiRat (@Lakshmi21471073) October 12, 2022
In the latest episode, we saw Sai could not control her tears as she had a major breakdown and was seen throwing things. She also broke the mirror with a vase. She met with a horrible accident after her separation from Virat on a bitter note. Although she survived the accident, she was presumed dead by everyone in the Chavan house.
Well, the upcoming episodes of 'Ghum Hai Kisikey Pyaar Meiin' will undoubtedly be high on the drama and entertainment quotient.