ROADIES RISING SCANDAL: Samyuktha Hegde, Jagriti Jha, Shweta Mehta, Khushnuma Pathan Speak Up To EXPOSE Jibran, It Was SEXUAL HARASSMENT!
This is the Part 3 of the story we have been tracking since Sunday. Roadies Rising contestants Samyuktha Hegde, Khushnuma Pathan and Jagriti Jha say that Jibran is a big liar and he behaved with them in a very cheap manner. Shweta Mehta joins in to say that the man is also aggressive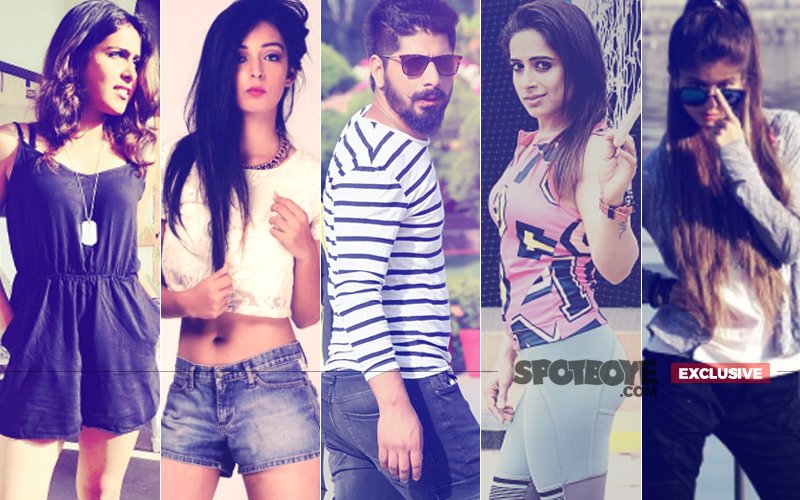 On Sunday, we brought you the story about Jagriti Jha from Prince Narula's gang in Roadies Rising saying that Jibran Dar told her that 'if her dress would have been two inches shorter it would have been more fun'.
When asked if others too feel uncomfortable around his presence, Samyuktha Hegde from Rannvijay's gang said that Jibran came very close to her as he smelled her and said her perfume distracted him.
Next day, Jibran went ballistic saying that he is innocent and the entire fracas on the show was scripted to garner TRPs
.
We have now gone ahead and spoken to the girls in question. This is exactly what they said:
Samyuktha said, "Jibran is a crude guy. The show will dramatise and show you things and I had a lot of other things in my head which refrained me from making an issue of Jibran. But since you have called to ask, let me tell you that nothing was scripted or doctored. Yes, he smelled me and said that my perfume was a distraction.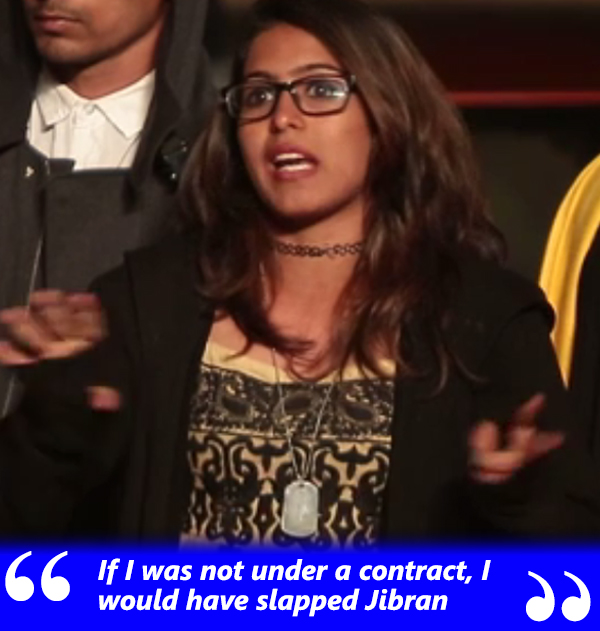 MTV Roadies Rising Contestant Samyuktha Hegde
There is a thin line between misbehaving and sexual harassment, and if it hadn't been dealt with, it could have led to sexual harassment. People say why do you speak when nothing happened, and when we speak they say why are you speaking when it is over. People are such hypocrites. If a girl is saying something, put yourself in her shoes and think," and then added after a pause, "I really wouldn't want to interact with Jibran anymore in my life. If I was not under a contract, I would have slapped him. But I maintained my dignity and did not stoop to his level."
Says Jagriti Jha, "I think Jibran should have been removed from the show immediately. Whatever hapened is a bit too much. Jibran was terribly annoying. Yes, he did tell me that it would have been fun if my dress was shorter.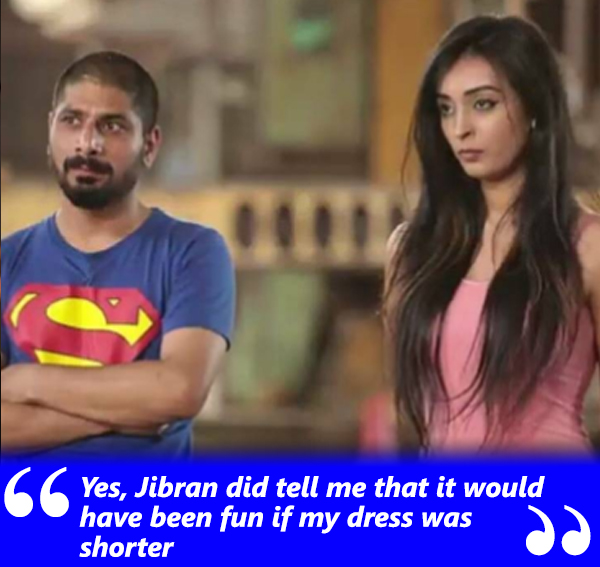 Jibran Dar And Jagriti Jha In Roadies Rising
I was confused at his turnaround. I said to myself: Arre yeh kya bol raha hai! I have known Jibran the most. I stayed with him in a hotel because we both were wild card entries around the same time. We even spent a lot of time together in his room, chatting and eating.
Perhaps I still can't say that I know Jibran well, since his comment about my dress did take me by surprise. Perhaps he is like that only.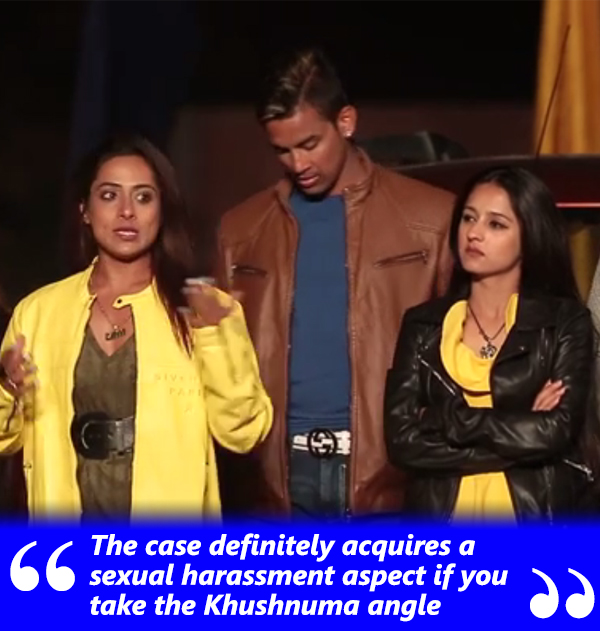 MTV Roadies Rising Contestant Shweta Mehta
However, I think that Nikhil Chinappa (a judge in Roadies Rising) telling him that he is an example of rape culture was a bit too much. I have a soft corner for Jibran since I spent time with him in the past, but I must say that after the unpleasant incident in Roadies i have reduced ny phone conversations with him.
Suddenly I came to know that he was recording all conversations. I have reasons to believe that he is not a pervert because of my stay with him, but his new behaviour was wierd no doubt."
Khushnuma Pathan told SpotboyE.com, "Jibran came and held me by my waist, and mind you, he held me very tight. How can any man touch a girl's waist without her permission? And he did that 4-5 times!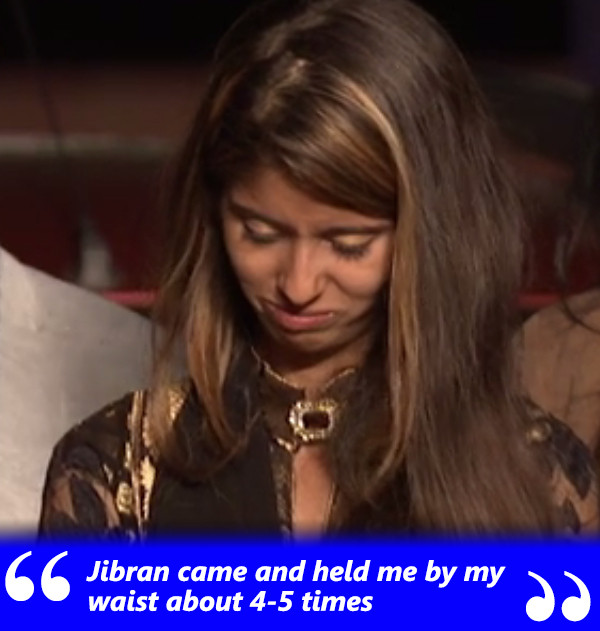 Khushnuma Pathan Describes Jibran Dar Harassing Her
And look at his cheek! When I objected and said 'Thappad khaoge tum', he shot back saying 'I will continue to do it'.
And wait till you hear this! He called me 'sexy'.
Does Khushnuma term this as sexual harassment? Pat came the reply: "Yes, of course."
Added Khushnuma, "My parents were very upset with whatever Jibran did to me in Roadies Rising. From the first day itself, he was hanging around me all the time. My colleagues in Roadies Rising even started imagining that hamare beech kuch chal raha hai. I shall never have any contact with him hereafter."
On the other hand, Shweta Mehta said that Jibran didn't sexually harass her in Roadies Rising but it was true that 'he was shutting and opening the lights of her tent and refused to listen to her when she told him to stop'.
He did that 8 times, can you beat that?' I wouldn't say that he did anything dirty with me, but the way he was looking at me during our heated exchange of words was really something. Kutti nazron se mujhe dekh raha tha. He was not staring at me at the wrong places but he seemed very angry. Mujhe woh banda theek nahin laga. He told me he will leak all the affairs in the Roadies and had come there to be a villain. He wanted to interact with me more but I showed no inclination. But yes, the case definitely acquires a sexual harassment aspect if you take the Khushnuma angle," Shweta added.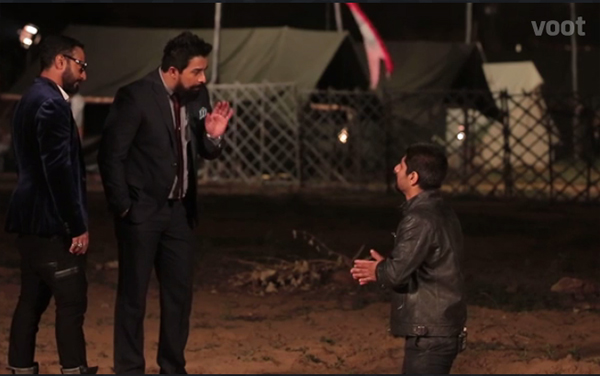 Jibran Dar In MTV Roadies Rising
And here are a few other viewpoints from people who mattered on the show:
Talking exclusively to SpotboyE.com, a popular judge on Roadies Rising (name withheld on request) told SpotboyE.com, "Whatever you saw on the show indeed transpired."
Another judge (on condition of anonymity) chipped in, "Nothing was staged. Jibran was simply bad news to us."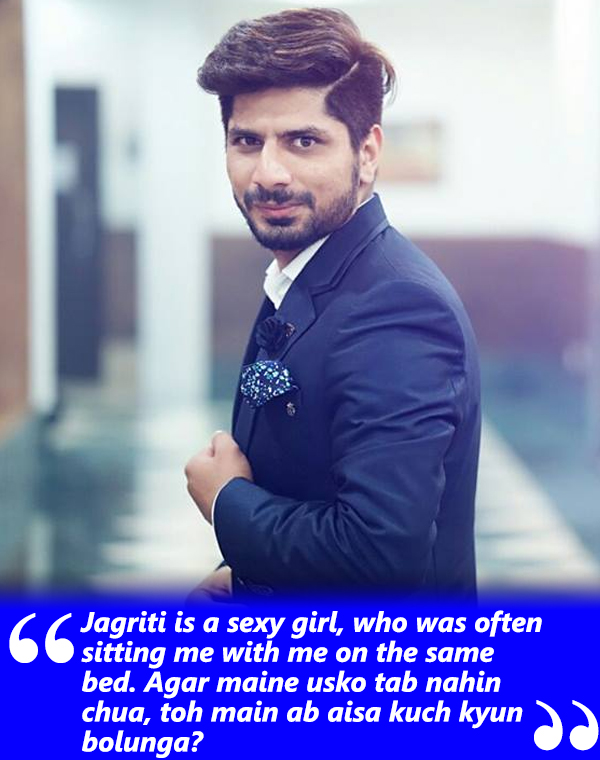 MTV Roadies Rising Contestant Jibran DarMeanwhile, Jibran continues to blow his lungs out claiming his 'innocence'. He told us, "Let me give you a situation. If I say Shweta raped me, will you believe it? But if a girl's version says that I raped her, you will wouldn't you? Prince Narula has a reputation of having flirted with 5 girls in Splitsvilla. How can a person like him question my character? Nikhil Chinappa was accused for asking sexual favours in Splitsvilla (Season 2). Inke khud ke badan se badbu aa rahi hai, and they are asking me to use a deodorant! I know Jagriti very well. Jagriti is a sexy girl, who was often sitting me with me on the same bed. Agar maine usko tab nahin chua, toh main ab aisa kuch kyun bolunga? We even slept on the same bed with our backs to each other. In fact, she said to that effect on the show but those f***ing people didn't show that. She came to me and asked 'Main kaisi lag rahi hoon?' I told her she was anyways pretty and need not bother about the length of her outfit. That was twisted to me saying that 'it would be fun if her dress was shorter'. She and I were in the same room but I never did any fun ki baat aur koi fun nahin kiya uske saath. As for Khushnuma's accusation, there is no camera proof. She is wrongly accusing me, in fact, she stole Samyuktha's makeup kit and now she's saying that 'Jibran mere saamne gandi gandi baatein karta tha'! I am a teacher who teaches personality development. How can I do such things? Also, let me tell you that Jagriti has a boyfriend in Australia (at least she had him then) with whom we did a video chat, and he asked me to take care of her."

At the time of going online we saw, Jibran's latest post on Facebook which read:


Image Source: voot, instagram/samyuktha_hegde, jagritijhaaa, theshwetamehta, khushnuma_pathan & facebook/jibrandar