Shark Tank India Judges Aman Gupta And Ashneer Grover Pose Together For FIRST Time Ex-BharatPe CEO's Ouster From The Season 1; Fans Say 'Sab Doglapan Hai'
Ashneer Grover unfollowed Aman and other judges stating that he is not interested to know about the show or BTS moments from it as he is no longer part of 'Shark Tank India'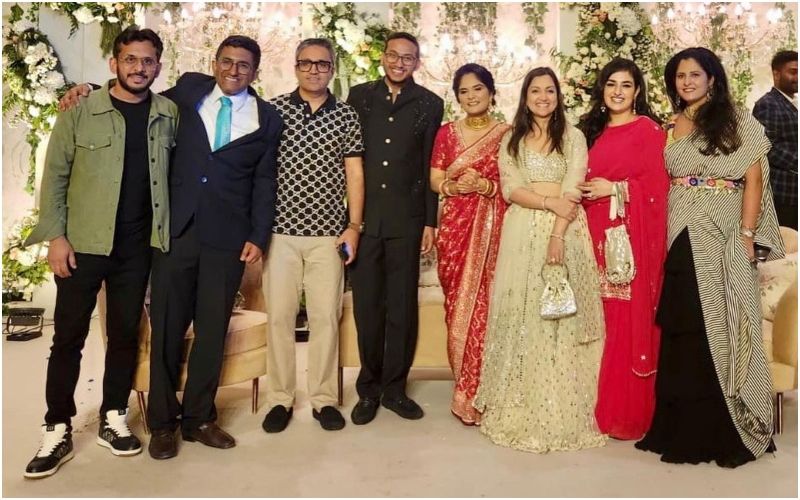 'Shark Tank India 2' recently attended the wedding of OYO CEO Ritesh Agarwal, he even shared a picture from the marriage wishing the newlywed couple. However, it was 'Shark Tank India season 1' judge and businessman Ashneer Grover, who caught everyone's attention, while he posed for the group picture.

Taking to his Instagram handle, Aman posted the picture and wrote: "Wishing you a happy married life @riteshagar. Asking on behalf of millions of Indians:- I hope the honeymoon is also at one of the Oyo Rooms"
The image featured Aman's wife Priya, Ashneer and his wife Madhuri, posing with other couples. Ashneer also posted the same picture on his Instagram handle and wrote in the caption: "Wish you a happy married life @riteshagar and Geetansha! Lovely party !!"
This was the first time Ashneer and Aman posed together after the BharatPe co-founder's ouster from the show. After the announcement of Shark Tank India 2 judges, Ashneer unfollowed Aman and other judges stating that he is not interested to know about the show or BTS moments from it as he is no longer part of 'Shark Tank India'.
Previously, Ashneer was accused of misappropriation of funds by BharatPe and was removed from the positions of the company. He was also not included among the panel of judges of the second season of the business reality show. Although, he was among the judges in the first season of 'Shark Tank India'.
Image Source: Instagram