Yeh Rishta Kya Kehlata Hai SPOILER 22nd August 2023: Akshara Proves Abhimanyu Innocent In Abhinav's Murder Case; Goenkas And Manjiri Feel Remorse
The high voltage drama in Yeh Rishta Kya Kehlata Hai continues as Akshara presents a video that shows Abhimanyu trying to save Abhinav's life which proves that he is innocent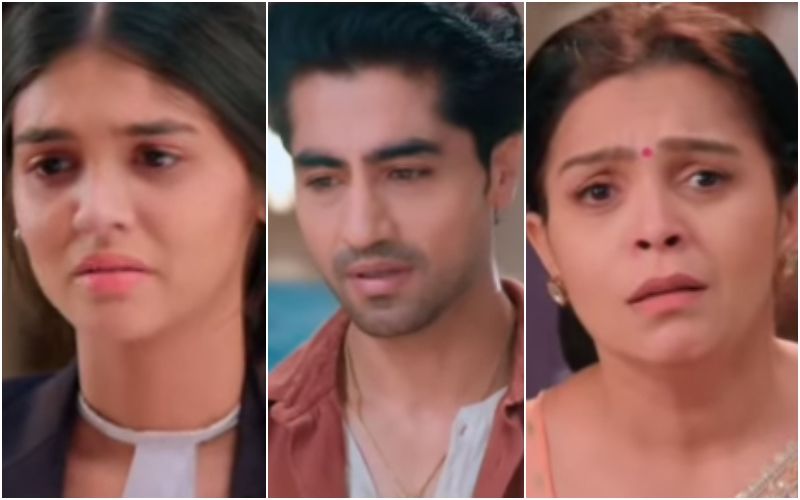 Pranali Rathore, Harshad Chopra and Shreyansh Kaurav starrer Yeh Rishta Kya Kehlata Hai has been running successfully for almost 15 years now. Having started the journey with Hina Khan and Karan Mehra, the Rajan Shahi production is not only one of the most-watched shows in India but it also often tops the weekly BARC ratings. The last few episodes of the show have centred around Abhinav's death which has left the netizens with mixed reviews. In today's episode it will be seen that Akshara proves Abhimanyu is innocent by showing a video recorded by Shefali.
Today's episode will start in court as Akshara gets ready to fight another hearing in Abhimanyu's case. Shefali asks Manjiri to trust Akshara as she must be fighting this case for a reason. Akshara goes on to present a video clip that clearly shows Abhimanyu trying to save Abhinav's life while the latter slips from the cliff. The video clip leaves everyone shocked. She goes on to explain that this was captured in Shefali's phone, who was recording the kids playing football nearby. Shefali recalls the moment when she panned the camera to capture the scenery when the kids had started fighting. As she was telling them to not argue, he phone captured Abhimanyu trying to save Abhinav's life.
ALSO READ: Yeh Rishta Kya Kehlata Hai SPOILER ALERT 21st August 2023: Abhir Gets Furious As Akshara Supports Abhimanyu, Shows Signs Of Depression
Taking a look at the evidence the judge announces that Abhimanyu is free of all the charges as he is innocent. Manjiri rushes to hug her son and the Birlas too express their relief. Akshara meets with her family and explains how things are often perceived differently than they actually are. The Birlas and Goenkas feel remorseful for their actions towards each other ever since Abhinav died and they reconcile. Kairav asks Muskaan if she has forgiven Abhimanyu now that his innocence is proved, she says no. For her Abhimanyu will always be someone because of whom Abhinav died as he took the latter to a cliff and got him drunk. Surekha supports Muskaan's claims.
ALSO READ: Yeh Rishta Kya Kehlata Hai SPOILER ALERT 20th August 2023: Manjiri Doubts Akshara's Character As She Becomes Abhimanyu's Defence Lawyer
Back at the Goenka house, Abhir asks if he can get his father back now that Abhimanyu is proved to be innocent. Akshara tries to make him explain that Abhinav will never return back, which makes Abhir even more sad. As the episode comes to an end, Abhimanyu visits Abhir with Manish's permission. In the upcoming episodes it will be seen that Akshara and Abhimanyu will co-parent Abhir, who will start showing signs of depression. It will be interesting to see how the future episodes pan out with Abhimanyu becoming an important part of Akshara's life for Abhir.
Image Source: Instagram