Yeh Rishta Kya Kehlata Hai SPOILER ALERT 15th September 2023: Abhir Learns About Akshara-Abhimanyu's Past; Muskaan Lashes Out At Goenkas
Yeh Rishta Kya Kehlata Hai's upcoming episode will see the Goenkas telling Akshara and Abhimanyu's love story to Abhir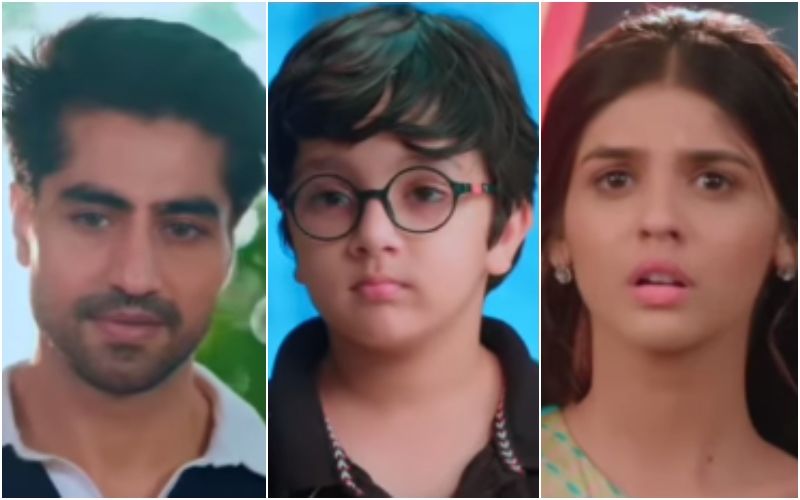 Produced by Rajan Shahi, Star Plus' show Yeh Rishta Kya Kehlata Hai has been running successfully for almost 15 years now. Starring Pranali Rathore, Harshad Chopra, Shreyansh Kaurav and many more in pivotal roles, the show is one of the most-watched shows on Star Plus. In the last few episodes of the show, it was seen that the Birlas and Goenkas are planning to get Akshara and Abhimanyu back together as they have started growing closer to each other again while co-parenting Abhir.
In today's episode of the show it will be seen that Aarohi will try to convince Abhimanyu to follow his heart and marry Akshara if he wants to. He stays concerned about breaking Ruhi's heart. Aarohi explains to him that she has loved Neil and will not be able to give his place to anyone. She will express how them getting married will not make them happy, which will lead to Ruhi not being happy. She will tell him that he will always be Ruhi's Poppy. Abhimanyu will share how he and Akshara are just good friends who are co-parenting their son Abhir. Manjiri overhears everything and gets sad.
ALSO READ: Yeh Rishta Kya Kehlata Hai SPOILER 14th September 2023: Akshara-Abhimanyu Refuse To Marry Each Other, Despite Their Elders' Insistence
At the Goenka house, Muskaan lashes out at the elders in the family and blames them for wanting to replace Abhinav. Manish tries to explain to her how they saw Abhinav as a son and his heart breaks everytime he thinks about him but he cannot even imagine the grief Akshara is going through all alone. Manish goes on to explain how even Abhinav would want Akshara to move on in life. Back at the Birlas, after Abhimanyu refuses to even think about marrying Akshara, Manjiri cries and hugs Aarohi. She profusely apologises for forcing her to get engaged to Abhimanyu. Aarohi consoles her and shares that she hopes Abhimanyu and Akshara could find happiness in each other again.
ALSO READ: Yeh Rishta Kya Kehlata Hai SPOILER ALERT 13th September 2023: Abhimanyu Recalls Manjiri being Stuck In Fire Because Of Him, Akshara To Help Him
On the other hand, Muskaan reiterates that Abhimanyu is one that killed Abhinav, to which Manish corrects her by stating that they were good friends and they respected each other. Muskaan declares that she will never accept this relationship. Further in the episode it will be seen that Abhir finds a box with Abhimanyu and Akshara's pictures in it. The elders of the Birla gather around him and tell him his mother and docman's love story. How they met, got married but got separated. They even tell him that when Abhimanyu wasn't there, Abhinav stepped up to take care of their responsibility.
According to the new promo of the serial, Abhimanyu keeps recalling how Manjiri was stuck in the fire because of him. Akshara will extend a helping hand to him. As he hugs her, she draws a line between them by stating that they are good friends. In the upcoming episode it will be seen that Akshara and Abhimanyu will receive anonymous gifts that will lead them to a park, where they will get arrested for public indecency.
Image Source: Instagram