Ruslaan: Shiamak Davar Told Me, 'You Are Going To End Up With Nirali'
The loved-up TV couple, Ruslaan Mumtaz and Nirali Mehta, recall their love story and 3 years of marital bliss. You wouldn't want to miss this...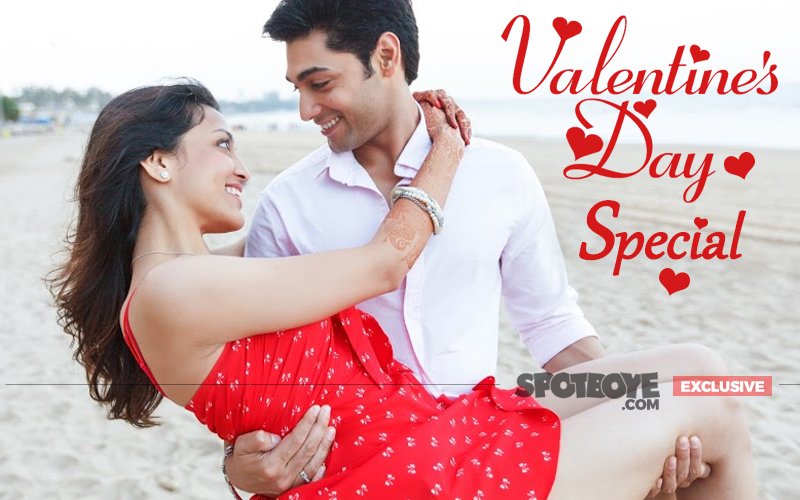 What's better than celebrating your anniversary on the Day of Love? Well, TV couple Ruslaan Mumtaz and Nirali Mehta are commemorating 3 years of marital bliss today and SpotboyE.com got the opportunity to celebrate it with them. The much-in-love couple went down memory lane. Excerpts from a conversation that followed:

P.S – Ruslaan re-created the wedding proposal and you will see it EXCLUSIVELY on SpotboyE.com.

You tied the knot on the Day of Love and it's your third wedding anniversary. How does it feel?
Ruslaan: Technically, February 14, 2014 is our wedding date. That's the day we signed papers in court. The elaborate wedding took place on March 2. I remember I showed up in court after shooting for 24 hours at a stretch. I slept in the car, washed my face and Nirali was complaining, 'Why are you so late?' And I said, 'Let's do it. Where do I sign?'

On March 2, right before the wedding ceremonies, I was feeling jittery and contemplated running away. But, I realised that I was already married (laughs).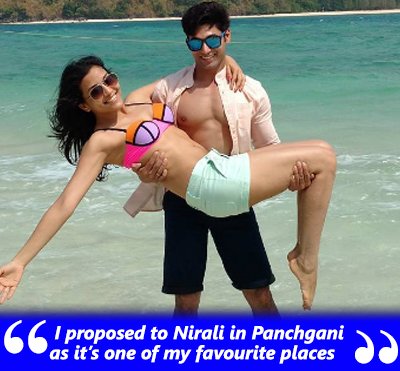 Image Source: instagram/ruslaanmumtaz

How did the love story begin?
Nirali: We were part of Shiamak Davar's special potential dance group. For the first few months, we never spoke. One day, just as I entered the class, Ruslaan came up to me and said, 'Hey, you are looking beautiful today.' I was surprised. I was 17 and said, 'OK! Thank you!' That was the icebreaker. We were friends post the incident.

Ruslaan?
Nirali and I weren't friends, but I knew her as the best dancer of the troupe. On that day, I was waiting for the class to begin and just then, Nirali entered, kept her bag and turned. May be the wind blew at the right moment leading to her hair flying all over. It was a beautiful sight, just like a movie. Without thinking I went up and complimented her.

Did you begin dating each other soon after?
Ruslaan: We didn't know that we would end up together because I was an actor and Nirali's parents wanted her to pursue an MBA. To add to that, we were from different worlds -- she lived in Worli and I stayed in Juhu. Mind you, there wasn't a sea link at that time.

Shiamak was the only connection. Even though I left the troupe, we kept bumping into each other during dance shows. I used to drop her off after the shows every time. Shiamak one day called and said, "You know, you are in love with Nirali. You are going to end up with her." This is 10 years back and 1 year later our first interaction happened.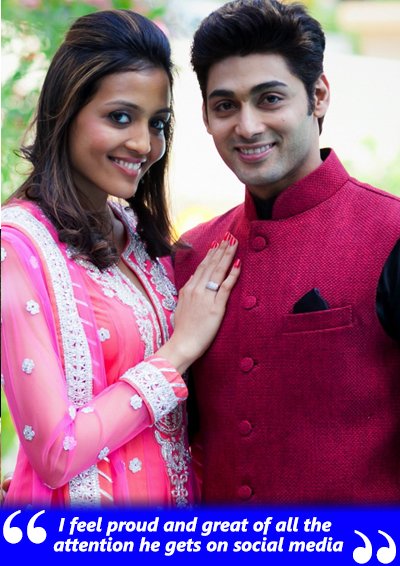 Image Source: strangesadhu

Were there inhibitions knowing that Ruslaan is an actor?
Nirali: Yes, there were. But that time, he wasn't an actor. He was modelling and doing ads. He was a familiar face and with all the attention he got from girls, I could sense he is famous.
Ruslaan: They found me cute.

No insecurities?
Nirali: I didn't know much about that world. Ruslaan was the first actor I came in contact with and he put forth the good side. Surprisingly, I get this question from everybody almost every day...from my family to my friends at work. When you have an iota of doubt in your relationship, it's not meant to happen. I am jealous, but it's a healthy one. I trust him way too much!
Ruslaan: When I decided to get married, I realised Nirali has no reaction to any girl – be it a friend or a co-actor. She was way too confident and sure about me being head over heels in love with her. That was another concern for me because I thought she is taking me for granted. I asked her if she feels jealous about the female attention I get and she was blank.
Nirali: I feel proud and great of all the attention he gets on social media. As an actor, it means, he is doing great. He has a positive fan following.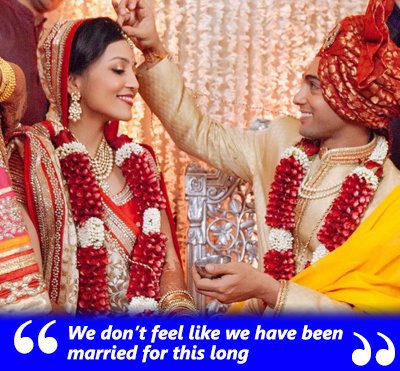 Image Source: strangesadhu

Who proposed first?
Ruslaan: I asked her out.
Nirali: You tried a lot to take me out for lunch.
Ruslaan: Oh yeah! I was confident that if I ask a girl out, she's not going to say no. Also, Nirali knew me well. I wanted to take her out on a proper date which would set us apart as a couple. She kept dilly dallying till a point where I thought that she is being nice and is indirectly rejecting me. I persisted for a month and finally told her, 'I am an actor and still have time and you being a student, don't have time for one lunch?' It took me one and half month to take her out for lunch.

When did you realise that you wanted to marry Nirali?
I didn't know if I wanted to get married, but Nirali's parents were looking for prospects. She told me about the scenario and I asked her what she wants. When she said she wants to get married, I was clear that I wanted to marry her.



Tell us about the wedding proposal... (Watch video)
Ruslaan: I proposed to Nirali in Panchgani as it's one of my favourite places. We were at a bungalow and I took her to its balcony, which had a romantic ambience. I didn't want to make it filmy, as I am an actor and it would have looked fake. I told her what I felt and she was like, 'Oh! Ok!' Then, I got the ring out and she started crying.
Nirali: I never thought that he'll propose. He got me my dream ring. I was overwhelmed about the fact that he has been listening to me for all these years.
Ruslaan: I really thought it was because of the emotion that the guy you love has proposed to you. I never thought it was about the ring (laughs).
Nirali: It's all of it together.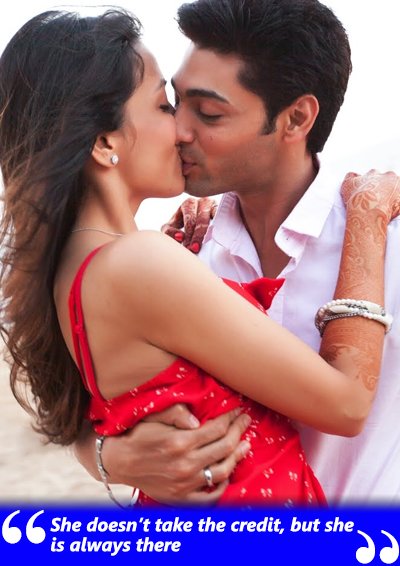 Image Source: strangesadhu

How have three years of married life been?
Ruslaan: Three years have passed way too quickly. It has been fun. We don't feel like we have been married for this long.

Nirali, how have you evolved as a person?
I have come a long way since that gawky 17-year-old phase. A lot of credit goes to Ruslaan because he has been a big influence in my life. We don't need a kid, there's already a mini Ruslaan in the house.
Ruslaan: She keeps telling me that I am a mini version of you. She has become like me and I don't feel a conflict at home. Whatever I want is exactly what she wants. I don't need to compromise. If I want Chinese, she gets all excited. Sometimes she tries to rebel and take a decision of her own. But after a few minutes of sulking, when she can't come up with her own idea, she'll agree to what agreed to at first.

Who's more romantic?
Nirali: I think we both are equally romantic but he is more vocal and expressive.

What's the most heartwarming thing you have done for each other?
Ruslaan: I can't pin point, but, I think, being family to someone is not easy. My family was my parents, but for someone to come from outside and take care of your parents more than you can... it touches your heart. She doesn't take the credit, but she is always there.
Nirali: In our house, we never celebrated birthdays at the strike of 12. We used to go to bed by 11. On one of my birthdays, during our dating years, I was awake as I was expecting Ruslaan's call. He gave me a call at midnight to wish me and we couldn't meet because he was out of town. It was special as he was the first person to call. Suddenly, someone threw a stone in my room and to my utter surprise, I saw Ruslaan standing. I ran down and he got me my favourite cheesecake. I have saved that stone. It's one of those memories you can't do without.

Thumbnail Image Source: strangesadhu