Do This...& Ekta Kapoor, Mouni Roy, Zoya Akhtar Will Show You Their Middle Finger!
These Bollywood ladies are on a roll! Ekta Kapoor, Mouni Roy, Zoya Akhtar have initiated a Lipstick rebellion. They have posted their pictures, showing their middle finger along with the reasons which make them furious...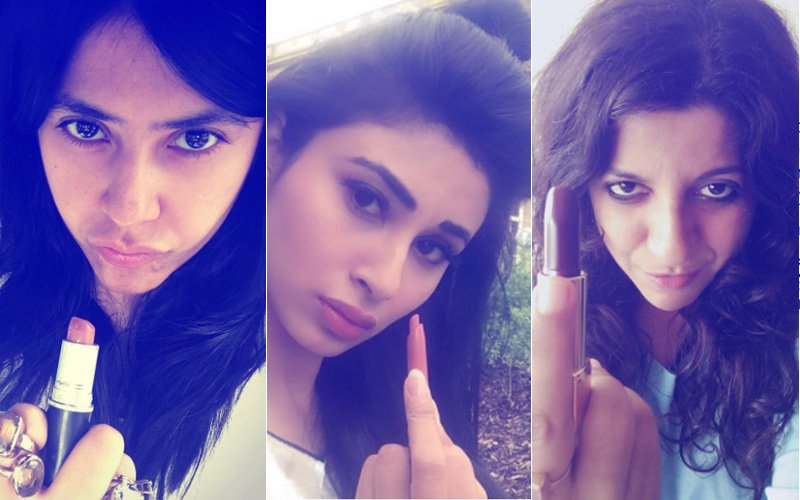 Alankrita Srivastava may have received numerous international awards for her film Lipstick Under My Burkha, but she faced a lot of backlash from the Indian Censor Board for trying to get the film released in India. Finally after a lot of fights, the film is seeing the light of the day with a new presenter,
Ekta Kapoor
.
The whole cast of the film met at the ALT Balaji office yesterday and decided upon a marketing strategy for the film. One of them was the #LipstickRebellion.
Along with the cast lots of others from the industry have shared their picture showing their middle fingers as a 'Lipstick Rebellion'. They have also mentioned the reasons which annoy them beyond limits.
Here is what Ekta Kapoor had to say, "They said 'daughters can't take their fathers legacies forward I said TAKE THAT!#makeurowndestiny #lipstickrebellionbegins #lipstickrebellion #lipstickundermyburkha ! To my sassiest girls @srishtibehlarya @smritiiraniofficial @gulenaghmakhan - #regrann"
Mouni Roy says, "They said "Don't" bother trying, you may not make it. I'm glad I didn't listen. #FightingTheDonts #LipstickRebellion #21stJuly@ektaravikapoor wishing tremendous success & sending lots of love ❤️!#lipstickundermyburkha"
Zoya Akhtar says, "Don't Tell Boys' Stories They Said #lipstickrebellion #lipstickundermyburkha"

Adaa Khan says, "They said the glamour world isn't for you , I say take that !! Happy that I chose to pick my world amidst their clutter...
#fightingthedonts #lipstickundermyburkha #lipstickrebellion #21stJuly @ektaravikapoor all the very best n wishing u all the success 😘❤️😘❤️"
Here is what Konkana Sen Sharma had to say, "Don't tell us what to do!#lipstickrebellion"
Plabita Borthakur says,"They said don't sit a like a boy, I didn't sit like a boy, didn't sit like a girl either, sat extremely comfortably!#lipstickrebellionbegins #lipstickundermyburkha #lipsticklagakerakhna @balajimotionpictures"
Anita hassanandani says, "They said "Women should marry in their 20's and sit at home" ... I said "Take that". #lipstickundermyburkha FYI can't wait to see the film Ektu! ❤❤❤"
Here is what Aahana Kumra had to say, "'Don't wear a short skirt, bigad jaayegi!' I did it anyway, and I turned out just fine! #lipstickundermyburkha #EkKissJuly @balajimotionpictures. I nominate my girlfriends to join the #LipstickRebellion @icedaffodil @radhikajhaveri @yangchein85 @juhimb @pink29885 @samreedhigoel
Tell us the one DON'T you didn't follow & nominate your friends!"
Ratna Pathak Shah
says, "And it has kick-started! Strike a pose holding your lipstick & don't let the society tell you what to do. 👊🏻💋 Come join the #LipstickRebellion like #RatnaPathakShah"
The latest poster of the film, which was released a couple of weeks back, was a rebellion against the Censor Board and the patriarchal system in India. It featured the same pose, which is now being famously called as the #LipstickRebellion.
Lipstick Under My Burkha colourfully chronicles the secret lives of four feisty women who are chasing their sexual fantasies.
An 18-year-old burkha-clad college girl finds solace in boys, cigarettes, sex and music. A two-timing beautician seeks to escape the claustrophobia of her small town. A housewife with three children seeks the alternative life of a saleswoman. And a 55-year old widow finds sexual reawakening through a phone romance with a young swimming coach.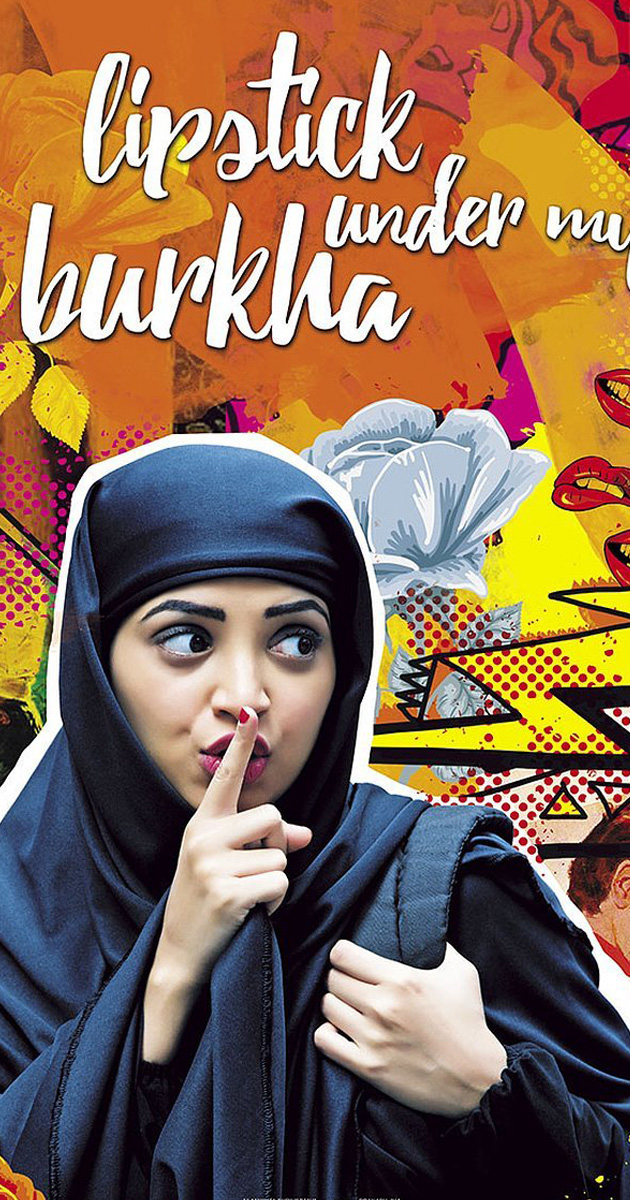 Poster Of Lipstick Under My Burkha
Through the kaleidoscope of the veiled dreams and pulpy fantasies of these four lovable and quirky women, the film speaks of the pulsating spirit of rebellion.
Prakash Jha, the producer of the film, was having a tough time getting the film to the Indian masses, even after winning awards at 11 international film festivals. Finally with Ekta stepping in, the film will now release in over 400 screens (the film is clashing with Munna Michael).
At an event recently, Ekta Kapoor spoke about a number of subjects
. Considering that the film was previously banned for showcasing the sexual desires of women, Ekta had said, "There is a difference between sexual assault and sexual desire. People should understand that. One time I went to a temple wearing a half pant. Coincidentally, another man too was sporting a similar outfit. However, I was being looked at in a demeaning way whereas the man was not even glanced upon."
And now with the latest #Lipstickrebellion, let's see if the ladies succeed in initiating the wave of change.
Image Sources: instagram/imouniroy, instagram/x_models, instagram/zoieakhtar & merinews