Tanushree Dutta-Nana Patekar Sexual Harassment Controversy: Amitabh Bachchan & Aamir Khan React
Tanushree Dutta opened the pandora's box when she accused Nana Patekar of sexual harassment. Now, at the trailer launch of Thugs Of Hindostan, Amitabh Bachchan and Aamir Khan have spoken up about the same. Here's what the superstars have to say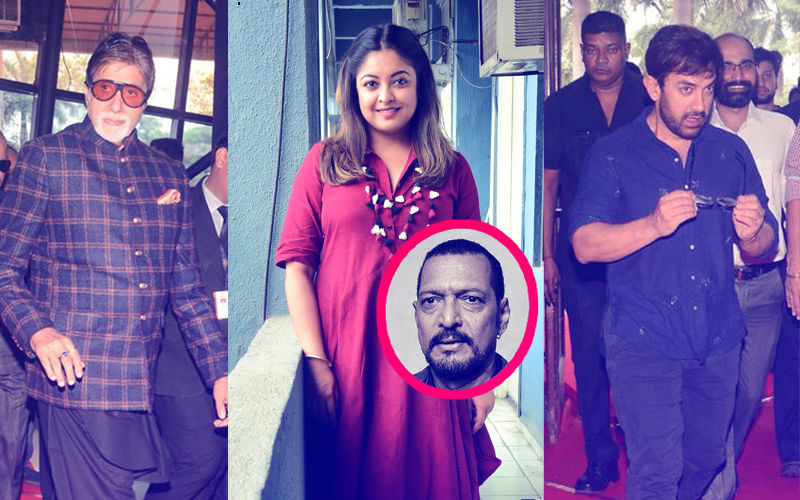 Tanushree Dutta has brought back to life a 2008 sexual harassment controversy during a recent interview. Accused senior actor Nana Patekar, Tanushree has revisited the harrowing episode in detail. The controversy has got the whole film industry talking.

While many have come in support of Tanushree, there are some who feel Nana couldn't have done what Tanushree is accusing him of. Now, at the trailer launch of Thugs Of Hindostan this morning Amitabh Bachchan and Aamir Khan were also asked about the same.

"I am neither Tanushree nor Nana Patekar. How can I say anything on that?" said Amitabh Bachchan. His co-star, Aamir, went on to say, "Well, I think without knowing the veracity of something or the details of something, I don't think I can comment on it. It's not right on me - either way to comment on it. But I would like to say that whenever something like this does happen, it's a really sad thing. Now that this has happened, it's for people to investigate, and I don't think we can comment on it."


For those who've come in late, here's what Tanushree had said accusing Nana Patekar of sexual harassment during her chat with Zoom's Planet Bollywood, "I want to take names - actor Nana Patekar, producer Sami Siddiqui, director Rakesh Sarang and choreographer Ganesh Acharya. When Nana Patekar misbehaved with me, he voiced out that he would do an intimate step with me as well in the song, which wasn't mentioned in my contract. It was supposed to be a solo sequence of mine. When I had complained about the same to the producer director, and told them to ask him (Nana Patekar) to stay away from me, they didn't pay heed. Just because I was new to the film industry, whether or not it was required, let's do an intimate scene with her."

Nana Patekar is yet to issue a statement, or give his side of the story on the controvery. But back in 2008-09 in response to Tanushree's allegations, the senior actor had held a press conference and refuted the claims. Nana had said, "Tanushree is my daughter's age and I have no clue about what made her say such things about me. I have been a part of this film industry since the last 35 years and haven't had anyone saying such things about me ever."

Stay tuned to SpotboyE.com as we bring you an exclusive interview with Tanushree Dutta in a short while.


Image Source: gettyimages, Viral Bhayani