Tanushree Dutta Spits Fire: Nana Patekar Will Give An Award-Winning Performance In His Promised Press Conference
Here's Tanushree Dutta's latest salvo fired on Nana Patekar, and it's coming EXCLUSIVELY to you on SpotboyE.com. Tanushree is not perturbed by Nana's promise of holding a press conference, but in fact it seems she is looking forward to it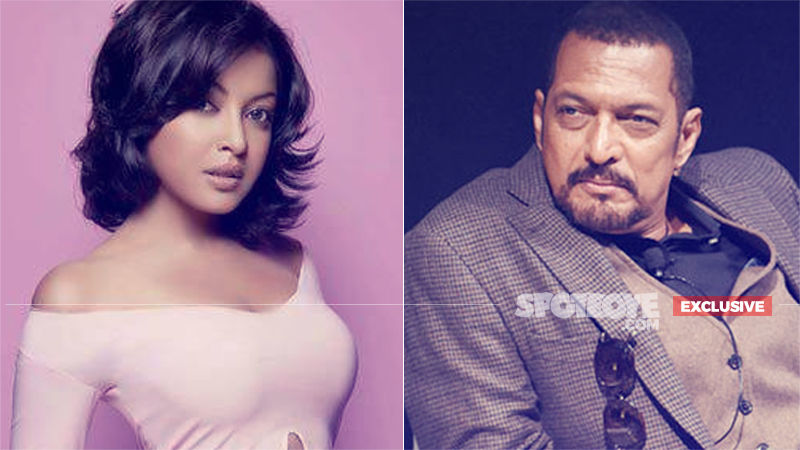 Tanushree Dutta is a classic case in point of: Hell hath no fury like a woman scorned. She is not giving up her fight against Nana Patekar. The sexual harassment scandal which surfaced in 2008 has resurfaced now, and this time Tanushree has been supported by Farhan Akhtar, Priyanka Chopra, Sonam Kapoor, Twinkle Khanna, Swara Bhaskar, Kangana Ranaut, Richa Chaddha, Shama Sikandar amongst others. We bring to you her latest state of mind, that is, in fact it seems she is looking forward to Nana's promised press conference, wherein he has vowed to answer all the questions that will be posed to him.

Tanushree is unfazed by Nana's thunder of last evening, when he told Navbharat Times: "अभी मैं जैसलमेर में शूटिंग कर रहा हूं। जैसे ही में 7 या 8 अक्टूबर को मुंबई लौटूंगा तो मैं एक प्रेस कॉन्फ्रेंस करूंगा। मैं कैमरे से आंखें मिलाकर हर सवाल का जवाब देना चाहता हूं। आप मुझसे इस मुद्दे पर कुछ भी पूछ सकते हैं। मुझे कुछ भी छिपाने की कोई जरूरत नहीं हैं। यह आपके ऊपर निर्भर करता है कि आप किस बात पर विश्वास करना चाहते हैं। क्या आपको लगता है कि मैं इतना घटिया आदमी हूं? क्या लोग मेरे बारे में कुछ भी नहीं जानते। मुझे इस बात की कोई जरूरत नहीं है कि लोग मेरे अच्छे व्यवहार को मान्यता दें। मैं फिल्मों में ज्यादा नाचता नहीं तो मैं किसी से कुछ भी अश्लील स्टेप रखने के लिए क्यों कहूंगा। ऐसी सिचुएशन में या तो मैं इन सब आरोपों से इनकार करके कह सकता हूं कि वह (तनुश्री) झूठ बोल रही हैं या फिर मेरी इमेज खराब करने के लिए उन्हें कोर्ट में घसीट सकता हूं। इसके अलावा मैं कर भी क्या सकता हूं? लेकिन मैं वापस आकर सारी बातें करूंगा जरूर और उम्मीद है कि लोग उससे पहले किसी नतीजे पर नहीं पहुंचेंगे। (I am currently in Jaisalmer shooting. As soon as I reach Mumbai on October 7-8, I will call for a press conference. I want to face the camera and answer all your (media) questions. You can ask me anything on this matter. I don't have anything to hide. It totally depends on you as to what you want to believe in. Do you think I that bad a person? Don't people know anything about me? It doesn't matter to me whether people give importance to my good behaviour. I don't do much dancing in my films, so why would I ask anyone to do a vulgar step with me? In such a situation I can openly deny her (Tanushree) claims and say that she is lying, or I can drag her to court for trying to disrepute me. What else can I do? But I will come back and talk about all of this and I hope people will not make any judgment before that.)"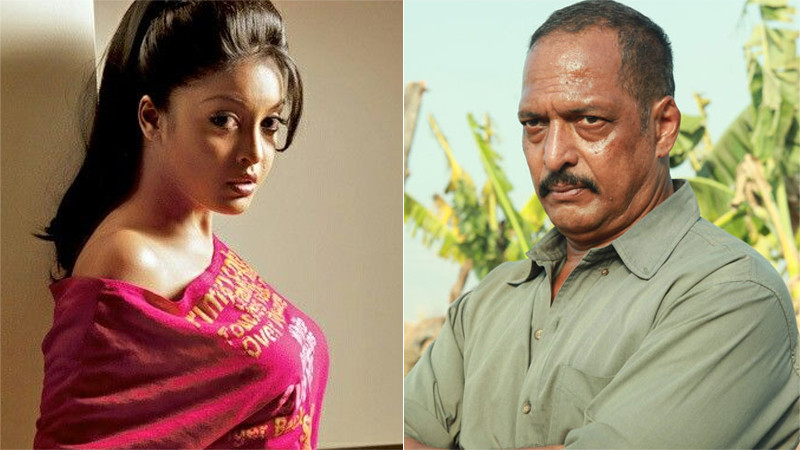 Tanushree Dutta And Nana Patekar

When contacted, Tanushree told us, "Journalists must go to Nana's press conference. He is an actor. Kaafi acting hone wali hai, wahan pe. Be prepared for an award-winning performance from him."

Added Tanushree, "Ten years ago, he said I am like his daughter. I laughed. His 'camera se aankhein milakar har baat ka jawab dunga' statements is making me laugh again."

SpotboyE.com had two EXCLUSIVE INTERVIEWS with Tanushree (one in camera) after the scandal resurfaced last week. Just in case, you missed it, click below: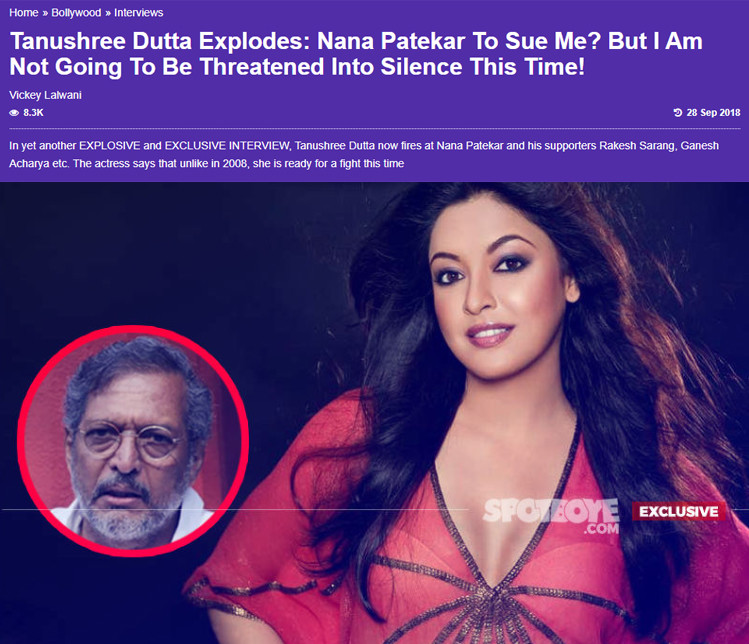 Nana is currently shooting for Sajid Khan's Housefull 4, outside Mumbai. We think he will have a tough time at the conference if the journalists attending it ask the right questions. It has been a long time since we had a hardcore press conference, isn't it?

Or, will Nana chicken out? You never know. Kuch bhi ho sakta hai. Nana, are you reading this?